Featured Editorials Home Slider
Geno Smith Bounces Back…Now Needs to Show Progress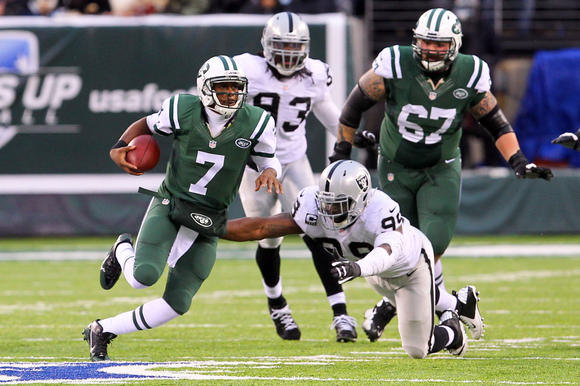 Geno Smith had a nice bounce back game from his three-game slump.  He threw some very nice balls to convert pivotal 3rd downs and keep the offense moving.  The offense picked up the defense yesterday by scoring 30 points (and a touchdown on special teams punt block), after combining for a total of 20 points in the last 3 games.  Smith, who threw an interception early in the game, responded well completing 16-25 passes for 219 yards and 1 TD(and also 1 TD rushing). 
In addition to this, Smith ran when he needed to pick up first downs or was under pressure.  He was second on the team in rushing with 50 yards.  His touchdown run was an outstanding zone read, where he reads the defensive end.  If the defensive end crashes(or bends) towards the running back going to the right, he will pull it from the RB and take it himself, which he did for an 8 yard score.
The gameplan seemed to change from weeks past.  Lots of quick decision making, roll outs, designed runs, as opposed to deep drop backs and long timing routes.  Now that he had this type of game, he needs to show progression in the next three games.
He bounced back this week, but he has to show the Jets organization, especially John Idzik that he's worthy of being the quarterback of the future for the Jets.  Granted, the Jets should be taking another quarterback in the upcoming 2014 NFL draft as a safety blanket and, at worst, competition for Smith, but he has an opportunity to prove himself the next three weeks.
The Carolina Panthers are having an outstanding year.  They were embarrassed last night on national television and would no doubt like a statement game at home against the Jets.  The Carolina front 7 may be the best front 7 in the NFL led by second year LB Luke Kuechly.  The Jets will need to throw the ball against the inexperienced secondary, filled with undrafted free agents and a seventh round pick (Captain Munnerlyn).  This is Geno Smith's opportunity to show that he can put the team on his back and carry them in a game where running the ball will be a struggle.
He needs to feed off this past game, and continue to grow.  He must continue to go through his reads, step up in the pocket, and if the chance to run for a first down is present, he needs to start pulling the ball down and running rather than forcing a throw into traffic.  This is the most important game of the season for Smith.  Carolina's tough environment coupled with a tough defense will show what this rookie is all about.  For now, let's enjoy the success the offense had and look forward to progression in all aspects next week.
Videos
Aaron Rodgers Injury Fallout & Jets/Bills Recap