Geno Smith Prepares For The Panthers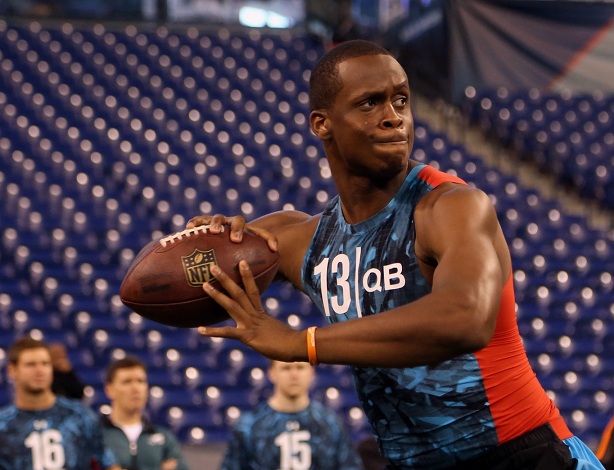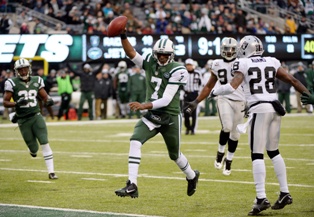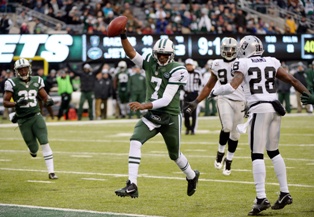 Geno Smith is coming off a bounce back game, his line against the Raiders was:  16/25, 219 yards, 1 TD, 1 INT, 5 rushes for 50 yards, 1 TD.  He wasn't perfect but he played well enough for the Jets to win.  He is going to have to play even better if the Jets have a chance against the Carolina Panthers.  The Jets are currently 11 point underdogs, according the CBS Sports.
Geno was asked about facing the Panthers and here is what he had to say:
On how much film he's watched of Carolina…
I've watched some tape on them. Just a little bit.
On whether he watched any of the Carolina-New Orleans game last night…
I didn't watch the game last night, but I came in and watched it this morning.
On how many Carolina games he's seen…
A few.
On Carolina's defense…
(They're) good up front. Typical NFL defense, (they) play hard (and have) good guys all around. I think they lead the league in pretty much every defensive category, so it's going to be another tough game for us. We just have got to continue to prepare and go out there and fight hard.
On what makes Carolina's defense a challenge…
From my perspective, I just think they play hard and they have a really good defense.
On the importance of having Winslow, Jeremy Kerley and Santonio Holmes back together and healthy…
It's important to have those guys out here, but honestly, we have to roll with the guys that we have. No matter who's out there, we expect them to give full effort and we expect them and when I say them, I mean us all, we expect to compete and go out there and execute. It's just good to have Kellen and that leadership that he brings, as well as Santonio and Jeremy.
On how much responsibility is on him to make the call and check the play at the line of scrimmage…
Well, it's all built into the system. It's not like I'm free lancing or doing my own thing. All of those things are built in and things that we talk about throughout the week and we game plan. So, if you get a certain look, you want to check to a certain pass or a run and that's something that we did well with.
On whether the team can look at New Orleans success last night and use it to help exploit Carolina's defense…
Yeah, we will. We'll try and find ways to move the chains. Like I said, they're a tough defense, but we expect ourselves to go out there and execute. We're going to study all the tape and find ways for us to execute and find things that we're good at that can be effective against their defense.
On whether he wears different cleats or gloves when playing in cold and snowy weather…
I try not to let that affect me. I don't wear a glove. Maybe if there's an issue where I feel the need to, I will. But, typically I'm good in cold weather games.
Videos
Aaron Rodgers Injury Fallout & Jets/Bills Recap