Home Slider Injury Report Jet News
If No Cro; Who Will Go?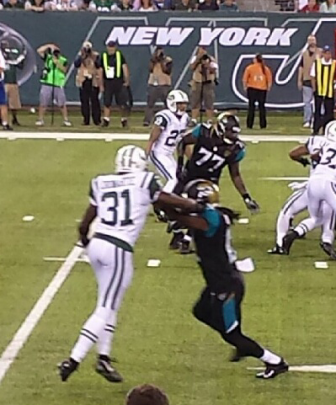 Antonio Cromartie did not practice on Wednesday due to the concussion he received against the Raiders.  If Cro can't go it looks to be either Darrin Walls or Ellis Lankster that will start along side Dee Milliner.  Rex was asked if Lankster would get the start and he said:
Again, we'll look at that. That's certainly a possibility.  If that's the case, they might as well put two boxing gloves on those kids. (joking) We'd pay to watch that one because they're both the same kind of guys, Steve Smith and him are very similar that way, very competitive guys. But that's a possibility. We also have (Darrin) Walls as a possibility as well.
Dee Milliner played a better game against the Raiders.  He did make it through the entire game without being benched!  Here is Rex's evaluation of why Milliner was successful against the Raiders:
I just think first off, he knew his opponent well. He knew what to expect. I think that's a big plus and part of that. Well, shouldn't you know that each week? Yeah, you do. But I think knowing your calls and tying in your calls and your assignment and the opponent, all those type of things, I thought he did a great job of that. And the other thing is, he flat competed. He went out and he competed. And that was what we were talking to our guys about and get back to doing that and I thought he did a good job.
Videos
New York Jets OTA Presser Takeaways, Aaron Rodgers' Impact and Summer Delusion