Jets At Panthers Preview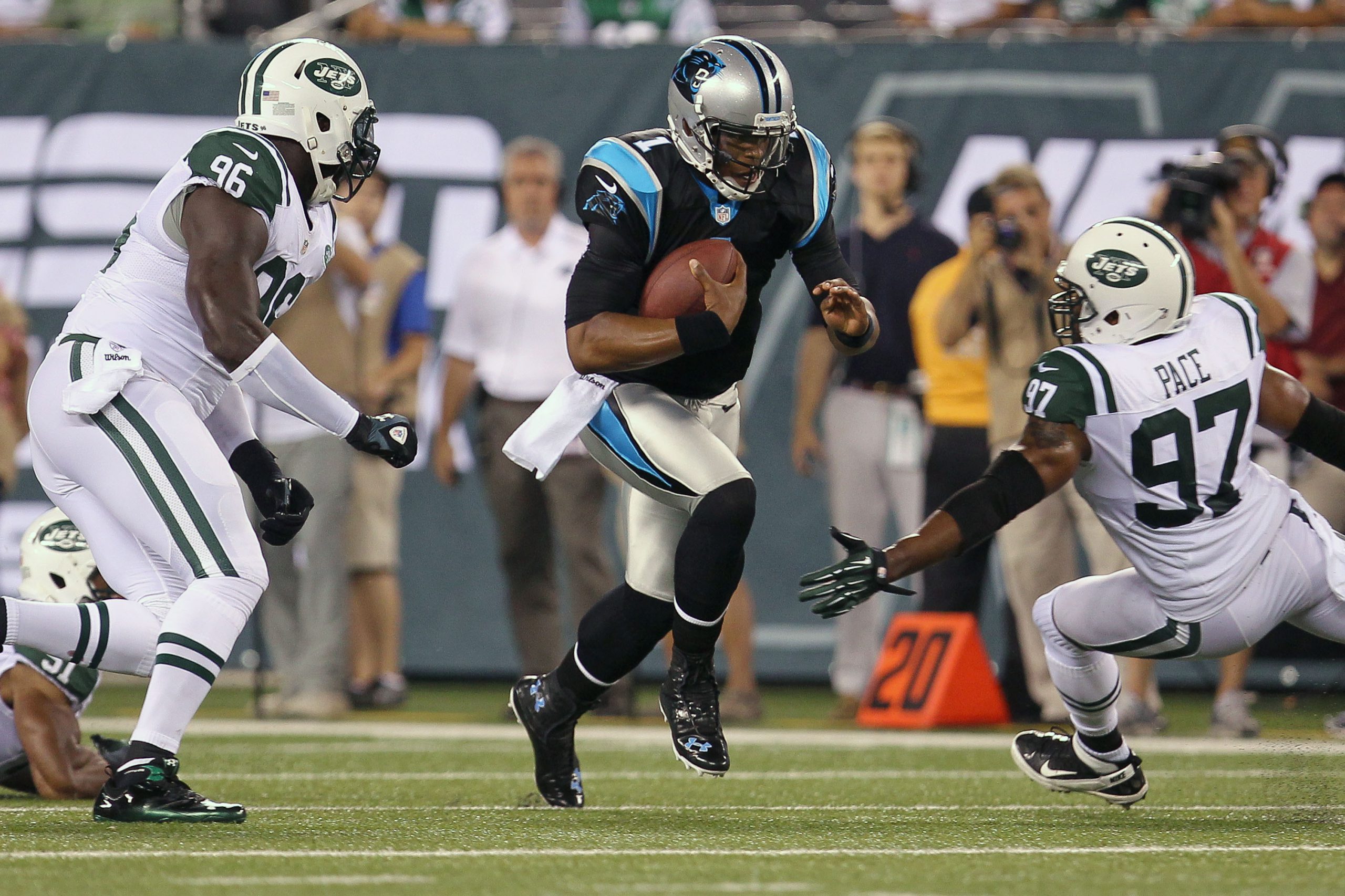 Your New York Jets (6-7) will hit the road Sunday at 4 p.m. in a must-win situation to face the Carolina Panthers (9-4). The Jets are coming off a season high in points but certainly have their flaws offensively and defensively. Lets take a look at the match-ups:
Panthers Offense
Carolina is led by third year quarterback Cam Newton, the former first overall pick. Newton is having a very good year, completing 62 percent of his passes for just over 190 yards per game. Newton is a dual threat quarterback; he is second on the team in rushing yards per game but has done a much better job this year using his legs to extend plays while keeping his eyes downfield.
The Panthers have some good weapons on offense too. Wide receiver Steve Smith is a savvy and tough veteran who has always been Newton's go-to guy. Smith is seeing a lot of targets and comes up big in big moments. His receptions (60), yards (681), and targets (102) are tops on the team. Tight End Greg Olsen and Wide Receivers Brandon LaFell and Ted Ginn Jr. will also provide challenges for the Jets defense (especially with Antonio Cromartie suffering from a concussion).
Carolina has a good rushing game. Their 129 yards per game is ninth in the NFL. DeAngelo Williams is a veteran who leads the team in rushing. The big Mike Tolbert is also going to see carries since Jonathan Stweart is going to miss a few games with a torn MCL. The Jets will have to be extremely disciplined on defense, especially since Carolina will run some read option.
Panthers Defense
Say what you want about the growth of Cam Newton, and he has definitely become a better quarterback, but Carolina is in playoff position because of their outstanding defense.
Carolina's defense is led by second year linebacker Luke Kuechly. Kuechly has 113 tackles, three interceptions, and a sack on the year. Kuechly is as good of an all-around linebacker as you can find in the league. Another key player on that defense is defensive end Charles Johnson, who leads the team with nine sacks. Johnson and Greg Hardy will provide a tough task for the Jets offensive tackles.
The Panthers secondary has impressive depth. Safeties Mike Mitchell and Quintin Mikell sure up the back end, and cornerbacks Josh Thomas, Captain Munnerlyn, Drayton Florence, and Josh Norman are solid playmakers.
How To Win
Well, if there was ever a week to leave everything on the table, it's this one. Carolina's defense is ranked first in rush yards allowed per game and fifth in pass yards allowed per game. The Jets will have to get creative on offense and let Geno Smith air it out– I expect to see some bunch sets and quick throws to get Geno and his wide receivers in rhythm.
The Jets defense will have to step it up to another level this week. The edge rushers could have a big day against right tackle Byron Bell. Getting to Newton and wrapping him up will be huge. Also, the run defense will have to play assignment football when a read-option is run. The Jets may also be wise to have a full-time spy assigned to Newton.
The keys to winning a football game doesn't really change from game to game but just becomes intensified against better teams. The Jets will have to control the clock, force turnovers, and win the field position battle. When given the opportunity, they'll have to score touchdowns and not settle for field goals. At the very least, having Jeremy Kerley another week fully healthy is a plus for the offense.
It's win or go home time. Lets see what the Jets are finally all about.
Videos
New York Jets OTA Presser Takeaways, Aaron Rodgers' Impact and Summer Delusion