Featured Editorials Home Slider Jets Report Card
New York Jets Report Card: Week 15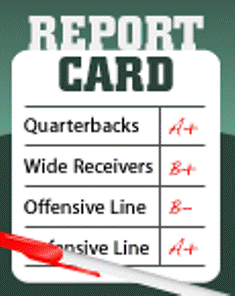 New York Jets Report Card

Week 15: New York Jets @ Carolina Panthers
Quarterback: C-
Smith: 15/28, 167 yards, 1 TD, 1 INT, 6 rushes for 44 yards
Geno had a better day than his stat-line might indicate. For most of the game he was able to avoid costly turnovers against a premier defense, his ball security when under pressure has shown improvement of late and he was let down by his receivers on more than one occasion. Still, it's hard to say that this was a quality performance. It wasn't.
Backs: B+
Ivory: 11 rushes for 66 yards
Powell: 8 rushes for 37 yards, 4 receptions for 19 yards
Bohannon: 1 reception for 3 yards
Ivory ran all over the best run defense in the league.
Wide Receivers/Tight Ends: C-
Cumberland: 3 receptions for 50 yards, 1 TD
Nelson: 3 receptions for 44 yards
Kerley: 1 reception for 25 yards
Holmes: 2 receptions for 14 yards
Winslow: 1 reception for 12 yards
Nelson ran crisp routes and Cumberland showed up to play but Kerley had a quiet day and Santonio Holmes embarrassed himself, dropping a wide-open first down pass and getting nearly shut down just a few days after calling out the Panthers secondary.
Offensive Line: C
The offensive line struggled to protect Geno against a tough Panthers front 7, but the run blocking was phenomenal.
Defensive Line: A
Not only is Richardson getting to the quarterback, he's also compiling rushing touchdowns now. Wilkerson had an excellent day. This defensive line is straight up beastly.
Linebackers: C-
DeMario Davis had one of his worst games as a Jet. Calvin Pace added his 9th sack of the season… who would have expected that?
Secondary: D
It was another nasty day for a secondary that's going to need a major overhaul in the off-season.
Special Teams: F
The Jets had a punt blocked deep in their own territory in the 4th quarter. That led to a Panthers touchdown and it was the turning point of the game. Nick Folk continues to excel, but any time you give up a special teams touchdown, you've earned yourself an F for the day.
Coaching: B
It was a tough road game against a tremendous team, but the Jets were competitive up until the 4th quarter. Further, the team was only penalized 3 times for 20 yards.
Videos
Aaron Rodgers Injury Fallout & Jets/Bills Recap