Home Slider Injury Report Jet News
NY Jets Injury Report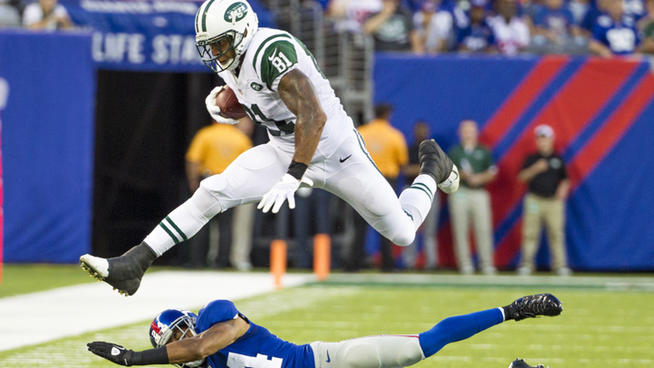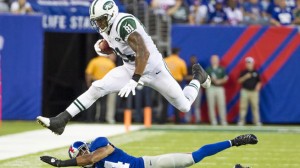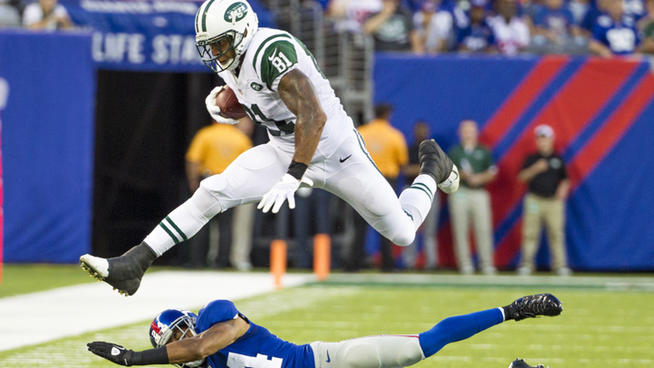 The NY Jets sent out their injury report again today, which shows a relatively healthy team as they prepare to face the Browns.  Ed Reed did not practice but the Jets need to keep his old legs fresh by limiting his work load.  Cromartie, Holmes, Winslow and Lankster were all limited in practice.  The explanation for each limited player courtesy of Rex Ryan:
Cro (Antonio Cromartie), so Cromartie with his hip. Holmes (with his) foot and hamstring. Ellis Lankster with his jaw. Sheldon Ricahrdson (with his) wrist and finger and Kellen Winslow with his knee. Everybody else was full today.
Kristian Dyer provides an additional update on Lankster's injury:
https://twitter.com/KristianRDyer/status/413774600644730880
Rex Ryan had this to say about Antonio Cromartie, "I'm sure he's pushing through some things, but he told me that he feels good right now. So hopefully we get the Cro that we're accustomed to."
The injury report for the Cleveland Browns appears below. 
 NY Jets

Practice Report

Did Not Participate In Practice
Wednesday
TE Kellen Winslow (knee)
Thursday
S Ed Reed (not injury related)
Limited Participation in Practice
Wednesday
CB Antonio Cromartie (hip), WR Santonio Holmes (foot, hamstring), CB Ellis Lankster (jaw), DT Sheldon Richardson (wrist, finger)
Thursday
CB Antonio Cromartie (hip), WR Santonio Holmes (foot, hamstring), CB Ellis Lankster (jaw), DT Sheldon Richardson (wrist, finger), TE Kellen Winslow (knee)
Full Participation in Practice
Wednesday
LB Quinton Coples (shoulder), DT Kenrick Ellis (back), T Austin Howard (knee), WR Jeremy Kerley (elbow), LB Garrett McIntyre (knee, elbow), WR David Nelson (ribs), DE Muhammad Wilkerson (wrist)
Thursday
LB Quinton Coples (shoulder), DT Kenrick Ellis (back), T Austin Howard (knee), WR Jeremy Kerley (elbow), LB Garrett McIntyre (knee, elbow), WR David Nelson (ribs), DE Muhammad Wilkerson (wrist)
 Cleveland Browns

Practice Report

Did Not Participate In Practice
Wednesday
TE Jordan Cameron (concussion), G John Greco (knee), CB Joe Haden (hip), LB Eric Martin (illness), TE Andre Smith (calf)
Thursday
WR Davone Bess (not injury related), TE Jordan Cameron (concussion), G John Greco (knee), CB Joe Haden (hip), TE Andre Smith (calf)
Limited Participation in Practice
Wednesday
LB D'Qwell Jackson (not injury related), RB Willis McGahee (concussion, knee), DE Ahtyba Rubin (calf), T Joe Thomas (back)
Thursday
RB Willis McGahee (concussion, knee), DE Ahtyba Rubin (calf), T Joe Thomas (back)
Full Participation in Practice
Wednesday
LB Tank Carder (shoulder), P Spencer Lanning (left knee), T Mitchell Schwartz (toe), S T.J. Ward (shoulder)
Thursday
LB Tank Carder (shoulder), P Spencer Lanning (left knee), LB Eric Martin (illness), T Mitchell Schwartz (toe), S T.J. Ward (shoulder)
Videos
NY Jets OTA Recap; Robert Saleh Cancels Minicamp