Rex On His Future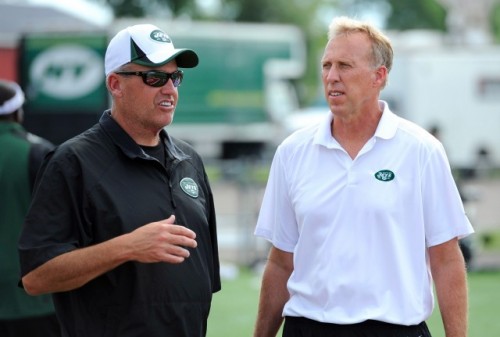 Rex Ryan certainly doesn't want to speak publicly about his job security.  With a win on Sunday against the Dolphins, the Jets can end the season at .500 (8-8).  It isn't known if a decision has been made on Rex's future yet.  He has one season left on his contract and it isn't ideal to bring back a lame-duck coach.  So the speculation is in full force, should he stay or should he go.  Fans in the JetNation Forums are voting in favor of keeping Rex Ryan next season.
Here is what Rex had to say when he spoke to the media on Tuesday.
On how he stays focused and not look past Miami…
That's easy. I have a job to do. My job is to give everything I have to this organization. That's what I do each week, preparation, get these guys ready to play and try and coach my tail off. That's what all of these coaches do. It's the players' jobs to prepare and lay it on the line for us, and I think our guys do that. That's why I'm proud of these Jets, this Jets team. We know what we get each week from each other. It's a total commitment thing, from top to bottom. We don't have the record that we wanted or anything else, but we have the effort, the desire and the determination. We're going to do whatever we can to scratch out a win this upcoming week.
On if management has discussed his job status with him…
Guys, I think the entire organization is committed on trying to find a way to beat Miami. That's the commitment that all of us have had to each other. We're trying, we're working on Miami. That's where the focus is, 100 percent of the focus is. There is nothing past Miami. It's all about getting ready to play Miami.
On reports that he had received word that the team had been looking at replacements for him…
Again guys, I'm not going there. Like I said, my focus is just on this Miami thing. We certainly had a good game against Cleveland. We have Miami left and that's what I'm comfortable talking about. Any speculation about this or that, the only thing I can say is that we know what is in front of us and that's a Miami Dolphins team that is a very talented team.
On the perception that he is disgruntled about his current situation…
I'm not disgruntled about anything. I'm excited about the opportunity in front of us which is playing the Dolphins. Obviously, they had a great game against us last time, (it was) a very disappointing loss for us at home. We're excited about getting the opportunity to play them again and see how we stack up right now against them. Obviously, the last time we played them they were much better than we were. It's an opportunity for us, that's why I'm not disgruntled at all. I'm excited about the opportunity right in front of me.
On whether Woody Johnson or John Idzik have approached him about the media reports regarding his comments during Saturday's team meeting…
Our focus, what we talk about is getting ready to play against the Dolphins. That's really where the conversations have been. After you play a game, you talk about the game that you just played, what was positive, what was negative (and) how we can improve. Those are the things that you focus on and then right away it gets to the next week's opponent. That's where the conversations have been.
Videos
Aaron Rodgers Injury Fallout & Jets/Bills Recap