Featured Editorials Home Slider
Letter from the Desk of Woody Johnson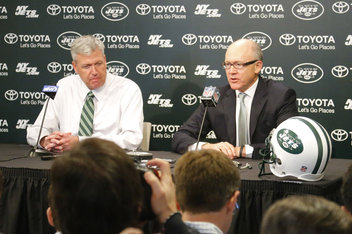 The New York Jets sent out a letter from Woody Johnson, via email, to New York Jets season ticket holders.  Here is the full text from that letter.
December 29, 2013
Dear Jet Nation, LLC,
Our 2013 season ended earlier today with a victory over the Dolphins. It's no secret that when this season started many people outside the Jets organization had low expectations for our team. But not us – we set out this year, and every year, with the high expectations of winning games and making Jets Nation proud.
I am writing to you, a valued Season Ticket Holder, today to address 2014 and beyond.
Obviously, one of the first steps in moving forward is making a decision about our Head Coach. I hired Rex Ryan in January of 2009 for many reasons, but one of his strengths really stands out. Rex has more passion than anyone I have ever met. Passion for the Jets. Passion for teaching and motivating his players and coaches. Passion for winning. Like any NFL Head Coach, he's had ups and downs, but Rex has been a tremendous leader of this football team.
That is why, after today's game, I informed the team of our carefully-considered decision: Rex Ryan will continue as Head Coach of the New York Jets.
We won three of our last four games, but we're obviously not satisfied with our overall up-and-down 2013 performance. There were many moments, including today, when we showed real signs of progress and reasons for optimism, with a young, talented, competitive, and resilient team. But there were also too many games where we couldn't sustain that progress. The reality is that we're not yet the complete and consistent team that you demand and deserve.
We're confident that, with the leadership of General Manager John Idzik, working closely with Rex, we will enter 2014 with great opportunities to improve. We have the resources in place to continue to build our team, including more draft picks and roster flexibility than in previous years. In short, we're on the right path. We are going to continue to move forward together, always looking to be better and stronger, building on our successes and learning from our failures.
We are focused on fielding a consistently competitive team with the sole mission of winning. We have our work cut out for us, but I know that we have the grit and determination to get the job done. We'll continue to set high expectations and then work hard to exceed them. And I promise you that not one person in this organization will rest until we meet our ultimate goal of fielding a championship team.
Thank you for your intense loyalty and unyielding support for the Jets.
Videos
NY Jets Phase 3 OTAs, Expectations and a Minor Calf Tweak with Greg Renoff