Featured Editorials Home Slider
2014 NFL Draft: Top Wide Receiver Prospects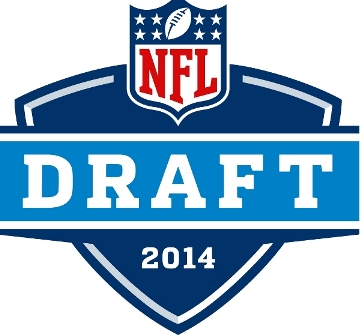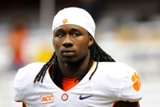 1. Sammy Watkins – Clemson (6'1″ 205 lbs):
Watkins is far and away the most dynamic wide receiver in this year's draft.  His ability to turn any play into a touchdown is what teams will be enamored with, more than his route running ability.  He plays very physical at only 6'1″ and has outstanding hands.  The offense he ran at Clemson used Watkins as basically a four different route playmaker with the addition of screens.  There's no doubt he can run the entire passing tree and be a weapon out of the backfield in the screen game. Clemson's quarterback Tajh Boyd's draft status skyrocketed early in the year but it's become evident, as he struggled during this week's Senior Bowl, that Watkins' playmaking abilities elevated Boyd's performance. Watkins will give some offensive coordinator a lot to work with, as he can be lined up inside, outside and even in the backfield. No doubt Watkins makes the people around him better and that is something a team in the early portion of the first round will be looking for.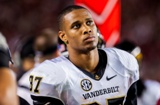 2. Jordan Matthews – Vanderbilt (6'3″ 210 lbs):
While Watkins is the biggest threat to score a touchdown every time he touches the ball Matthews is the best all around wide receiver in this draft.  Not only is Matthews big and physical but he catches the ball with his hands almost every time.  He has tremendous size, length and reach to be able to catch any ball thrown to him. He ran a lot of his routes over the middle behind linebackers this year and took some big hits but held on to the ball. Some scouts are wary of his "dropped passes" but watching enough film a lot of his drops were balls thrown behind him, over his head, or too low.  There were a few that he should've undoubtedly caught, but weren't many. He is a crisp route runner, but needs to improve his first step off the line.  He tends to false step a lot which is why Vanderbilt used him off the line of scrimmage this year.  If he can eliminate the false step or hitch step on his release, he will be able to explode of the line of scrimmage must better.  He will need to continue to show that he can be a downfield threat and prove he can win 50/50 balls at the next level.  One thing he hasn't been given credit for is his ability to block.  His technique is textbook when blocking, which is an added bonus for a receiver who can run every route well.  This makes Matthews the best wide receiver in the draft while Watkins is the most dynamic of the bunch.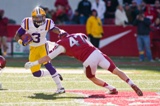 3. Odell Beckham Jr. – LSU (5'11" 195 lbs):
Beckham Jr. has to potential to be the best of the top three wide receivers in this draft.  He is very good at high pointing the ball and coming down with it. He is extremely athletic, even at 5'11", as he can out-jump many corners not named Richard Sherman or Brandon Browner.  He is a raw athlete who needs some work on his route running, but extends his arms better than any other receiver in this draft.  He is a deep threat that a team can throw the ball up to and he will most likely come down with it. He is an excellent kick returner as well, returning a kickoff for a touchdown in the 2013 season opener against TCU and returned a short field goal 109-yards for a touchdown against UBA the next week.  He can also return punts, but tends to make some poor decisions as when to fair catch and when to let the ball go.  Watching the film there's no doubt he's been coached up. Beckham has unusually large hands for a 5'11" receiver which helps him at the top of his jump. He almost always makes the first guy miss, making him the most dangerous wide receiver not named Sammy Watkins in this draft. Tremendous hands and the ability to make the first tackler miss make him easily the most intriguing of the top five wide receivers.
4. Marqise Lee – USC (6'0″ 195 lbs):
Lee had a tremendous sophomore season (in 2012) when teams were worried about former teammate now Buffalo Bill Robert Woods.  Lee is a big play threat every time he touches the ball. If you could compare him to a current NFL player, he'd be similar to DeSean Jackson, who can take a jet sweep handoff, catch a screen or be a threat underneath.  Lee had a rash of injuries this past season (2013) that limited his numbers, but don't let that fool you.  Watching the tape on Lee, he tends to look up-field to run before securing the ball which led to some key drops this year.  He will need to tighten up his route running in the NFL as well.  He also returns kickoffs which could help a team with both of those needs. Lee at the next level could be used as an underneath route runner who will make it tough for opponents to guard and prepare for.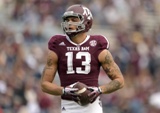 5. Mike Evans – Texas A&M (6'5″ 225 lbs):
Evans is a very physical wide receiver.  His size and strength will make him an intriguing prospect for some team.  Evans can catch everything thrown his way, but I question his approach to catching the ball.  He doesn't extend his arms to the ball.  Being 6'5″ he should be able to high point the ball with his arms fully extending, but he doesn't show this ability often.  He lacks great speed that some scouts think won't transmit to success at the next level.  Texas A&M moved him off the line of scrimmage to free him up from presses.  He was certainly the best deep threat for quarterback Johnny Manziel and his safety valve in 2013.  He runs a physical deep route, but his lack of speed makes it hard to see the able to separate from defenders on underneath routes.  A team will fall in love with his size and physicality, and with some work in the correct offense, Evans can be a solid NFL player.
6. Jarvis Landry – LSU (6'0″ 192 lbs)
7. Allen Robinson – Penn State (6'3″ 210 lbs)
8. Jared Abbrederis – Wisconsin (6'1″ 190 lbs)
9. Brandin Cooks – Oregon State (5'10" 186 lbs)
10. Kelvin Benjamin – Florida State (6'5″ 235 lbs)
Others worth looking at: Donte Moncrief (Ole Miss), Davante Adams (Fresno State), Josh Huff (Oregon), Robert Herron (Wyoming), Paul Richardson (Colorado), Martavius Bryant (Clemson).
Videos
Aaron Rodgers Injury Fallout & Jets/Bills Recap