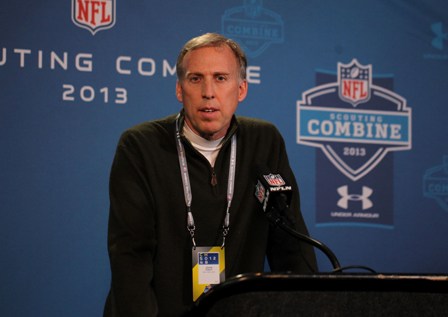 Jetsfan80 started this thread in the JetNation forums.  It breaks down how Seattle put together their starting lineup.  I felt it was worth sharing, because it clearly illustrates the importance of the NFL draft.  Many Jets fans and beat reporters are saying John Idzik is sleeping at the wheel.  Looks like Idzik is wide awake and is just following his master plan, which doesn't involve over spending on free agents.
Here is the post:
Every successful team can pick out a few key signings.  Which is why Decker and Giacommini are nothing to spit at.  Those are good signings.  So was the trade for Chris Ivory.  But you don't just say "We have needs/wants at 8 positions.  We'll fill those with 6 or 7 free agents and call it a day" like the Browns or Raiders are doing.  They're trying to win with other people's players because they failed so miserably at drafting their own talent.

Look at the Seahawks starters and you tell me if it looks like the type of roster Idzik is looking to build:

[NOTE:  For our purposes, I am assuming Sidney Rice is headed elsewhere.  If he doesn't, he takes Lockette's spot on the depth chart]

QB:  Russell Wilson (3rd round pick)

RB:  Marshawn Lynch (trade:  2011 4th round pick, 2012 conditional pick)

WR:  Doug Baldwin (UDFA)

WR:  Percy Harvin (trade:  1st and 7th rounder)

WR:  Ricardo Lockette (UDFA)

TE:  Zach Miller (Signed 2011 to 5-year deal)

LT:  Russell Okung (Top 10 pick)

LG:  James Carpenter (1st rounder)

C:  Max Unger (2nd rounder)

RG:  JR Sweezy (7th rounder)

RT:  Michael Bowie (7th rounder)

LDE:  Michael Bennett (UDFA)

DT:  Brandon Mebane (3rd rounder)

DT:  Tony McDaniel (UDFA, bounced between Jaguars and Dolphins, signed in 2013)

RDE:  Cliff Avrill (Signed as RFA in 2011)

OLB:  Malcolm Smith (7th rounder)

MLB:  Bobby Wagner (2nd rounder)

OLB:  Bruce Irvin (1st rounder)

CB:  Richard Sherman (5th rounder)

CB:  Byron Maxwell (6th rounder)

FS:  Earl Thomas (1st rounder)

SS:  Kam Chancellor (5th rounder)

Of all Seattle's starters on offense, only 1, Zach Miller, was a free agent signing.  Much like the Jets traded a 4th rounder for Chris Ivory, the Seahawks did the same to get Marshawn Lynch.  Harvin was a pickup via trade as well, but his health has prevented him from making any impact on a team that won the Super Bowl largely without him.

Of their starters on defense, only one, Cliff Avrill, was a significant free agent signing.  McDaniel was a scrap-heap pickup that worked out.  The rest they found via the draft.

The Seahawks entire back 7 was found via the draft.  Their entire offensive line was drafted.  That's impressive stuff.  You cannot even come close to arguing that this Seattle roster depended on free agents.  They depend on the draft.  Period. 

If the Seahawks are the model we're looking to duplicate, Idzik is right on target so far.  He's accumulating talent via the draft, filling a few needs where he can via free agency.  This is how you build a winner.