Cornerback Jeremy Reeves Signs With NY Jets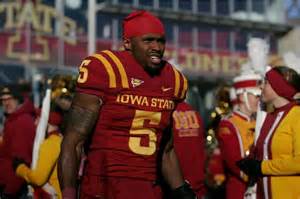 Today the New York Jets announced they signed cornerback Jeremy Reeves. Reeves had a solid pro day on Tuesday and the Jets saw an opportunity to add a potential play maker to the Jets' roster.
We've signed free agent CB Jeremy Reeves out of Iowa State: http://t.co/yhxyouBOhb

— Randy Lange (@rlangejets) March 28, 2014
New Jets DB Jeremy Reeves posted a 4.29 in the 40-yard dash at Iowa State's pro day while nursing a left hamstring. Blazing fast.

— Eric Allen (@eallenjets) March 28, 2014
Reeves (5'7″ , 170Lbs)  is an Iowa State graduate and played a total of three seasons with them, 2010-2012. Reeves sustained a pectoral muscle injury and sat out all of the 2013 season. Reeves adds depth to the position and is possibly replacing the recently departed Isaiah Trufant who signed with the Cleveland Browns.
Check out this amazing video clip of Jeremy Reeves doing his vertical jump at his pro day.
We will keep you posted with any other team news that occurs. Make sure to check out our JetNation Forums to find out what the rest of Jets Nation is saying about this signing.
Videos
JetNation
4.6K
Subscribe
Broken Brains; Critics of Jets Quarterback Aaron Rodgers Begin Stirring up Conspiracy Theories