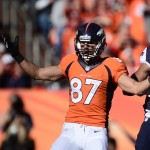 PFT is reporting that Eric Decker is going to "purchase" the number 87 from Jeff Cumberland for $25,000.
Eric Decker has worn the No. 87 jersey since his NFL career began when the Broncos selected him with the 87th overall pick in the 2010 NFL draft. Eighty-seven is important to him.

So important, in fact, that when Decker signed with the Jets he quickly approached teammate Jeff Cumberland about giving up the No. 87, which Cumberland has worn for the last four years.
Money isn't an issue after Jeff Cumberland signed a 3-year deal with the Jets.  But another $25,000 never hurts.
Here is a thread in the JetNation Forums that also has an update on Michael Vick's uniform number.