Draft Featured Editorials Home Slider
RB Charles Sims Scouting Report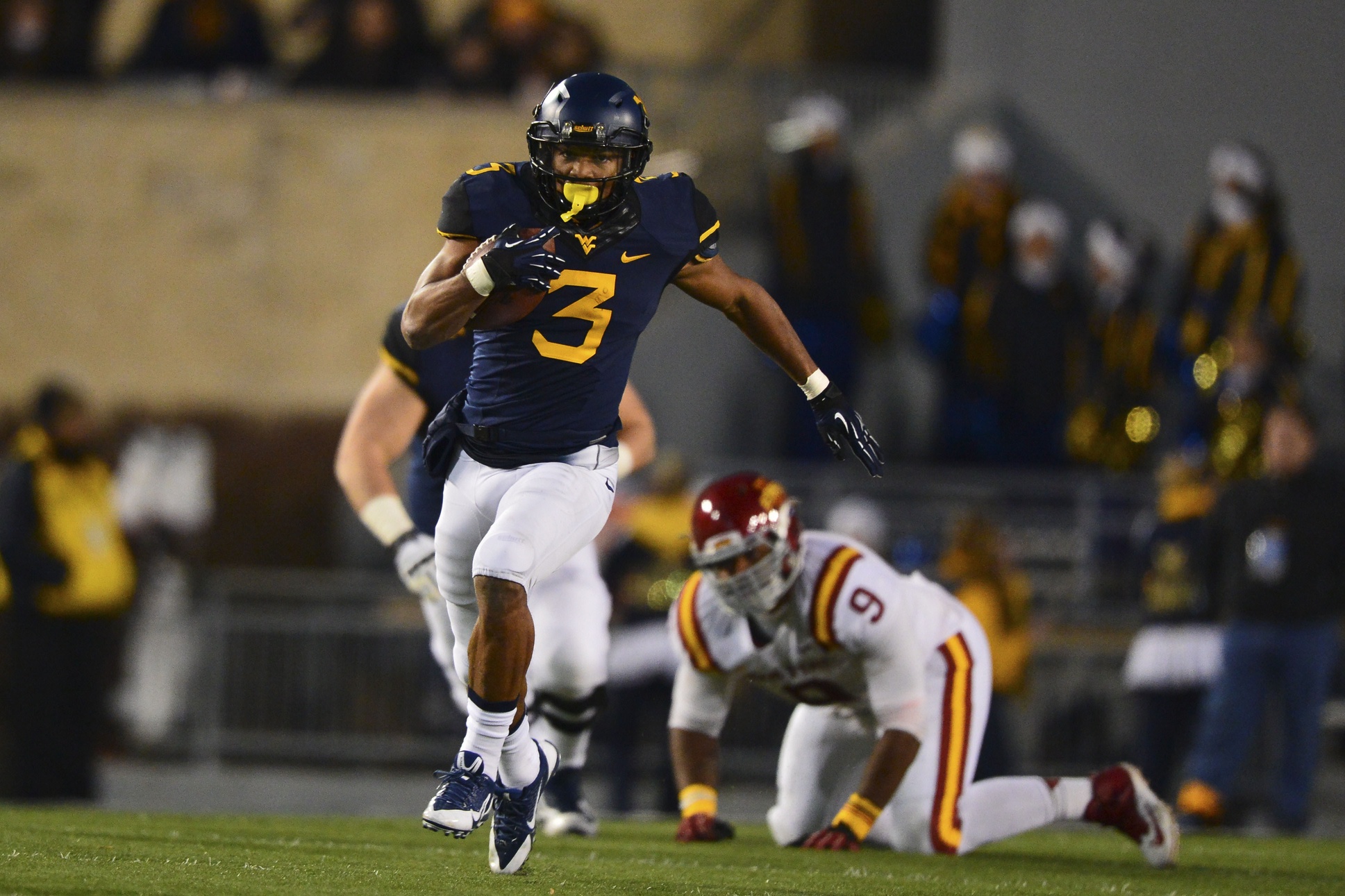 Charles Sims – Running Back: West Virginia (6'0″, 215)
Strengths:
He shows excellent balance and body control. Good vision and shows patience to allow his blocks to happen.  He reads his blocks well, especially in the outside zone game and the screen game.  Quick to get to the edge where he is most successful.  Can plant his foot in the ground, get vertical, and make perimeter defenders miss.  He lacks tremendous quickness, but can get out on the edge when he sees the hole open up.  In the open field, he has the ability to stop on the dime and change direction, which makes him a very tough back to open-field tackle.  Once he makes the first tackler miss, he has the ability to get to the next gear and get to top speed quickly, which led to a lot of his big gains at West Virginia.  A willing and able pass and run blocker with room for improvement.  In the passing game, he has very reliable hands and shows a level of comfort catching the ball. Catches the ball using his hands and uses his body well when shielding off defenders.  He wasn't asked to run a variety of routes in college, but excelled in all facets of the pass game. Has the ability to make short screen passes into long gains because of his ability to cut and make a defender miss on the outside.  He was used in the pass game more at Houston than West Virginia (transfer), but showed natural ability to contribute both as a blocker and as a route runner in the passing game.
Weaknesses:
He needs to add size to his frame, particularly in his lower body.  Gets to the edge well, but often gets tackled by an individual defender due to his undersized lower body.  His feet have a tendency to stop moving when a defender goes to tackle him, which doesn't allow him to get many yards after first contact.  Runs a bit high, leaving him susceptible to a big hit or even a fumble.  He has relatively small hands, which leads to ball security concerns.  When running between the tackles, he is a little too patient for a hole to open up, which results in a lot of little to no gains. Hesitant to find the hole, which is something that will need to improve if he wants to become an every down back in the NFL. Although he is a willing blocker, he needs to attack defenders more aggressively and keep leverage by lowering his hips and widening his base in order for teams to trust him enough to play on third down.
Overall Impression:
Shows a dynamic ability to make people miss on the perimeter.  Can be a dependable back out of the backfield in the passing game and will make perimeter defenders miss, resulting in big gains.  He played in a "Run-and-Shoot" system at Houston and a "Pistol" formation Spread Offense at West Virginia, which would make him a nice prospect for a team with a zone-blocking scheme.  He runs a bit too tall, which will lead to ball security issues and big hits in the NFL.  He lacks tremendous straight line speed, but has plenty of quickness and shiftiness to succeed in the NFL.  He can move well laterally, change direction and make people miss on the outside, but lacks the bulk in the lower body to run between the tackles in short yardage situations and break tackles.
Videos
Aaron Rodgers Injury Fallout & Jets/Bills Recap