Draft Featured Editorials Home Slider
Scouting Report: WR Allen Robinson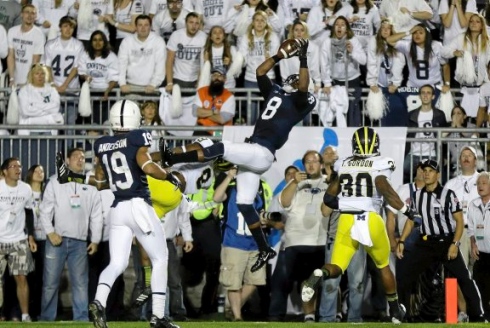 WR – Allen Robinson: Penn State (6'2″, 220)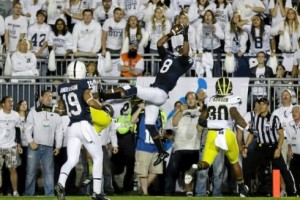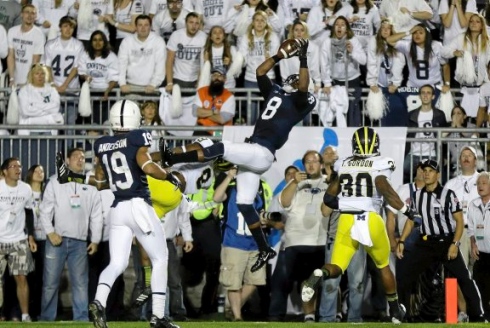 Strengths:
Robinson has outstanding hands and ability to make a play on a badly thrown ball.  He has a large catch radius, and really excels in the screen game, creating big plays after the catch.  Can leap and extend to a football well.  Has a nice burst off the line of scrimmage against off man or zone coverage.  Uses quickness rather than speed to create space for himself.  Fluid runner with above average route running ability that needs to work on his stems (route movement before primary break) and cuts.  Has the ability to turn a two yard screen into a big play with tremendous field vision, instincts and creativity.  Knows how to get open and use his body to work himself free in tight areas.  Has the frame to put on more size.
Weaknesses:
Lacks elite speed to become a true deep threat. Struggles to be physical at the line of scrimmage against a press corner. Doesn't make sharp breaks consistently, slowing his route down, and giving the defender a chance to stay with him.  Takes extra steps on his stem to regain his balance, particularly on double moves.  Has a tendency to make catches with his body at times, but has reliable hands.  Tends to run routes half speed when the play isn't designed to go in his direction.  Not a competitive blocker in the run game. Poor form when blocking allowing corners to stay low and get by him.
Overall Impression:
Despite having a true freshmen quarterback in Christian Hackenberg, Robinson excelled in 2013.  He has the physical size and ability to become a starter after some development.  Can be a playmaker due to his quickness and field vision, but has to become a more consistent route runner.  He has the potential to be a reliable possession receiver because of his ability to catch the ball in tight areas using his frame.  He needs to become a better blocker if he wants to be a three down wide receiver in the NFL.  If he can't be trusted to block and run consistent routes, coaches will see him as a niche "jump ball" wide receiver.  With some refining, Robinson could become a more complete wide receiver and have success at the NFL level.
Videos
Aaron Rodgers Injury Fallout & Jets/Bills Recap