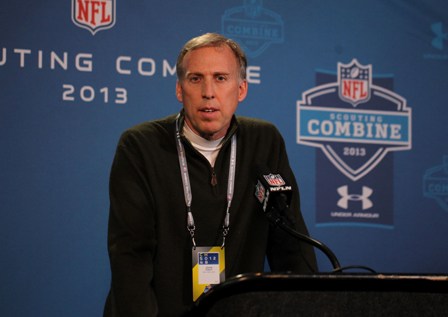 This was written by ganggreenman and posted in the JetNation forums.
It has been a very interesting offseason thus far. We obviously need to see what happens during the draft in May before we can start to come to any real conclusions, but the approach John Idzik is using (although not going to win over desperate fans/media right away), is one meant to sustain a longer period of success than we have seen from the Tannenbaum era.
THE PLAN
NEVER OVERPAY
While "money ball" isn't the same in football as in baseball, I like that Idzik seems to have an estimated value of what each player is worth before he heads into any negotiations.  Instead of spending more money for players than he believes they are worth just because we have some extra right now, he has let guys walk or sign elsewhere, always looking to get good value.
DRAFT FOR DEPTH
To supplement this strategy with Free Agents, Idzik has stockpiled draft picks. Whether or not Idzik succeeds on building a championship caliber roster with the Jets, the draft, and how the picks develop over a few year span, is absolutely critical.   Idzik is going to use the 12 picks this year primarily to continue building depth on the roster.  If we can draft a lot of good "project" depth players in rounds 4-7, it makes it a lot easier for him to never overpay a free agent or a player on an expiring deal.
LET THE PLAYERS DEVELOP
As mentioned in his draft strategy, the other part of his plan, which has been absent for years, seems to be that he wants to let the guys currently on the roster develop and earn bigger roles on the team.  Instead of overpaying for a big name safety or OL, he seems content on letting guys like Brian Winters and Antonio Allen get more reps with the starters and more attention from the coaches to see if they can grow into a starting role.
THE EXECUTION
FRANCHISE QB
It is near impossible to build a championship caliber roster using this plan if you do not have fixtures at some key positions.  Right now, QB, arguably the most key position, is a big question mark. For Idzik to succeed, Geno either needs to develop into a franchise QB, or Idzik needs to do some searching for someone that will.
GETTING VALUE IN FREE AGENCY
Never overpaying is a great concept, but the guys he does bring in need to be able to produce.  David Nelson was a shining example last season. Mike Goodson? Not so much.  Whether or not guys like Giacomini, Decker, and Vick can be productive will certainly have a large impact on our season.
HAVING BACKUPS IN HOUSE
If we can hit on our late round draft picks, and our coaches do a good job developing these picks,  Idzik should never have to overpay a non-essential player when his contract expires.   Look how the Steelers were able to let Alan Faneca walk without missing a step.  This will save money to pay guys like Wilkerson, Richardson, Mangold, and DBrick when its time to renegotiate their contracts.