Featured Editorials Home Slider
Geno Smith Believes He Will Start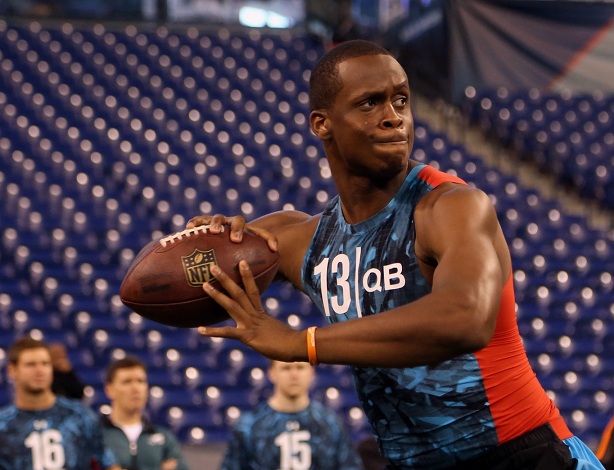 Geno Smith was asked some questions about the Jets situation at QB.   Specifically if he thought he would be the Jets starting QB this season.  It is a pretty easy question, because he has to answer with a yes which he did.
(The reason I believe I will start is) just that, my belief in myself. Knowing that I am going to take every action possible to get better and to come in to this season as a better player (gives me confidence).  Having a second season in Marty (Mornhinweg's) system, (being with) Coach David Lee (for a second season) and with Rex (Ryan) as the head coach is going to do wonders, not just for myself but everyone on the offense. Obviously it is going to come down to production on the field. I just believe that with the experience that I have gained and with the direction that we were heading in as an offense and where I see myself as a second-year player, I just believe that I am more than capable of being the starter.
Does signing Vick mean the Jets have a lack of faith in Geno?
No, not at all. Like I have said, I think with our G.M. John Idzik, and with Coach Ryan and the staff we are doing everything possible to make our team better. We all believe that competition at every position is what's going to make every single player better and collectively make us all better as a team. I think that is what we have done.
When Mark Sanchez was the QB, there was nobody behind him on the depth chart to provide a challenge.  When Sanchez had a bad game Mark Brunell wasn't a realistic threat to take his job.  The Jets have learned from that mistake and Michael Vick will push Geno Smith.  He was asked for his thoughts on Vick being a Jet.
Overall, I think it will make our team better. I'm all for competition. As I told you guys, I am going to compete no matter who (the team brings) in. I think we got a good guy in Mike, who brings something extra to the table as far as veteran leadership into our quarterback room. As well as a guy with tremendous capabilities that we all – him, myself and Matt Simms – can compete with one another as well as learn from one another. It should be fun in our quarterback room.
The most important thing the Jets need out of the QB position next year is fewer turnovers.  If Geno is going to win the starting job, and keep it, he must improve upon his numbers from last season (12 TDs \ 21 INTs).  Geno was asked what he has done so far this offseason to decrease turnovers.
I just watched the film and studied it.  I watched them over and over and over again, as painful as it is. It makes me realize, quite honestly, that I haven't, up until this point in my career, had a problem with turnovers, but protecting the ball is vital to any player, any quarterback, at any level, in any system.  So my main priority, and this is something I've always known, but like I've said, experience is sometimes the best teacher, so my main priority is to take care of that ball, but also, put the ball in the right places versus the right coverages.  Knowing where our answers are on offense for any coverage, any blitz, anything and obviously being prepared for it and knowing it, and in year two, I've seen it, so I have that experience to revert back to.
Tell us if you think Geno Smith will be the Jets starting quarterback this season.
Videos
NY Jets Phase 3 OTAs, Expectations and a Minor Calf Tweak with Greg Renoff