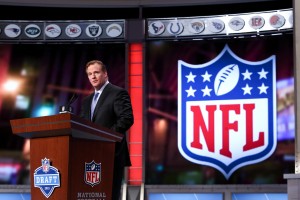 Two interesting changes that are being discussed involve expanding the playoffs to 14 teams and expanding the draft to include a 4th day.  For some draft junkies, three days isn't enough. That one seems excessive but here are some more details.
Expanded Playoffs – NFL.com
Roger Goodell: Owners to talk playoff expansion in May

The door remains ajar for playoff expansion to 14 teams this season.

NFL Commissioner Roger Goodell said Thursday that owners would discuss expanded playoffs at the Spring League Meeting in Atlanta on May 20.

According to Newsday's Bob Glauber, Goodell said it is possible owners could approve expanding playoffs as early as this season. If no vote is taken at that meeting, it won't happen this year.

Aside from the owners' approval, the players' union must also approve playoff expansion.
Not sure if this will pass for this season, but anything that brings in more money will eventually pass. So plan on seeing a larger playoff pool in future seasons.
Four Days For The NFL Draft
You thought @NFL Draft was already a big event? Roger Goodell told me today league will consider stretching it to 4 days (still 7 rounds).

— Jeff Darlington (@JeffDarlington) April 25, 2014
Like I mentioned above, four days for the draft does seem to be a bit much.  If the NFL can find a way to monetize it, they will consider it.  It is hard to think that the networks will be really excited over televising rounds 6 and 7 on day four.