Vick: Geno Is The Starter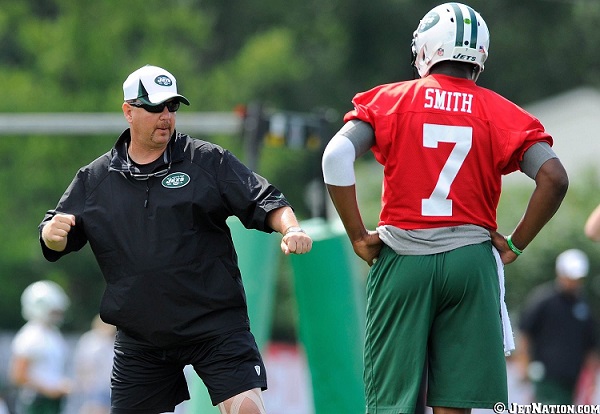 NJ.com has a very interesting quote from Michael Vick.  They spoke to him at a family fitness event.  Vick told NJ.com:
Geno's the starting quarterback for that football team.

Ultimately our goal is to try to help Geno become the best quarterback that he can be. Myself and [third-stringer Matt Simms] are all trying to put him in a position where he can get better from year one to year two.
In March, we ran what we called the real story on Michael Vick.  The short version is that Vick would serve as a backup to Geno.  Here is a short excerpt:
The good news is, that isn't the Jets game plan. Michael Vick will compete with Geno Smith for the starting job in training camp. Geno Smith will win and then Vick can serve as a backup and football mentor. The Jets want Geno Smith to win this competition and as we learned last year, that goes a long way towards determining the winner. Vick does know Marty Morhinweg's offense very well and that will come in handy as he serves as the backup QB. He will see the field if Geno gets hurt, if Geno doesn't perform and in special packages (Wildcat anyone?)
During Michael Vick's first press conference his tone seemed to indicate that he expected to be a backup QB.
First and foremost I came to compete and be a helping hand for Geno, and he has a long way to go.  We both talked.  We both agreed we're going to push one another and make each other better.  So whatever happens, happens.  And I know what I signed up for.  At the end of the day I'll be content with it.
Let us know what you think about Geno Smith and Michal Vick in our forums.  Or send us a tweet with your thoughts @JetNation.
Videos
NY Jets Phase 3 OTAs, Expectations and a Minor Calf Tweak with Greg Renoff