Boyd vs Simms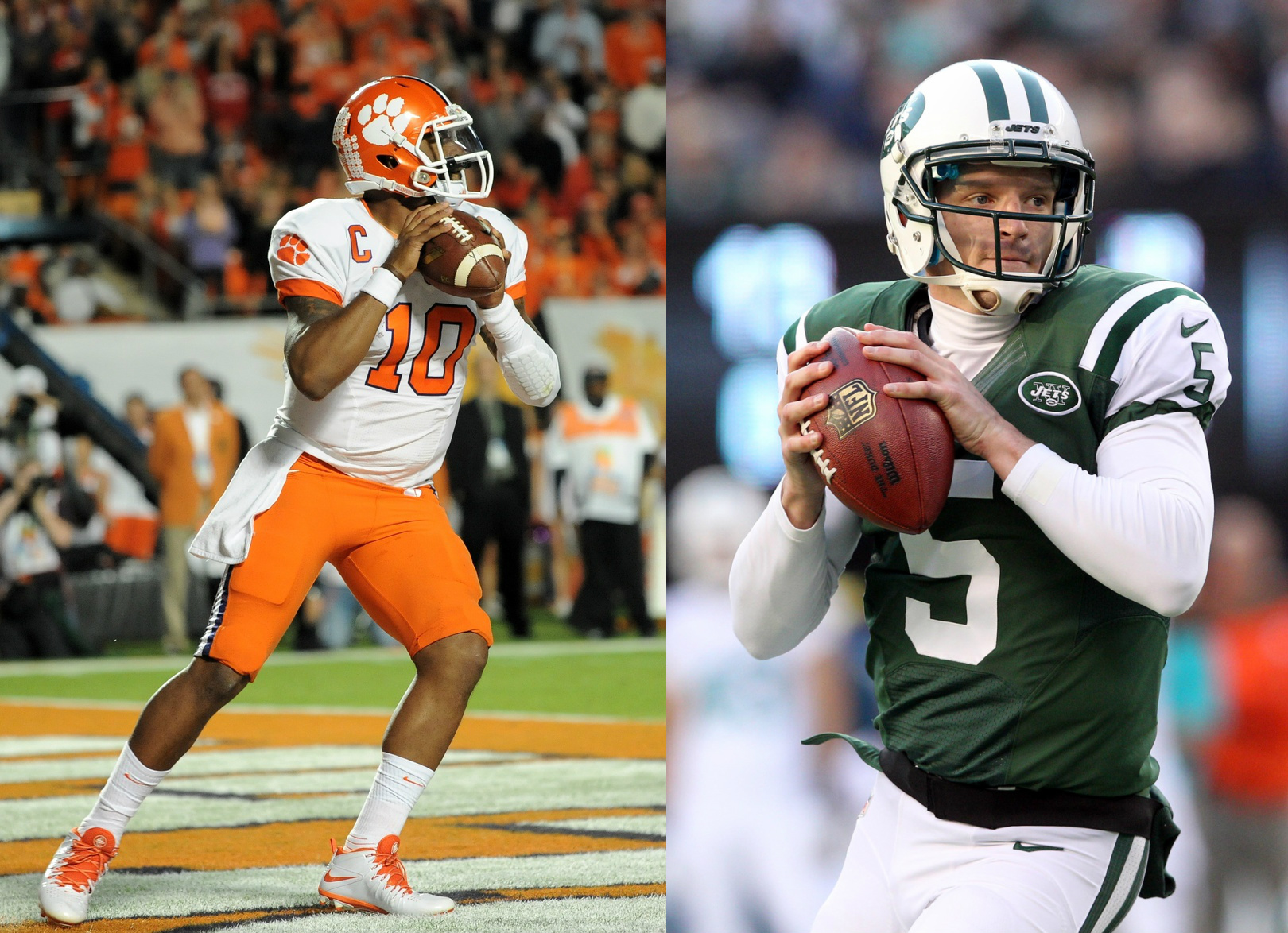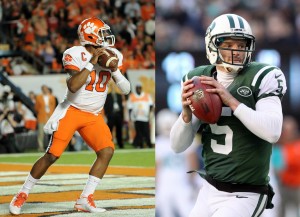 The NY Jets have 12 new players, courtesy of the NFL Draft.  With their 4th selection in the 6th round they picked Tajh Boyd (QB) from Clemson.  Rex Ryan's son is a freshman at Clemson and spoke highly of Tajh. Rex Ryan said, "I just think we probably had more of an insight to probably his character with my son being there. My son had a thing about his leadership, Tajh's leadership. He said he was the leader of that program as far as a player's concerned. He said if Tajh would have called a meeting at 2:00 AM, the entire football team would have been there."
To survive as a QB in New York, you need to be a strong leader.  You also need to be a good QB, so the question is what else does Tajh Boyd bring to the table?  Terry Bradway gave this assessment of Boyd, "(He had a) productive college career, really productive. And he really throws the ball well. We were there last spring and they were having spring practice and I was really impressed with how accurate he was throwing the deep ball, more than a lot of quarterbacks I've seen. So that was good. His interception-to-touchdown ratio is good."
Boyd will go into camp with a lot to prove, but the Jets are happy that he was still available in the 6th round. CBS Sports talks about how far Boyd dropped in the draft rankings.
The QB was a likely first-rounder and one of the most talked-to players in college football with the Tigers, until falling from the spotlight with his team's mid-October 51-14 drubbing by Florida State.  Despite the drop off, Boyd thinks he'll be selected by the third round. Most projections include him with a group of second-tier passers, many who'll be available Saturday when teams finish with rounds four through seven
The good news for the Jets is that Boyd will battle Matt Simms for the 3rd QB position.  This competition will have no impact, at least initially, on the starting job.  Last year Matt Simms upset Greg McElroy for the 3rd spot.  Can Matt Simms do it again this year, against a tougher competitor in Boyd?  Simms has the advantage early because he knows the system and has a little NFL game experience.  Boyd will have to show that he can take a snap under center, since he played out of the shotgun extensively at Clemson.
The upside with Boyd seems much higher, so our bet is he will win the 3rd QB job.  Then the Jets have a year to evaluate him and see what his future holds.  Michael Vick is only under contract for one-year.  So the winner of the battle between Simms and Boyd will have a shot to be in the league for a long time.
Tell us who you think will win, we want to hear from you in our New York Jets message board.
Videos
NY Jets Phase 3 OTAs, Expectations and a Minor Calf Tweak with Greg Renoff