Featured Editorials Home Slider
Johnson & Ivory: Splitting The Load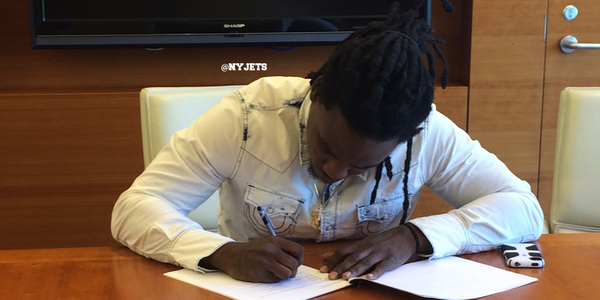 The New York Jets have a nice problem at running back.  Talent.  They will have to figure out a way to split the carries between two primary backs in Chris Johnson and Chris Ivory. Johnson, who will be 29 this season, has averaged 290 carries per season throughout his career. He has never rushed for under 1,000 yards in a season. Ivory, who was a backup his first three seasons in New Orleans, has only carried the ball more than 100 times in a season twice in his career.  He has never rushed for more than 1,000 yards in an NFL season.
Chris Ivory is younger, 26, and showed explosiveness last season with the Jets and had a 4.6 yard average.  Chris Johnson has more experience but showed signs of slowing down last year. His longest run from scrimmage was 30 yards and he finished the year with a 3.9 yard average.
Finding the right combination with these two running backs will be imperative to the Jets success. Bilal Powell is in the mix as well, which makes the equation even more challenging.
Two challenges that Johnson faces are learning a new offense and getting healthy.  He was asked about joining a new team and he said, "The main thing is it's just different coming from Tennessee and the playbook we had (there) is mainly numbers and stuff and coming over here, the numbers here are more on blocking schemes and (are) different. (I'll) just continue to study and I'll pick it up pretty easily."
Recovering from off season surgery is the bigger concern.  Johnson suffered a meniscus tear in his knee in Week 3 last season with the Titans. He played through the injury and underwent surgery after the season.
Johnson says that he is feeling good and started straight-ahead running this week.  He claims that he is close to 100%.  Although it doesn't sound like he will be on the field for OTAs.
I think they're going to hold me out of OTA's and just continue to let me rehab until I get 100 percent. Just from talking with Dr. Andrews, (I'll) take it slow. I have time on my side and (will) just be ready for camp.
Chris Ivory is saying all the right things about the Jets adding Chris Johnson.  "Chris Ivory, he's a good guy, him, Bilal (Powell), and all those guys (are all good). It is a situation where I knew the situation coming in and are just going to work together. Everybody's goal is to put wins on the board. We're not really worried about the carries, who's going to play this down and that down. We've all just got one focus and that's winning."
Running back will be fun to watch during training camp.  We probably won't know the Jets real plan for the position until the games start in September.  My bet is that the attempts per running back will look very different than last year. In 2013 Powell had 176 carries and Ivory had 182.  How will it break down this year is hard to say but this is my guess:
Chris Johnson: 210 carries
Chris Ivory: 156 carries
Bilal Powell:  55 carries
How do you see the Jets splitting carries with these running backs?  Tell us what you think in our New York Jets forum.
Videos
New York Jets OTA Presser Takeaways, Aaron Rodgers' Impact and Summer Delusion