Featured Editorials Home Slider
Johnson On Johnson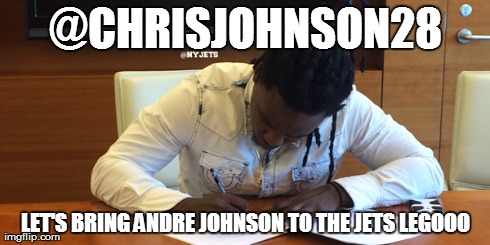 Sometimes a few words can be powerful. This is often the case when a sports star makes their opinion known on Twitter.  On Tuesday New York Jets running back Chris Johnson tweeted that the Jets should bring in Andre Johnson. At least that is what I think he tweeted. You can decide for yourself.
Let's bring Andre johnson to the jets legooo

— Chris Johnson (@ChrisJohnson28) May 28, 2014
This is all speculation of course, since Andre Johnson is still under contract to the Houston Texans.  Since Johnson isn't at OTAs, that is adding fuel to the fire.
Johnson has not attended any of the Texans' offseason program, which began April 7. He made it clear to the team that he was unhappy prior to speaking publicly about it.

What exactly Johnson wants changed isn't clear. When he spoke two weeks ago at a charity event, Johnson said he wondered if Houston was the right place for him but added that he hadn't requested a trade or spoken to anyone about his contract.
Andre Johnson is 32 years old and it is an extreme long shot that the Jets would pull the trigger on a move like this. Take a look at his stats though, when you see 12,261 receiving yards you have to at least consider making this move.
Jason Fitzgerald breaks down the salary cap implications on OverTheCap.com:
Johnson carries a salary cap charge in 2014 of $15,644,583 and a cash contract value of $11 million. If traded before June 1, Johnson's cap charge for the Texans would be $11,964,166 representing a savings of $3,680,417 against the cap. If traded after June 1 the Texans would take a $4.644 million cap charge in 2014 and a $7.319 million charge in 2015. In either scenario the trade would help rather than hurt the Texans salary cap.

The more difficult aspect of the trade is to find a trade partner. Johnson has $34.5 million remaining on his contract, a huge number for a player that is about to turn 33 years old. While Johnson plays at a far higher level than his peers at that age, players like Anquan Boldin and Wes Welker are working for $6 million a season. To complicate matters Johnson would likely want an extension or some type of guarantee on his contract.
Videos
New York Jets OTA Presser Takeaways, Aaron Rodgers' Impact and Summer Delusion