Home Slider Jet News NY Jets Training Camp
OTA Practice Notes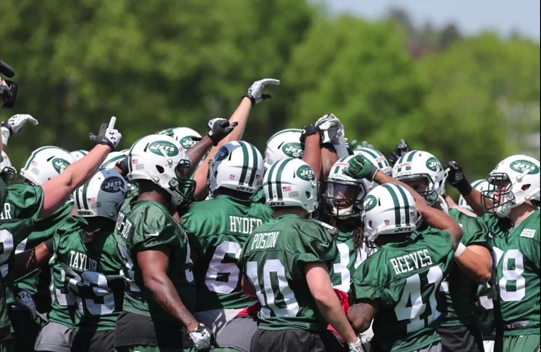 Here are some notes from NY Jets OTAs:
Absent
Shaq Evans (still finishing college)
Mike Goodson
David Nelson (illness)
Injured Players
Chris Johnson – rehabbing his injured knee
Willie Colon – knee injury
Quincy Enunwas
Daryl Richardson – turf toe
Calvin Pryor – dental issue
Oday Aboushi took Willie Colon's snaps at right guard. Aboushi played tackle last season, but the Jets want him to gain experience at guard.
Notes
Rex on Mike Goodson, "Again, these are voluntary deals. I'm sure he's rehabbing that knee." Rex was asked if he has spoken to Goodson recently and he replied, "Nope."
As we wrote when he was signed, Michael Vick is the Jets backup QB. Vick made headlines when he suggested that Geno would start if they played evenly in camp. Rex Ryan clarified this today as well, "Well, I think maybe let's let it be a tie and we'll see if it's a true statement or not. Let's let it play out and we'll see at the end of the day where it shakes out. I've said from day one, I think Geno's going to be hard to beat out and I've said that from day one. But I've also said that Mike's going to have an opportunity to compete and he definitely will."
Michael Vick said it isn't an open competition because it isn't an open competition. Of course the Jets can't say that publicly, so they will dance around the question. Unless Geno Smith has an atrocious training camp, he will be the Jets opening day starter. Michael Vick is here as a mentor and an insurance policy. Something the Jets never had behind Mark Sanchez.
Here is how the quarterbacks reportedly performed on the day:
Round 1: Geno: 8-for-10 with 2 sacks; Vick 3-for-7 with 2 drops #nyj

— Brian Costello (@BrianCoz) May 28, 2014
Nick Folk also picked up where he left off, by ending practice with a 53 yard field goal.
Be sure to read more and comment on the New York Jets OTAs in our forums.
Videos
New York Jets OTA Presser Takeaways, Aaron Rodgers' Impact and Summer Delusion