Draft Home Slider Jet News Transactions
Jets Sign Calvin Pryor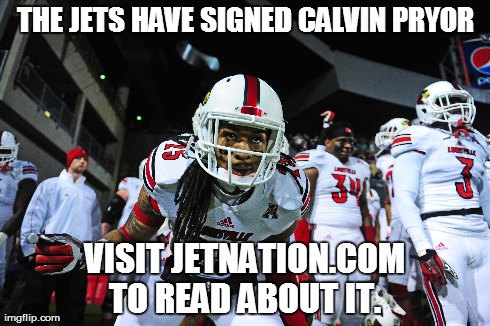 The New York Jets have signed their 1st round draft pick, Calvin Pryor.
We have signed 1st round draft pick S Calvin Pryor (@CP3_850) – http://t.co/fTccP5dhzr pic.twitter.com/Am4PfKNJ2X

— New York Jets (@nyjets) June 2, 2014
Here is what Matt Bitonti from DraftDaddy.com said about Calvin Pryor after the draft:
Round 1: S Calvin Pryor, Louisville

Pryor will be an instant starter right now and hopefully for 10+ years. At the risk of jinxing this player terribly, Pryor is possibly an all-time great pick; Rodney Harrison or Ronnie Lott are not completely unrealistic expectations. Yes I know that's a crazy prediction to make. But everyone I talked to raves about this player. He describes himself as fearless and it's clear from the film that he's an impact player. He can ball hawk, not strictly a run support player, and a huge upgrade over Dewan Landry or whoever they were planning to trot out there at safety.

The Jets defense wasn't actually elite last season. They got their sacks and were great against the run but how many times were they burned on third and real long? The Calvin Pryor selection is a direct response to that problem.

Who else could they have taken? The only value WR the Jets could get day one was Brandin Cooks, and it's hard to imagine a lineup with Cooks and Jeremy Kerley on the field at the same time. I personally might have selected Darqueze Dennard but Dennard might not have started as a rookie (more on that when we discuss the McDougle pick). Pryor will start, and that's a draft pick that has more impact.

A quick word about the value of the safety position, there were four safeties in round one but only three quarterbacks. The Cardinals trade down and subsequent pick of Deone Buchanon seemed like a pouty response to Pryor going two slots earlier. The Packers took Hasean Clinton-Dix and the Niners took Jimmy Ward, one year after taking Eric Reid in a similar spot. Safeties are at a premium these days, and with all the changes to the game emphasizing passing, it makes sense that safeties would go up in value.

It's also clear that Pryor was graded out higher than most players left on the board, as many respected sources had him as a top 15 pick. The Jets have only had two drafts in the John Idzik era but a hallmark of his selections in round one is "someone who could have gone higher."
Dexter McDougle (3rd round pick) is now the only unsigned draft pick for the Jets.
Videos
Aaron Rodgers Injury Fallout & Jets/Bills Recap