Home Slider Jet News NY Jets Training Camp
Jets OTA Updates From Kristian Dyer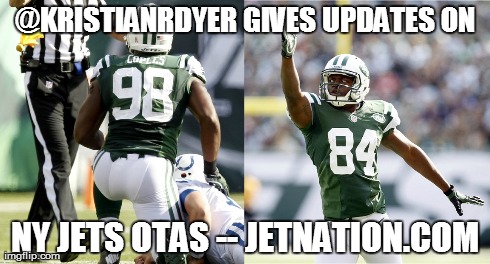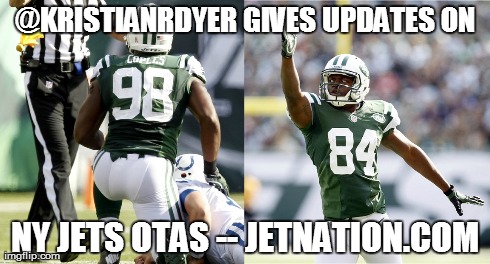 We had the opportunity to interview Kristian Dyer and get his take on the New York Jets. OTAs are underway and Kristian covers the Jets for Metro New York and contributes to Yahoo! Sports.  We would like to thank Kristian for his insight on the team.  Please give him a follow on Twitter:  @KristianRDyer
Will Chris Johnson not being part of OTAs have any impact on his ability to get ready for the season or learn this offense?
Kristian Dyer: A veteran at his stage in the career finds that OTAs are more about mental reps and perhaps conditioning then anything physically gained. As long as Johnson is ready for training camp, he will be fine. Better to keep him fresh for the season, especially with some tough games early on, then to see him burned out by doing too much now.
You mentioned that Quinton Coples lost some weight.  Tell us what is going on there….
Just caught up with Coples, said he dropped 15 pounds this offseason. Sounds like an expanded role at outside linebacker this year. #nyjets

— Kristian Dyer (@KristianRDyer) May 22, 2014
Kristian Dyer: Last year, Coples didn't find out definitively that he would be used at outside linebacker until training camp. While that might not sound like a big deal, he came in thinking he'd play along the defensive line, and added size last offseason to accommodate his second-year playing with his hand in the dirt.
This year with the knowledge that he will be playing standing up a bit more, he trimmed down in an effort to be more mobile. This is a crucial offseason for Coples and if he can fly around a bit more, it will help with his continued transition to playing linebacker.
Calvin Pryor was advertised as being vocal in rookie minicamp.  Can a rookie come in to this locker room and be a vocal leader from day one?
Kristian Dyer: Well, Rex Ryan has certainly elevated rookies to that level before, namely Demario Davis.
Is Pryor ready to be a leader? Likely not. Truthfully, Dawan Landry is the leader of the unit and with other voices on the defense such as the aforementioned Davis as well as the likes of Sheldon Richardson and Muhammad Wilkerson, Pryor doesn't have to be a voice of the defense.
What he can be, however, is a voice in the secondary. He can certainly talk and jaw with the best of them, and then the proverbial boom with his physical playing style. He told me that he loves to be competitive and talk trash – in fact he researches opponent wide receivers to better his trash talk.
I'm always hesitant to anoint rookies as leaders. There is a role for Pryor on this team but not as a leader. Not yet.
What is the health status for Dimitri Paterson?  He missed a lot of games the past few seasons, but the Jets need him to be on the field since they passed on several big name CBs in free agency.
Kristian Dyer: It seems like so far so good for Paterson, who I think can be a big impact for the Jets this year.
Keep in mind that general manager John Idzik has gambled with injury-prone players last year and got good returns from the likes of guard Willie Colon and running back Chris Ivory. Patterson can play on the outside which could let Kyle Wilson slide into the slot role.
His signing could be the best move of the offseason on the defensive side of the ball. Paterson is underrated and will play that way.
Do you feel like Bilal Powell & Stephen Hill are guaranteed roster spots this season?
Kristian Dyer: Certainly not, but they should both earn spots in a true, open competition.
Powell was one of the better running backs in the first half of last season and while he isn't a game-changer with elite speed and elusive moves, he is a solid back who usually generates positive yards.
In addition, I was impressed with him last year in training camp as someone who can be a pass-catching threat.
Hill gets a bad rep among Jets fans who expect more from him – and let's be honest, he should be producing more. One thing he doesn't get credit enough for last year is that he's cut back on the drops significantly.
While he's injury prone, he showed progress last year and his dip in production during the middle part of the season was more about not being targeted than anything else. He was on a good role at the beginning of the year and he should be able to build on that.
The Jets should see increased production out of the tight end position this year now that Jace Amaro is a Jet.  As far as the wide receivers are concerned who do you see emerging behind Eric Decker and Jeremy Kerley?
Kristian Dyer: Hill certainly could be someone who takes the next step and can become a solid role player in the offense. In addition, I wouldn't sleep on David Nelson after what was a good 2013 where he ran good routes and make the catches he was expected to make. He was reliable, and the Jets need that.
Jacoby Ford can be a game-changer and he has to be penciled in. Among the rookies, Shaq Evans wasn't impressive on film and rookie minicamp didn't change my impression of him. I liked Jalen Saunders as a pick and even more after rookie minicamp. He runs a good route, gets his hands up fast from his stride and he's elusive. Can he play every down? No. Can he add some spice? I think so.
Is Rex Ryan going to be job hunting if the Jets fail to make the playoffs this season?
Kristian Dyer: I haven't cleaned the grease off the grill from Memorial Day and we're already talking about Rex's Jets future.
This is a tough schedule, and he should be judged as such. If the Jets are committed to Geno Smith, then to me it is still a rebuilding year (albeit likely the final year in that process). Last year if they had a veteran quarterback, I think they could have made the playoffs with that schedule.
The slate is tougher this year and six or seven wins is more likely. I don't think they make the playoffs and if they don't, I think Rex is out the door.
Kristian R. Dyer writes for Metro New York and is a contributor to Yahoo! Sports. Follow him on Twitter @KristianRDyer
Videos
Aaron Rodgers Injury Fallout & Jets/Bills Recap