Home Slider Injury Report Jet News
Injury Updates From Rex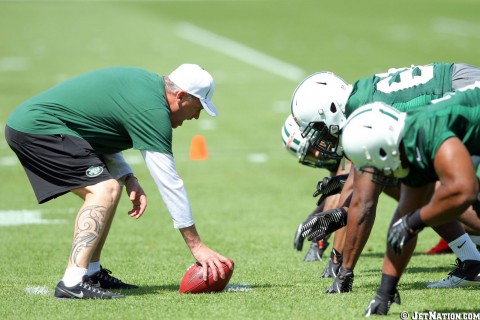 Rex Ryan gave some injury updates after the OTA session yesterday.
Antwan Barnes
It's slow, but he's getting better. We all wish he was ready to go, but he did have some different issues with his surgery. One thing I know about him is he's going to compete, and he's going to do whatever it takes to get back on that field. Where his situation is, I don't expect him to be out here. Will he be ready for training camp, I'm not sure, but I don't expect him to be at the rest of the OTA's and the mandatory camp. He's not ready to do that. Certainly, he gives us that punch and that suddenness off the edge that certainly we hope he is able to get back to us.
Dexter McDougle
We'll see. He's itching to go and things. He's got a lot of strength in his shoulder doing certain things but then there's other exercises that it's not as much. Which you worry a little bit if he hits the ground, you don't want him to have a set back of a dislocated shoulder. Those are things (that) you've got to make sure he just gets it completely strong. There's some things he's 100 percent at and then there are others that he is not quite (100 percent) at. But again we have been really impressed with him from a mental stand point and the way he carries himself and the little things that he's able to do, he's been impressive.
Mike Goodson
On whether Goodson would be able to participate if he was here considering his knee rehab?
I'm not going to speculate because he's not here and I don't know where he is.
Rex Ryan also added this on Mike Goodson:
The thing I know in this camp, it's voluntary. Right, so he hasn't been here. He volunteered not to be here and I'll volunteer to not answer the question.
Videos
NY Jets Phase 3 OTAs, Expectations and a Minor Calf Tweak with Greg Renoff