Antwan Barnes Injury Update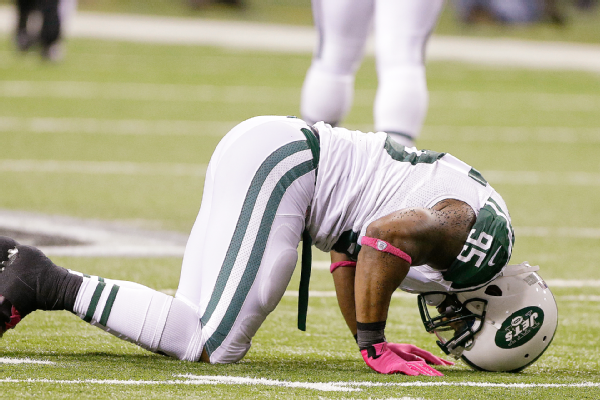 Antwan Barnes was on the rise last year for the Jets until he suffered a torn ACL in week 5. The injury was a heavy blow for the Jets, but it was overshadowed by the tight victory over the Atlanta Falcons.
Rex says Antwan Barnes' recovery is "slow." Not sure he will be ready for training camp. #nyj

— Brian Costello (@BrianCoz) June 4, 2014
Rex Ryan says Barnes' recovery is "slow," Ryan also added that Barnes is dealing with "some different issues." While this may sound like bad news for Barnes' recovery time, Ryan may just be playing it safe so Barnes doesn't feel the need to make training camp. If Barnes returned to training camp too early in his rehab process, he could push himself too hard and aggravate his injury.
Antwan Barnes targeting return from knee injury by training camp http://t.co/ZCN1gwTfmj via @sharethis #nyjets #jetstwitter

— Kristian Dyer (@KristianRDyer) June 9, 2014
While Rex Ryan may seem to have a pessimistic view on Barnes' recovery, Barnes is a little more optimistic. When asked about the progress with his recovery he said "I'm probably past 70 percent at this point. I think it will continue to get better and continue to not just heal, but get stronger." It has been a little over 9 months since the game against the Falcons in 2013. When asked whether or not he will be ready for training camp Barnes simply replied "probably" in a confident demeanor.
For more information on injury updates and other news stay tuned to JetNation, and be sure to read about Antwan Barnes in the forums for further discussion.
Videos
Aaron Rodgers Injury Fallout & Jets/Bills Recap