Mike Pettiness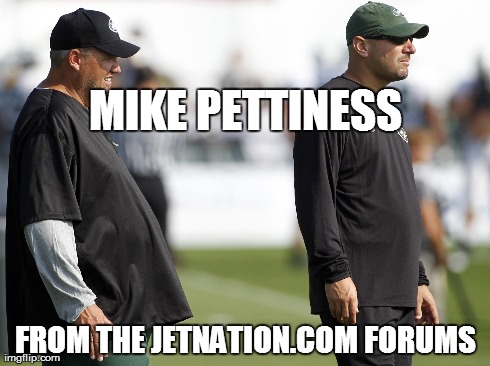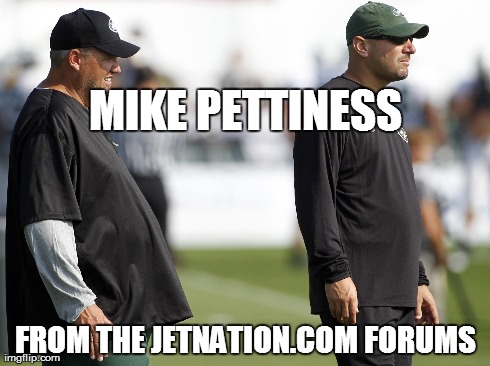 I am not going to profess to understand the exact nature of the falling out between Mike Pettine and Rex Ryan. I do know that best friends don't take lateral moves and stay in the division.  That is what happened when Mike Pettine became the defensive coordinator of the Buffalo Bills.  The move has certainly worked out for Pettine because he now has an opportunity as a head coach.  With the Browns, Pettine has the chance to step out of Rex Ryan's shadow and succeed or fail on his own.
Yet somehow the talk this week has been about a Jets playbook falling into the hands of the Patriots.
Tom Brady once hinted to a New York assistant that the Patriots might have had come into possession of Jets playbooks. Pettine wondered if Ryan's decision to give a playbook to Alabama coach Nick Saban — a mutual friend of both Ryan and Bill Belichick — played a role.
It isn't the first time that Pettine has taken a jab at Rex.  In his first press conference with the Browns, Pettine told reporters that he isn't Rex Ryan.
"I won't be predicting Super Bowls or meeting presidents," Pettine said after being announced as the 15th head coachof the Cleveland Browns.
He did acknowledge that he wouldn't be standing there without Rex. But he also spoke about how much he helped, "keep Rex organized".
An ex Jets front office executive defended Rex Ryan with this tweet:
It continues to amaze me when I see backhanded slaps at Rex Ryan by Mike Pettine. Why do that to someone that helped your career?

— Ari Nissim (@AriNissim) June 20, 2014
In the JetNation Forums, Lego the Lageman summed it up perfectly when he called him Mike Pettiness.
History will decide who made who but I feel comfortable saying that Rex Ryan will have a far better, and longer, head coaching career in the NFL than Mike Pettine will.  Let the pettiness continue…
Videos
JetNation
4.6K
Subscribe
Broken Brains; Critics of Jets Quarterback Aaron Rodgers Begin Stirring up Conspiracy Theories