Jets Announce Reward Program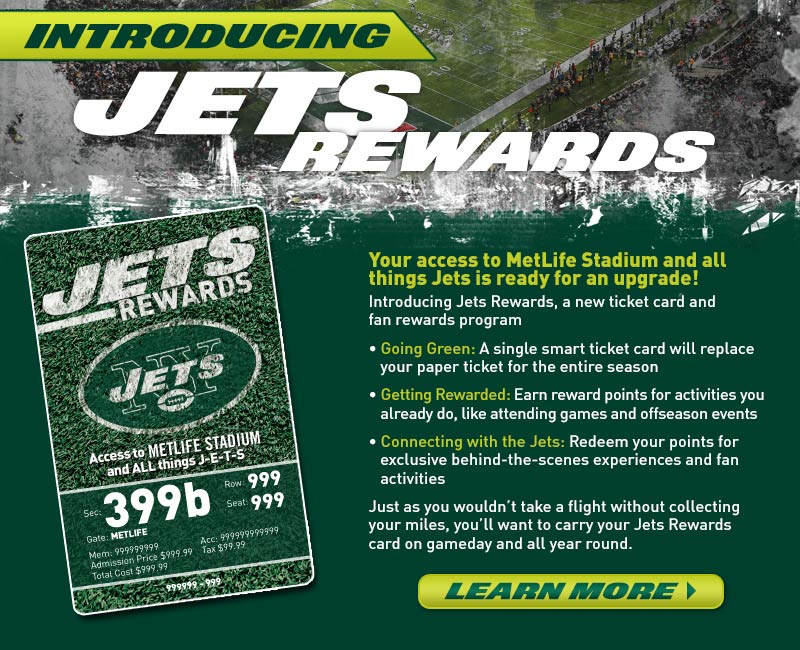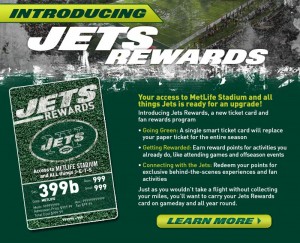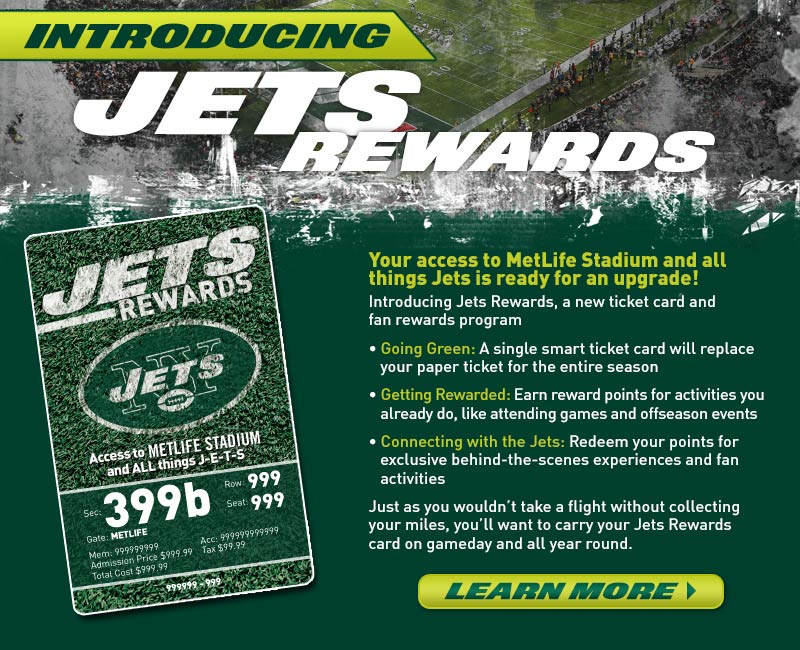 The NY Jets sent out an email to season ticket holders this week that had a graphic explaining the recently announced Jets Rewards program. The graphic appears below, along with the text that the Jets published in May when they went public with this program.
I spoke with team president Neil Glat at the Jets Metlife draft party and he mentioned this program. He seemed genuine when he said they created this program as a way to give back to their loyal fans.
It is too early to judge this program; although I am curious to see how much fans will be rewarded for going to home games. On a personal level I would rather be able to exchange my rewards points in for behind the scenes Jets experiences as opposed to merchandise.
I am curious to hear what JetNation thinks about this program.  Continue the conversation and let us know what you think about the New York Jets Reward Program.
Tonight at the season-ticket-holder draft party at MetLife Stadium, fans received handouts introducing Jets Rewards, a new program to recognize our season ticket holders for their loyalty and dedication to the Green & White.

Through activities as simple as attending home games, watching or listening to away games on TV or radio, and participating in non-game Jets events, season ticket holders will earn points which can be redeemed for prizes. Rewards will include unique benefits that only the New York Jets could offer such as behind-the-scenes access and VIP treatment in addition to a wide range of merchandise.

All season ticket holders will be automatically enrolled in the program at no cost and will be able to manage their accounts through a Jets Rewards Online Portal, which will launch this summer. This will also be where fans will exchange their points for prizes.

As part of this program and in the continued effort for the Green & White to go green, all season tickets will be replaced with a paperless wallet-sized smart access card.

Don't worry: Electronic transfer and sale will not be affected. Once a ticket is transferred or sold, the original will be immediately invalidated for that game. Printing tickets at home or sending them to mobile devices will still be options, and if you lose your card, we will replace it. Additionally, commemorative tickets will be available at the Jets Shop on gamedays.

More information on Jets Rewards will be announced in the coming weeks and season ticket holders should expect to receive additional details in July. The program will be fully active for the first preseason game on August 7. Meanwhile, please direct all questions to your account representative.
Videos
Aaron Rodgers Injury Fallout & Jets/Bills Recap