Jet News NY Jets Training Camp
5 Storylines Heading Into Training Camp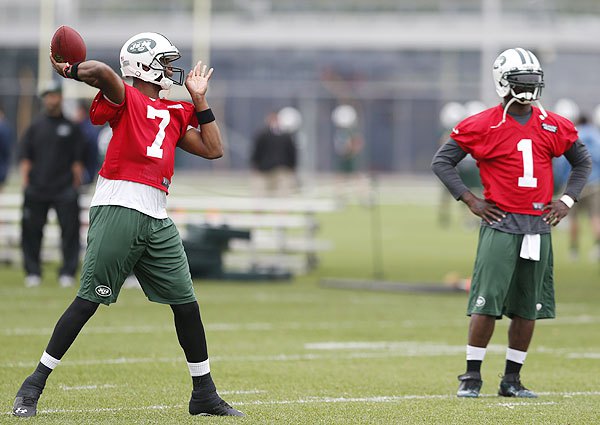 Here are 5 storylines to watch as the Jets head into training camp.
1) Thunder & Lightning
The Jets have a stacked backfield coming into the 2014 season. Chris Ivory led the team in rushing yards last year with 833 yards, and is arguably one of the best power backs in the league. The Jets also acquired Chris Johnson this offseason, who is infamously known as CJ2K for his 2,000 yard rushing season. Johnson has an unblemished 4.24 40 yard dash time, the fastest ever recorded at the combine. The only other combine entry with a 4.24 was Rondel Melendez who was drafted in the 7th round by the Falcons, and never panned out in the NFL. With both of those halfbacks in the stable it can be hard to remember the Jets also have Bilal Powell. Powell lead the Jets in total offensive yardage with 969 yards, 697 rushing and 272 receiving. With Thunder & Lightning (Chris Ivory and Chris Johnson) it will be hard for Jets RB coach Anthony Lynn to find many carries for Powell, but Lynn would be wise to incorporate Powell as much as possible. According to Lynn the Jets are going to be "strategic" when it comes to determining Johnson's workload. Lynn's comment makes it seem that it will be a fairly even workload between the 3 halfbacks to preserve Johnson and keep him from being overworked; Lynn also added that the team has "always played the hot guy." Johnson doesn't seem too interested in a timeshare though saying: "Once the season starts and once we're playing and I'm doing my thing, I'm pretty sure if I'm making plays they're going to want to keep handing the ball off to me. If they want me to continue making plays, I'm pretty sure I can't do that if I'm on the sideline." One thing is for sure, the Jets have plenty of talent at halfback. Once training camp rolls around we may get a clearer picture of who the lead HB will be for the 2014 season.
2) Geno vs Vick
Who will start week 1? Competition or not? So far the #1 QB spot seems to be Geno's job to lose. According to Marty Mornhinweg, the Jets offensive coordinator, Geno will get 70 to 75 percent of the reps in training camp. 70 to 75 percent sounds pretty one sided. Vick has stated that it is "not an open competition" multiple times to the media, and Vick isn't the type of guy to willingly sit back and hold a clip-board. Vick has a had a long, and at times prosperous career and is also regarded as the pioneer of the "mobile QB" by many. Geno on the other hand is entering his 2nd year in the NFL after a very up and down rookie season. While the majority of Geno's rookie campaign was shaky, he ended on a high note recording 790 yards passing with 4 touchdowns to 2 interceptions while adding 186 yards on the ground and 3 rushing touchdowns in the last 4 games of the season. It seems that every year in recent memory the Jets head into training camp with a quarterback competition or "controversy." The Jets can avoid any unwanted attention or distractions by declaring a starter before the preseason or at the latest before the regular season. The Jets never declared Geno the starting quarterback last year, and it would be a big boost to his confidence to embrace him as the starter rather than being indecisive.
3) Eric Decker and who?
The biggest move of the offseason for the Jets was acquiring former Broncos wide receiver Eric Decker. Decker had 2,352 yards and 24 touchdowns receiving in his last two seasons with the Broncos. The biggest argument against Decker's stats is that they are inflated by playing with future Hall of Famer Peyton Manning. While it may be true that catching passes from Peyton is very different from Geno Smith or Michael Vick, it is also important to keep in mind that in 2011 Decker caught 8 TDs, 4 from Tim Tebow and 4 from Kyle Orton. While Decker is slotted as the Jets #1 WR it is still a blur beyond that as to who will take the #2 role. Kerley is almost a lock to be the slot receiver for the Jets at the #3 position, Kerley has proven to be a reliable and versatile slot receiver. Training camp should be a big stepping stone for all the rookie WRs including Jalen Saunders, Shaq Evans, and Quincy Enunwa. Saunders seems to be the most likely candidate out of the rookie class to have a shot at a significant role this season.
Returning wideouts such as Stephen Hill, David Nelson, and Clyde Gates all have a chance to grab the #2 role. This is a make or break year for Stephen Hill who has had 2 lackluster seasons for the Jets. Hill has not lived up to his 2nd round pick in 2012. Nelson was a mid-season addition for the Jets last year, who came on strong later in the season. Nelson has been a good soldier for the Jets, and will have the chance to be awarded an upgraded role this season. Gates is a speedster, but has never really caught on for the Jets. Gates will need to impress in camp to get an opportunity at a bigger role. Will it be one of the rookies or one of the veterans that gets the nod for the #2 spot?
4) Who will step up for the O-line?
The Jets still have two Pro-Bowlers on the offensive line in center Nick Mangold and left tackle D'Brickashaw Ferguson. Other than those two though, the depth gets a little questionable. The Jets failed to resign Austin Howard, a right tackle who ended up signing with the Raiders; instead the Jets signed Breno Giacomini, a tackle who played for the Seattle Seahawks championship team last year. Brian Winters is the most likely candidate to fill the left guard position. Winters started 12 games for the Jets last year at left guard. While Winters struggled at times, he came along towards the end of the season. Another offseason should be crucial for Winters if he is to retain the starting role at left guard. Willie Colon started at right guard for the Jets last year all 16 games, and was resigned on a one year deal. It was assumed that Colon would resume his starting role at right guard until he received a knee scope (arthroscopic knee surgery) in March. Colon says he will be ready and was on the field during minicamp. Oday Aboushi, and Dakota Dozier are favorites to replace Colon for training camp. If Aboushi, Dozier, and William Campbell can step up the Jets shouldn't worry too much, if not they may want to seek out an insurance policy in a veteran guard.
5) Milliner Island? Will the Louisville Slugger be Defensive Rookie of the Year?
There are two parts to this storyline, both are about the Jets secondary. The Jets are taking a gamble with their secondary this year by putting all their stock in Dee Milliner. Milliner came on strong at the end of the season with 3 interceptions in 2 games, and solid coverage, but struggled mightily during most of the season. Milliner got his fair share of the bench last season, and will need to continue the play of those last two games to keep his #1 role and not make the Jets look bad. The Jets passed on many big names at cornerback this offseason such as Brandon Flowers, Dominique Rodgers-Cromartie, and Alterraun Verner. The Jets also failed to resign Antonio Cromartie, and decided not to make an attempt at a Revis-Jets reunion which ended up with Revis signing with the Patriots. The Jets must feel very confident in Milliner because behind him there are many question marks. After Milliner the Jets have Dimitri Patterson at the #2 CB spot, and Kyle Wilson maintaining the Nickel. The Jets do have good depth but a lack of proven, and consistent talent. Dexter McDougle is a player who is on the rise coming into camp, if he performs well he could edge out either Patterson or Wilson. Behind McDougle the Jets also have Darrin Walls, Ras-I Dowling, Jeremy Reeves, Brandon Dixon, Ellis Lankster, Johnny Patrick, and Rose Lowell.
The Jets 1st round pick of the 2014 NFL Draft, Calvin Pryor, is set to make a big impact in his rookie season. Rex Ryan and Dennis Thurman are expecting big things from Pryor, and according to them he has impressed so far. Sheldon Richardson was awarded Defensive Rookie of the Year for a dominating rookie season in 2013; Pryor should definitely be in the conversation for 2014 Defensive Rookie of the Year if he lives up to expectations. To quote Rex Ryan regarding Pryor: "We expect this young man is going to contribute, and in a big way for us." The bar will be set high for Pryor, but he will have every opportunity to make his presence felt early. In training camp players will be wearing pads, and it should be a perfect opportunity for Pryor to show off his abilities.
---
Even though the Jets are regarded as a defensive team, many of the big stories going into training camp will be about the offense. The Jets have changed the face of their offense, and added some important pieces. The key to success for the Jets will weigh heavily on the quarterback position and the leadership provided by whoever is declared starter. NY Jets Training Camp kicks off on July 24th at 10AM in Cortland.
As always stay tuned to JetNation for more information on Jets Training camp, as well as other news. Check out our forums for more discussion about Jets training camp.
Videos
Aaron Rodgers Injury Fallout & Jets/Bills Recap