Tom Shane Predicts The Jets Season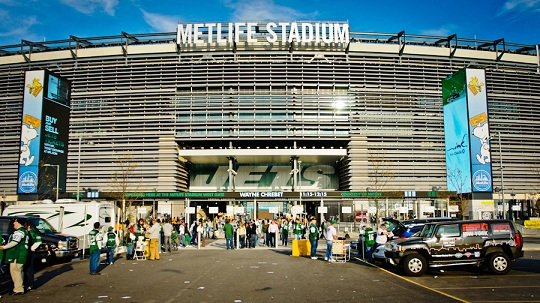 This was posted in the JetNation forums; Tom Shane predicts the entire Jets season. Please let the record state that we don't agree with Tom's opinion but we are sharing it for entertainment purposes only. Tom predicts a 7 and 9 record for the Jets this season. I personally don't see the Jets taking a step back after adding Decker, Chris Johnson and Calvin Pryor but please read his predictions and tell us what you think about the 2014 NY Jets.
By Tom Shane
Last year, when absolutely no one but a few basketball "writers" (aka to Jets/Rex fans as "everyone") were predicting the Jets to win 2 games, I boldly went against the Stephen A. grain and called for a 7-9 season, citing the fact that the Jets would do just enough on defense to make it interesting (and by "interesting," I meant "just good enough to ruin a draft slot"). In sum, I was closer than "everyone."

Without further ado, here is my 2014-2015 season prediction:

Oakland Raiders @ Jets
Result: Jets 27, Raiders 9

The Raiders have historically given the Jets major problems, but this Oakland team is straight trash. Matt Schaub has all the intestinal fortitude of a fainting goat, and Derek Carr won't be ready to compete against an NFL defense like the one Rex will have prepared for this opener. Geno Smith will only throw the ball 17 times, but Chris Johnson and Chris Ivory will combine for 150 yards on the ground. Quentin Coples will have 2 sacks (one coming when Schaub collapses at his feet on a third-and-20 situation). Calvin Pryor will get flagged for his first helmet-to-helmet penalty when he hits James Jones in the lower abdomen too hard in the first quarter. 

Jets @ Green Bay Packers
Result: Packers 21, Jets 17

In what will be a pretty sloppy offensive game for both teams, Aaron Rodgers will do just enough to get the Packers a W. Geno Smith will throw a TD pass to Eric Decker in the fourth quarter to get it close, but it won't be enough to overcome his two earlier INT's. Jordy Nelson rolls the Jets corners for 9 catches on the day, and Clay Matthews runs around Breno Giacomini all day long. On the plus side, the front seven pushes around the Packers OL enough to keep Rodgers from getting comfortable.

Chicago Bears @ Jets (Monday night)
Result: Bears 42, Jets 16

This will be a wheels-fall-off type game similar to the beatdown the Jets received at the hands of the Bengals last season. The Bears have too much size at wideout, and Jay Cutler is too oblivious to get rattled by Rex's defense. On offense, the Jets respond to Geno's "slow start to the season" by floating the possibility of Vick starting at some point ("Boyitellya, he's raring to go"–anonymous quote), which results in nine million QB CIRCUS! storylines in the papers, which then results in an untenable environment for any young QB. Marty Mornhinweg spends the week deflecting Vick questions, up until the third quarter rolls around and Vick takes the field. 

Detroit Lions @ Jets
Result: Jets 34, Lions 21

The Rex Jets respond well to public humiliation and short rest, both of which they'll have for this matchup. Matt Stafford is just too dumb to win this game. Geno bounces back, throwing 2 TDs and rushing for 1. Calvin Pryor gets another flag for spearing Reggie Bush, and combines with Dee Milliner to give up a ridiculously easy-looking TD to Megatron. Another good day on the ground for Ivory and Chris Johnson, even though Chris Johnson develops a limp around this point in the season.

Jets @ San Diego Chargers
Result: Chargers 23, Jets 14

The Jets will scrap, but Chris Johnson will miss this game with a hamstring. This will be the first week that we see packages installed for Mike Vick, because that always works. The Chargers hate playing the Jets, but Mike McCoy is slowly filtering the hillbilliness out of Phillip Rivers' game, which should be enough to knock the Jets down here.

Denver Broncos @ New York Jets
Result: Jets 35, Broncos 27

This will be the annual The Game The Jets Shouldn't Win But Do Anyway Game. Geno plays well, Ivory and Powell keep the chains moving, and Peyton Manning gets drilled three times in the first quarter, inciting a billion ESPN mock-debates on the humanity of letting Peyton Manning take the field at his advanced age. 

Jets @ New England Patriots (Thursday night)
Result: Patriots 24, Jets 21

The Jets keep it close, but Mike Vick (in the WildVick package) fumbles late, leading to a Pats field goal that wins the game. 

Buffalo Bills @ Jets
Result: Jets 19, Bills 3

Another ugly game, but the Jets bounce back by beating on EJ Manuel. This is a Bills-Jets game, meaning that everyone who watches it comes away from it really depressed, regardless of the outcome. 

Jets @ Kansas City Chiefs
Result: Chiefs 36, Jets 3

The Revenge of Bob Sutton Game. Geno, in Arrowhead, trying to complete passes against that Chiefs defense, will look like trash. Alex Smith doesn't turn it over, but the Jets will, leading to an ugly result. 

Pittsburgh Steelers @ Jets
Result: Jets 14, Steelers 10

In a game reminiscent of the 1936 Chicago Cardinals v Des Moines Pioneers title match, the Jets nip Ben Roethlisberger on a Jalen Saunders 73-yard punt return. Calvin Pryor and Troy Polamalu both get flagged for defenseless receiver penalizes, leading to a lengthy, entirely fictional explanation of what a "defenseless receiver" is from Boomer Esiason. 

BYE WEEK

The Jets will be 5-5 going into the last six games, setting up yet another Save Rex's Job motif around Florham Park. This is your life now, Jets fans. Forever. Learn to embrace it. 

Key stats at this point in the season:

Geno Smith–61% passing, 14 TDs, 8 INTs, 4 rushing TDs
Mike Vick–61% passing, 3 TDs, 2 INTs, 2 fumbles.
Chris Johnson–156 carries, 4.2 ypc, 4 TDs
Jace Amaro– 24 catches, 3 TDs
Eric Decker–44 catches, 580 yards, 4 TDs
Jessie James–Two appearances on The View to discuss dog adoption; drops one track that, when remixed, sounds like a Taylor Swift B-side and thus reaches #86 on Billboard's Hot 100.
Rushing Defense: Ranked #4!!!!!!!!!!!!

Jets @ Buffalo Bills
Result: Bills 24, Jets 13

The Rex Ryan Jets are miserable off of Bye Weeks and Dave and Busters proves to be too enticing yet again. 

Jets @ Miami Dolphins (Monday Night)
Result: Dolphins 35, Jets 32

A Jets-Dolphins game on Monday Night promises to be wild, and Ryan Tannehill actually performs pretty well against the Jets. This will be a fun one that I think goes to the home team on some flukey BS that sticks in your brain for decades. 

Jets @ Minnesota Vikings
Result: Vikings 24, Jets 21
Bridgewater vs. Geno will be a great matchup for any and all self-flagellating Jets fans. The Jets passed on Bridgewater as a sign of confidence in Geno, but if Norv Turner can get Bridgewater to simply not suck as a rookie, there will be much hand-wringing for everyone involved in that decision. The Vikings could be a surprise team in the mold of the 09-10 Jets: they have the brash Head coach with the defensive background, the young QB, and a dominant running game. The Jets–flying into Minnesota for a 1 am start on a short week could be in for a beatdown. Getcha cat o' nine tails ready.
Jets @ Tennessee Titans
Result: Jets 24, Titans 10
In one of the more stunning losses of the Jets 2013 season, they got their asses handed to them by Jake Locker and the Tennessee Titans. Though most of that blame fell squarely on a miserable performance by Geno, it still marked the first time in Locker's life where he looked like an NFL QB. I don't think it happens twice.
New England Patriots @ Jets
Result: Jets 19, Pats 17
This will forever become known as The Game That Determines Whether Rex Stays Or Goes, aka The Mehta Poll Game, aka The Game During Which Darrell Bevell Either Updated His Resume Or Deleted It Altogether aka The One Jets Game JiF Actually Watches This Year. The Jets, sitting at 6-8, need this game to save Rex. If they win it, he's here for eternal life. I'd he loses it, he's gone. Bill Belichick, looking at the Big Picture, starts Jimmy Garopollo, allowing Rex to remain as head coach in perpetuity.
Miami Dolphins @ Jets
Result: Dolphins 44, Jets 3

The result doesn't matter because the three things Woody Johnson covets most have been attained: 1. A Manish Mehta Twitter poll will draw 100k respondents, 2. He'll have gotten to refer to Bob Kraft as "Bobby" the week prior, and 3. He'll get some Gatorade spilled on his Armani shoes after announcing Rex is returning. 

Final tally: The Jets go 7-9, but it was a gritty 7-9 and Pete Carroll went 7-9 once. 
Videos
New York Jets OTA Presser Takeaways, Aaron Rodgers' Impact and Summer Delusion