#JetsCamp: Tight Ends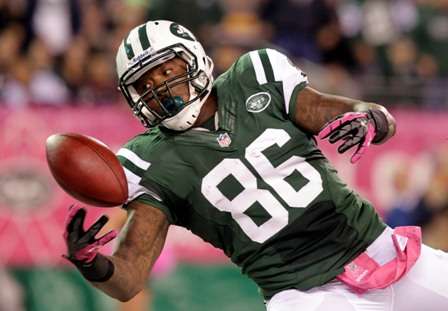 New York Jets Tight End Preview
Coach
This unit is coached by, Steve Hagen. Coach Hagan is entering his second season with the Jets, his tenth NFL season overall. Hagan has spent both seasons with the Jets as the team's tight end coach. Prior to becoming a coach for the Jets, coach Hagan was the tight end coach from 2001-2003 for the Cleveland Browns before switching over to coach the quarterbacks in 2004.
Question Marks
With young, high upside talent many times comes inexperience. This is in fact the case with the Jets tight ends. This group will have to make up for the production lost with the departure of Kellen Winslow Jr.  Winslow should be easy to replace, but he did have close to 400 receiving yards last season.  Two of the Jets three tight ends expected to play a role on the team in 2014-15 have one year, or less of NFL experience, those players being Zach Sudfeld (entering his second NFL season), and Jace Amaro (first year rookie).
When you take a closer look at the experience of the group, or should I say lack thereof, it becomes even more significant. Zach Sudfeld is a 2nd year player but in reality hardly even that. Zach, buried on the Jets depth chart last season, was targeted only seven times the entire 2013-14 season, and many times was not on/was left off the active game day roster. Jeff Cumberland who is entering his 5th season only played in 4 games over his first two NFL seasons. Frankly you could make the case Jeff is anything but a veteran. Finally there is the exciting Jets 2014 second round draft pick, Jace Amaro. Young Jace (22 years old), may be filled with loads of potential and talent, but the fact is he is an unproven and inexperienced first-year rookie.
Strengths
Remember how I mentioned young, high upside talent many times coming with inexperience? Well even that has its benefits. At the end of the day, is the goal not to have the most talented players possible? If so, then the Jets have managed to spin an attractive web. Each one of the Jets' three tight ends has talent, and size. Rookie Jace Amaro has a chance to one day be a top end, maybe even pro bowl caliber pass-catching NFL tight end. Perhaps though he is not the only Jet tight end with high upset. Both Zach Sudfeld, and likely opening day starter, Jeff Cumberland bring quality talent and high upside.
Players to Watch
Jace Amaro and Zach Sudfeld
For those who like comparisons, Jace Amaro compares fairly well to Baltimore Raves tight end, Dennis Pitta. The main difference between the two is the obvious high disparity, and Dennis being a bit stronger than Jace. However, both are talented, long bodied, pass catchers, not particularly known for their blocking ability. Blocking ability and most importantly blocking in the run game, is Jace's number one flaw. To become a true pro bowl caliber tight end, he must improve his blocking skills; otherwise Jace will be known as a one trick pony, limiting Marty Mornhinweg and the offense.
Maybe the least talked about, and least known of the tight end group, Sudfeld has tremendous size at 6 feet, 7 inches tall, and what looks to be an evolving skill set. The ex-Patriot could make for a nice red zone target for either Geno Smith or Michel Vick in 2014-15. Without getting too crazy I would say there is even a legit chance Sudfeld catches five or more touchdowns this season for the Jets. All in all, the biggest question for Sudfeld heading into camp is if he will earn and see playing time or not.
Videos
New York Jets OTA Presser Takeaways, Aaron Rodgers' Impact and Summer Delusion