#JetsCamp: Defensive Line
New York Jets Defensive Line Preview
Coach
The Jets defensive line is coached by Karl Dunbar. Dunbar is assisted by Jeff Weeks, the assistant defensive line/linebackers coach. Dunbar is entering his third year with the Jets as their defensive line coach. Both Dunbar and Weeks have a history with head coach Rex Ryan. Dunbar was drafted in the 8th round of the 1990 NFL draft by the Pittsburgh Steelers. Dunbar went on to play for the New Orleans Saints and Arizona Cardinals, and was coached by Rex Ryan as a positional coach when he played for the Cardinals in 1994. From 2006 to 2011 Dunbar coached the Vikings as a defensive line coach. From 2006 to 2008 the Vikings boasted the best rush defense in the NFL. Over the span of his career with the Vikings they gave up the fewest rushing yards (8,141), and had the 6th most sacks in the NFL (242). The Jets signed Dunbar to take over the defensive line coaching position on February 13, 2012.
Jeff Weeks, the assistant defensive line/linebackers coach, also has a history with Rex Ryan showing the continuity of the Jets coaching staff. Weeks was a college roommate of both Rex and Rob Ryan at Southwest Oklahoma State University. Weeks transferred to Northwest Oklahoma State University and graduated with a Bachelor's degree in health, as well as physical education and recreation. Weeks also attained a Master's degree in physical education and recreation from Morehead State. Another interesting link to the Ryan family is the fact that Weeks attended Eagles training camp as a wide receiver in 1986 under head coach Buddy Ryan. Weeks coached with Rex at Morehead State, as well as Oklahoma. In 2009 Weeks was signed as the assistant defensive line/linebackers coach after spending a year with Oakland as a defensive assistant under Rex's brother Rob.
Strengths
The defensive line was the strong point of the Jets roster last year. Maintaining, as well as building on their dominance will be essential if the Jets want to have a successful season. The Jets defensive line, and the secondary are both young. Unlike the secondary though, the defensive line has proven they are a force to be reckoned with and then some. The Jets defensive line was donned the "Sons of Anarchy" last year by a clever fan on twitter, and the team quickly voiced their satisfaction with the nickname. The name was taken from the FX series called the Sons of Anarchy, and is relevant since the three starters last names all end in "son." The defensive line is led by Muhammad Wilkerson who registered 10.5 sacks, 2 forced fumbles, and an interception last year. Wilkerson was snubbed to be a starter in the pro bowl last year, but still earned alternate honors. Rookie Sheldon Richardson made his presence felt, and made an immediate impact with 3.5 sacks and 2 rushing touchdowns. Richardson also earned Defensive Rookie of the Year honors. As long as the defensive line stays healthy, the Jets should remain at the top of the NFL in rush defense for years to come.
Weaknesses
It is hard to think of a weakness when dealing with such a dominant unit. The only potential flaw in the Jets defensive line is the lack of depth. Other than the starting three, the only real standout is Leger Douzable. Kenrick Ellis has failed to live up to his 3rd round pick so far in his professional career with the Jets. If one of the starting three were to go down with a serious injury, the Jets would be in big trouble. The Jets could benefit from investing another roster spot to adding more depth on their defensive line just in case they face a worst case scenario during the season.
Projected Starters
Defensive End: Muhammad Wilkerson, Sheldon Richardson
Nose Tackle: Damon Harrison
It'd be very tough for anyone to argue against the fact that all three of these beasts are a lock to start on the defensive line this year. The "Sons of Anarchy" could be together for many years to come if they continue to put in performances like the one they had last season. The Jets hard work in the draft room has paid off with their 1st round picks on the defensive line. Both Muhammad Wilkerson and Sheldon Richardson will be leaders on this team for as long as the Jets keep them around.
Projected Reserves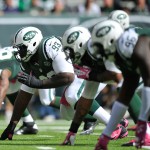 Defensive End: Leger Douzable
Nose Tackle: Kenrick Ellis
Why change what already works, and works well? While it is a valid point that the Jets could benefit from adding another defensive lineman for depth, each roster spot is precious. It's a safe bet that the Jets will stick to the same five defensive linemen they had on the 53-man roster last year. This is a contract year for Ellis. If Ellis can make the most of his time on the field this season, and contribute with some key plays he can secure his place among the dominant unit.
Wild Cards
Defensive End: Kerry Hyder
Nose Tackle: Tevita Finau
If the Jets do end up adding another defensive lineman to their 53-man roster this year, it will most likely be one of these two players. Tevita Finau has been around on the practice squad since 2012, and would make a solid depth player. Kerry Hyder is an undrafted free agent out of Texas Tech and had a very impressive college career. Both of them have a shot, but they will need to separate themselves from the rest of the depth players to make it.
Projected Cuts
Defensive End: Tim Fugger, Zach Thompson, Anthony Grady
Nose Tackle: T.J. Barnes
Both Zach Thompson, and Anthony Grady are undrafted free agents. Tim Fugger and T.J. Barnes have been on multiple practice squads, three and two respectively. All four of these players are long shots to make the 53-man roster, but stranger things have happened. Damon Harrison was undrafted in the 2012 NFL draft, and he is now a starting nose tackle.
Players to Watch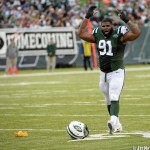 Defensive End: Sheldon Richardson, Kerry Hyder
Nose Tackle: Kenrick Ellis
Sheldon Richardson was named Defensive Rookie of the Year, and had an outstanding rookie campaign. It will be a tough act to follow this season, but the only real area for improvement is accumulating more sacks. Richardson only had 3.5 sacks last year, but racked up 78 total tackles, 12 of which were run stuffs. Richardson also contributed on offense with 2 rushing touchdowns. Even though Richardson had an outstanding rookie season he says he is "most definitely" better than 3.5 sacks.
Kerry Hyder recorded 176 total tackles, 34 tackles for a loss, and 11 sacks in his college career at Texas Tech. Hyder also had 6 forced fumbles, and 10 passes defended. This Texas Tech product has all the physical talent and traits to be successful, he just needs to translate it to playing on the NFL level. It will be vital for Hyder to stand out in training camp, and the preseason if he wants a shot at the 53-man roster.
Kenrick Ellis was a 3rd round selection by the Jets in the 2011 NFL draft, but hasn't seen much time on the field. As stated earlier, this is a contract year for Ellis who will need to step up if he wants to be retained by the Jets. It will be interesting to see if Ellis plays a little harder, and pushes for more playing time to make a bigger impact this season than he has in the past.
You can continue the conversation in our New York Jets message board.
Videos
Aaron Rodgers Injury Fallout & Jets/Bills Recap