Featured Editorials Injury Report
Antwan Barnes Update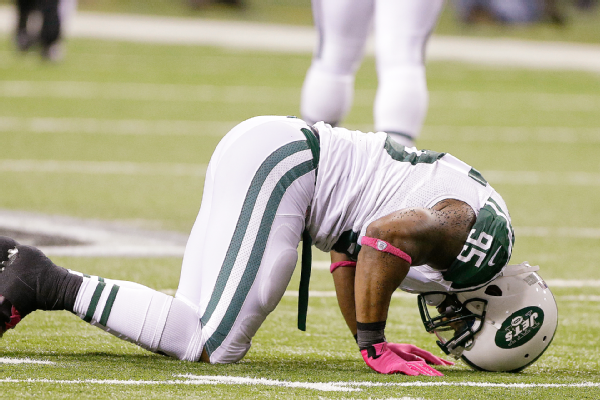 Antwan Barnes is coming back from an injury and the Jets signed Jason Babin as a pass rushing specialist. Barnes was also placed on the PUP list. Rex Ryan sheds some light on exactly where Barnes stands as the Jets get ready to start training camp.
Well, Antwan will be on PUP right now.  We are going to be smart with him.  In fact he passed his conditioning test, Willie Colon also will be on PUP and he passed his conditioning test. We're just going to be smart and we'll see how it plays out.  The thing that I'm real excited about, bringing in Babin, you mention Antwan Barnes and things, we want to have depth at every position, but there are some in particular.  When you have that kind of depth at the defensive line, and your ability to rush the passer and roll guys in.  You kinda saw what it looks like, the blue print for it when the Giants won their Super Bowl, Seattle and things.  You have to be able to rush the quarterback in the fourth quarter and certainly, I think on paper we certainly improved ourselves with that signing.
Rex was asked if he is concerned about Barnes.
Well a little bit, we're concerned with it, but (not too concerned), like I said he passed his condition test. He has worked awful hard. He had a little sickness or something today, but I think he's where we want him to be and things like that. Anytime you're coming off a major knee (injury), until you get out there and you're playing football and things, you're really not 100 percent sure. But we will be smart with this decision and when we're going to play Antwan and things like that. Will this be a longer PUP period than Willie Colon? I would anticipate that, but again we'll really lean on the trainers and the doctors.
JetNation will be at training camp on Thursday. Please visit us on Twitter and stop by our NY Jets Forum for real time updates.
Videos
NY Jets Phase 3 OTAs, Expectations and a Minor Calf Tweak with Greg Renoff