Featured Editorials Home Slider
Taking A Look At TJ Barnes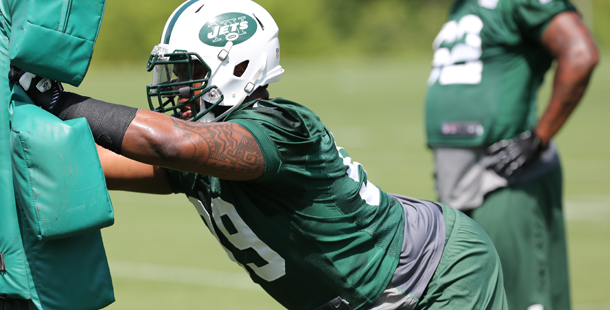 Just like every other NFL team getting ready to kick off the exhibition season, the New York Jets have plenty of big questions heading in to their pre-season opener. How will Geno Smith look in year two following an up and down rookie season? How will the secondary perform without an established dominant presence at the CB position to look to on game day? Among the many young guards on the roster, who will start on the left side, and who will step up if Willie Colon doesn't last the full sixteen game schedule? One  of the biggest questions in camp, (at least in a physical sense), that is rarely discussed yet still intriguing.
Who is TJ Barnes?
After going undrafted out of Georgia Tech, Barnes spent some time with the Jacksonville Jaguars and hung around until their final round of cuts before being let go. After giving Barnes a look, the Jets liked him enough to add him to their practice squad, where he spent 2013 season. For a team that boasts a defensive line that can make a case for being the best in the NFL, catching the eye of Rex Ryan and his staff is an accomplishment in itself. At 6' 7'' and 350+ pounds, Barnes is a physical specimen that will get a shot from somebody based solely on his size. For a man of Barnes stature, he moves much better than one might expect having run a 5.22 40 yard dash at the combine in Indianapolis. This surely played a role in Barnes leading all Georgia Tech defensive linemen in tackles (28) during his senior season while playing his first season as a NT in a 3-4 alignment. Despite having experience in a 3-4 and 4-3, Barnes is still a raw prospect.
Serving as a back-up for his first three seasons reduced the number of reps he got, but he was listed at 360 lbs in college, so even as a starter he may have had fewer reps than a smaller DT/NT.
We haven't heard Barnes' name mentioned much in camp with the exception of getting in to an altercation with O-lineman Will Campbell on day 8, but that may change with the pre-season just a few days away.
So when the second and third stringers are on the field in the coming weeks, Barnes is definitely a player worth looking out for. After all, you won't have to look that hard.
Visit our forums to read more about T.J. Barnes.
Videos
New York Jets OTA Presser Takeaways, Aaron Rodgers' Impact and Summer Delusion