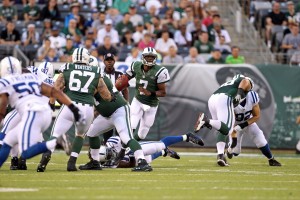 The Jets opened preseason at MetLife against the Indianapolis Colts tonight, winning 13-10 on a 51 yard field goal by rookie kicker Andrew Furney.
This being the first preseason game, there isn't a lot to take away from it, but we can make some observations about what we saw from the Jets today.
+ Geno Smith wasn't in long, but he seemed to be making better, quicker reads and had quicker feet than we saw from him last season. He didn't turn the ball over.
+ Michael Vick can still move, and looked sharp after not playing much last season due to injury. He converted to Tommy Bohanon on a fourth and three situation.
+ Running back by committee seems to be the way the Jets are going to go, and the Jets running backs looked pretty good in their appearances. Chris Johnson looked quick and was able to cut. Chris Ivory still ran with power and like last season, made us all wish he would try running around guys instead of over them.
+ Jace Amaro, the new rookie tight end, showed some good ability to gain yards after the catch, which is something the Jets desperately need.
+ The offensive blitz pickup wasn't very good. This will have to improve as the Colts were able to get good jumps on Smith and Vick. This was also mentioned by Greg Buttle on the telecast.
+ The offense committed no turnovers, which is huge. Geno Smith wasn't in very long, but lowering the number of turnovers is key for the Jets to have a successful season. The defense only forced on turnover late in the game.
+ In spite of the offense looking better than last season already (it'd be hard to look worse), they still only gained 235 total yards. This number has to go up.
+ The special teams looked sharp, but they still need a punter. Ellis Lankster's name was called multiple times – he was around the ball a lot.
+ The defense looked solid, particularly the defensive line. Still, the Jets are going to count on putting teams in third and long situations. They blew their first opportunity to successfully defend a third and long, and let up more throughout the game. Still, Dee Milliner (league's best CB, in case you hadn't heard) looked like he was continuing to improve. Dmitri Patterson looked like hot garbage. Cornerback was a position that everyone thought John Idzik was going to improve after the departure of Antonio Cromartie, but so far nothing has really materialized. The current crop is going to have to be much better in a quarterback league.
The Jets play their second preseason game next Saturday night in Cincinnati. Kickoff is at 7:00.