Vick "Looking Forward" To An Improved Geno Smith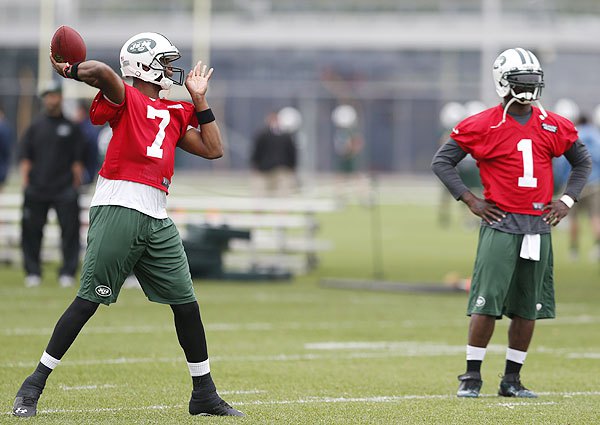 According to ESPN.com, veteran and (likely) back-up Quarterback Michael Vick has some high praise for incumbent starter Geno Smith at the Jets training facility in Cortland, NY. Vick said in reference to the young starter:
He's going to be 10 times better than where he was last year, and I'm looking forward to it.
Vick is saying all the right things as a back-up QB, but there's little doubt he wants to win the starting job. That however, is an unlikely scenario with Smith receiving roughly 80% of the snaps in training camp. Vick's only hope of winning the job would be a complete implosion by Smith in the pre-season while playing well himself in an offense he's familiar with and has at times, excelled in.
As far as Smith goes, he sounds confident heading in the Jets pre-season opener against the Colts on Thursday night, "Physically, I'm bigger and stronger," and added "Ultimately, it's about proving it on the field, going out there Thursday night and being sharp and having a good showing."
Who do you want to be the quarterback of the NY Jets? Comment in our NY Jets message board and let us know what you think.
Videos
New York Jets OTA Presser Takeaways, Aaron Rodgers' Impact and Summer Delusion