Featured Editorials Home Slider
Is Quinton Coples Jets' "X-factor" on defense?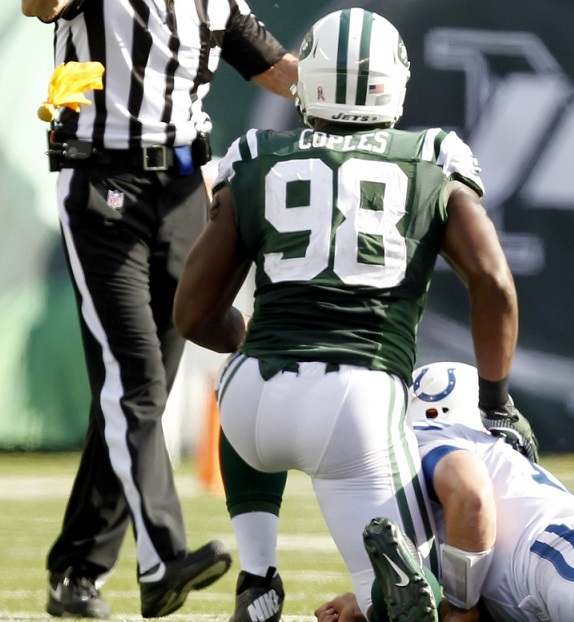 During his tenure as Jets Head Coach, Rex Ryan has used multiple fronts and exotic blitz packages to create pressure on opposing quarterbacks.  Using defensive backs and linebackers from every angle has generated some improbable victories, but when those blitzes get picked up, it's led to some very forgettable losses.  With a stout front-3 of Muhammad Wilkerson, Damon Harrison, and reigning defensive rookie of the year Sheldon Richardson occupying blockers up front, the Jets desperately need an edge rusher to step up. Wreaking havoc on opposing offenses would allow them more maneuverability in their defensive backfield.  The Jets are hoping that Quinton Coples is that player.
Entering his third season out of North Carolina, Coples has shown flashes of greatness but has also been criticized for questionable work-ethic since his college days.  Despite those characterizations, Coples went out this off-season and dropped 20 pounds in an effort to add some quickness to get to the quarterback faster.  Criticized by former Jets great Joe Klecko for his "look like Tarzan, play like Jane" career thus far, Coples will look to silence the critics in 2014.
According to Seth Walder of the New York Daily News, Coples has impressed his teammates thus far with his play in training camp, quoting Demario Davis as saying:
"He's playing at a much higher level, He's faster. He's more reactive. It's because he worked so hard to drop his body weight. He's already a freak of nature. … He's going to be unstoppable."
Walder also made the following observation about Coples, "He led the Jets in quarterback hits last season with 15, the second most of any 3-4 outside linebacker, according to ProFootballFocus.com"  Now the Jets and a slimmed down Coples will wait and see if some of those pressures become sacks.
If that turns out to be the case, it will go a long way in helping bail out a secondary that's big on questions, and short on answers at the moment.  However, if Coples isn't able to make his presence known coming off the edge, Ryan may be forced to send extra bodies and expose a secondary that's banged up and inexperienced.  The Jets' schedule from weeks 2-7 has been discussed ad nauseam, and rightfully so.  Facing Aaron Rogers, Jay Cutler, Matthew Stafford, Phillip Rivers, Peyton Manning, and finally Tom Brady, the Jets are going to have no room for error in the defensive backfield.  If Coples can create pressure and cause some panic in the pocket along with situational pass-rusher Jason Babin, the constant cries for more defensive backs could become a moot point.
Videos
NY Jets OTA Recap; Robert Saleh Cancels Minicamp