Featured Editorials Home Slider
Jets Roster Comparison 2012 vs 2014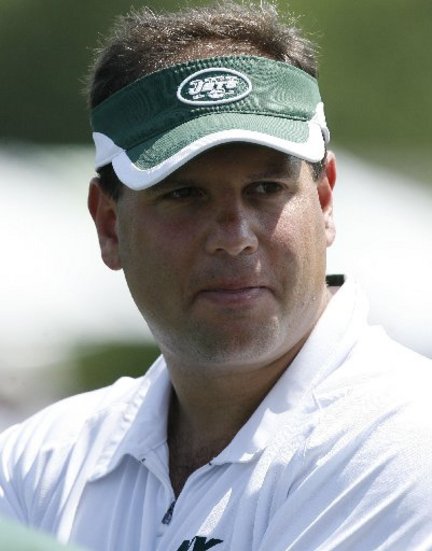 This was written by JetsFan80 and posted in our New York Jets forum. It was definitely worth sharing, so the content of the thread appears below:
This has been touched on in other topics but I think it's worthy of it's own thread.  As we head into the most important preseason game, let's go position-by-position and see if John Idzik actually has made improvements to the roster he was left with.
Quarterback
2012 QB's:  1.  Mark Sanchez   2.  Tim Tebow   3.  Greg McElroy
2014 QB's:  1.  Geno Smith   2.  Michael Vick   3a/3b.  Tajh Boyd/Matt Simms
Wholesale changes were required at the QB position, and Idzik has made some significant improvements.  Sanchez was ranked alongside Joey Harrington as the NFL's worst 4-year starter in recent history.  Tim Tebow's role was confusing on the 2012 roster, as his poor accuracy rendered him unable to actually play the position.  Greg McElroy turned out to be the real "# 2" on the roster and is currently without a home in the NFL alongside Tebow.
The current crop of QB's shows some promise at each spot on the depth chart.  Geno Smith took home an AFC Offensive Player of the Week honor in Week 5 of the 2013 season even with Peyton Manning playing out of his mind.  He then reverted to looking exactly like a rookie before finishing the season strong.  Vick is what he is at 34; a backup still capable of making plays with his feet and running some semblance of an offense if needed.  Boyd and Simms are competing for the # 3 job and are both better prospects than McElroy.
EDGE:  2014
Running Back
2012 RB's:  1.  Shonn Greene  2.  Bilal Powell  3.  Joe McKnight  4.  Lex Hilliard (FB)
2014 RB's:  1a/1b.  Chris Johnson/Chris Ivory  2.  Bilal Powell  3a/3b.  Daryl Richardson/Alex Green  4.  Tommy Bohanon (FB)
Shonn Greene is in Tennessee as Bishop Sankey's backup.  Chris Johnson, the previous back Greene spelled, is now a Jet.  If this were a player for player trade, Jets fans would have taken this in a heartbeat.  Greene never lived up to the "1st round grade" he was given by Tannenbaum.
Chris Ivory, who had 4.6 ypc behind a suspect line in '13, pushes the pile better than Greene ever did, and is a fine compliment to the exciting speed back Johnson.  The 4th round pick dealt for him seems well worth it, especially when you consider that Joe McKnight once cost the same price.  Powell remains in Jet green as the trusted holdover from the Tannenbaum era.  A jack-of-all-trades who has largely stayed healthy when other backs have not, he remains an ideal backup option.
EDGE:  2014
Wide Receiver
2012 WR's:  1.  Jeremy Kerley   2.  Braylon Edwards  3.  Stephen Hill    4.  Chaz Schilens   5.  Clyde Gates   6.  Jordan White
    * Santonio Holmes (IR)
2014 WR's:  1.  Eric Decker  2.  Jeremy Kerley   3a/3b.  Stephen Hill/David Nelson   4a/4b.  Greg Salas/Jacoby Ford/Clyde Gates   5a/5b/5c.  Saalim Hakim/Quincy Enunwa/Michael Campbell   6.  Jalen Saunders (KR)
     * Shaq Evans (IR)
Braylon Edwards, Chaz Schilens and Jordan White are all out of the league.  Ouch.  Meanwhile, Eric Decker has the look a low-end WR1, something the Jets have craved since the "Fly Boys" era.  He produced with HOFer Peyton Manning and also with Kyle Orton and Tim Tebow, so there is hope that he can help transform Geno's game.
The rest of the 2014 depth chart has competition at every spot.  Shaq Evans ending up on IR could be a blessing in disguise, as it opens a spot for another receiver to stick on the 53-man roster.  Hill is a bust and while Nelson has good hands, his route-running might be an issue.  What the Jets do with their bottom 3 or 4 spots on the depth chart will be interesting, but clearly Decker and Kerley will be the top dogs in terms of targets.
EDGE:  2014
Tight End
2012 TE's: 1.  Dustin Keller   2.  Jeff Cumberland  3.  Konrad Reuland (FB)  4.  Hayden Smith
     * Josh Baker (IR)
2014 TE's:  1a/1b.  Jace Amaro/Jeff Cumberland  2.  Zach Sudfeld   3a/3b.  Colin Anderson/Chris Pantale
It would be easy to say that 2nd round pick Jace Amaro is better than Dustin Keller purely by potential, but for now, it's a "jury's still out" situation.  Certainly Keller was a disappointment in a long line of TE disappointments for the Jets.  He couldn't block and he lacked the toughness to go over the middle.  But he was big, fast, and had his moments.  Amaro caught everything thrown to him in college and if that translates it'll be a clear upgrade for the Jets.
Sudfeld's size/speed combo is intriguing, but he couldn't make a mark for the Patriots even when Gronkowski was hurt.  It'll be interesting to see how many appearances he makes when the Jets run 2-TE sets.
EDGE:  Inconclusive
Offensive Tackle
2012 OT's:  1.  D'Brickashaw Ferguson   2.  Austin Howard   3.  Jason Smith
2014 OT's:  1.  D'Brickashaw Ferguson   2.  Breno Giacomini  3a/3b/3c/3d.  Ben Ijalana/Bruce Campbell/Markus Zusevics/Dakota Dozier (G)  4a/4b.  Brent Qvale/Patrick Ford (G)
Did the Jets actually IMPROVE at RT by replacing Austin Howard with Breno Giacomini?  It's difficult to say.  Howard was stout in the pass-blocking department but the Jets had major difficulties running his direction.  In Seattle, Breno was part of an OL that was ranked dead last in the NFL in pass-blocking, but Marshawn Lynch had a lot of success running his way.  The Jets severely needed a road grader on the right side ever since Damien Woody retired, so hopefully Breno can be that guy while not getting Geno killed.  He also needs to rid himself of the reputation for accumulating a lot of penalties.
Jason Smith, a former 2nd overall pick and bust for the Rams, perhaps was a swing tackle that could be trusted more than what the Jets currently have at the position, and with Dakota Dozier's role unknown at this time, it's easy to say that depth is a question mark.  Therefore, the 2012 unit gets the slight nod.
(slight) EDGE:  2012
Guard
2012 OG's:  1.  Brandon Moore  2.  Matt Slauson   3.  Vlad Ducasse  4.  Caleb Schlauderaff ©
2014 OG's:  1.  Willie Colon  2.  Brian Winters  3.  Oday Aboushi  4a/4b/4c.  Caleb Schlauderaff ©/William Campbell/Dakota Dozier (T)  5.  Patrick Ford (T)
Brandon Moore retired following the 2012 season after spending his entire 10-year career with the Jets.  He was as solid as they come.  While his departure hurt, Matt Slauson's stings a bit more, as the Jets had the chance to retain his services.  Instead they opted for rookie Brian Winters in his LG spot and free agent Willie Colon in the departed Moore's RG slot.  Winters had a suspect rookie campaign, finished strong, but has looked shaky in preseason.  Colon is working out like a madman in the offseason but his inability to avoid costly penalties compared to the quiet but dependable Moore has its consequences.
The Jets are hoping that projects Aboushi and William Campbell work out but it's certainly a "believe it when we see it" situation with the 2 commodities.  The Jets had been down this path before with 2nd round "project" Vlad Ducasse ending up a massive bust.  Fortunately, Aboushi and Campbell didn't cost high draft choices.
Overall, G probably isn't as bad as it seems, but with so many question marks compared to the 2012 unit, it's impossible to give it the edge at this time.
EDGE:  2012
Center
2012 C's:  1.  Nick Mangold  2.  Caleb Schaluderaff (G)
2014 C's:  1.  Nick Mangold  2a/2b:  Caleb Schaluderaff (G)/Dalton Freeman
While there has been much talk about the decline of Nick Mangold, it's hard to tell if he really is losing his effectiveness or if he's been impacted by weak G play from Ducasse and Winters in 2013.  For now we'll give him the benefit of the doubt.
EDGE:  Even
3-4 Defensive End
2012 DE's:  1.  Muhammad Wilkerson  2.  Quinton Coples  3.  Mike DeVito
2014 DE's:  1.  Muhammad Wilkerson  2.  Sheldon Richardson  3.  Leger Douzable   4a/4b/4c.  Tevita Finau/TJ Barnes/Anthony Grady  5a/5b.  Kerry Hyder/Zach Thompson
The Jets added the 2013 Defensive Rookie of the Year to an already strong unit.  There isn't much more to say.
EDGE:  2014
Nose Tackle
2012 NT:  1.  Sione Pouha  2.  Kenrick Ellis  3.  Damon Harrison
2014 NT:  1.  Damon Harrison  2.  Kenrick Ellis
The Jets lost Pouha to free agency following 2012 and Damon "Big Snacks" Harrison was named the 2013 starter.  And oh what an upgrade he was.  However, since he was signed by Tannenbaum as a UDFA before the 2012 campaign, The NT spot ends up a wash.
EDGE:  Even
3-4 Defensive End/OutsideLinebacker
2012 DE/OLB's:  Calvin Pace  2.  Bryan Thomas  3.  Garrett McIntyre  4.  Ricky Sapp
2014 DE/OLB's:  1.  Calvin Pace  2.  Quinton Coples  3a/3b.  Jason Babin/Garret McIntrye  4a/4b.  IK Enemkpali/Troy Davis  5.  Trevor Reilly
   * Antwan Barnes (PUP List)
The dearth of options at the pass-rushing DE/OLB slots in 2014 are intriguing.  Pace remains on board despite being long in the tooth because he is still capable of winning battles at the point of attack, but it's easy to imagine him being supplanted from a starting spot.  Quinton Coples (10 career sacks) and IK Enemkpali have high ceilings and late free agent acquisition Jason Babin has been there before.  And no one should forget about Antwan Barnes, who when healthy was arguably the best in the group at applying pressure to the QB.
However it shakes out the unit will be better than in 2012.  Bryan Thomas, while solid even late in his career, simply could not do what several of these players are capable of doing.  The unit is faster and more athletic than its ever been in the Rex Ryan era.  It'll be up to him to figure it all out.
EDGE:  2014
Inside Linebacker
2012 ILB's:  1.  David Harris  2.  Bart Scott  3.  Demario Davis  4.  Nick Bellore
       * Josh Mauga (IR)
2014 ILB's:  1.  Demario Davis  2.  David Harris  3a/3b:  AJ Edds/Nick Bellore  4a/4b.  Jeremiah George/Steele Divitto
Demario Davis, not Harris, has ascended to the role of leader on defense.  Strong against the run but a liability in coverage, Harris's contract expires after 2014 and the Jets will perhaps look to upgrade the position this offseason with a more athletic ILB.  For now, unless AJ Edds becomes an overnight sensation, Harris's starting job is well secured this season.  And much like NT, since Davis was a Tannenbaum pick, ILB is another wash.
EDGE:  Even
Cornerback
2012 CB's:  1.  Antonio Cromartie  2.  Kyle Wilson  3.  Darrin Walls  4.  Ellis Lankster  5.  Donnie Fletcher
       * Darelle Revis (IR), Aaron Berry (IR), Isaiah Trufant (IR)
2014 CB's:  1.  Dee Milliner  2.  Dimitri Patterson  3.  Kyle Wilson  4a/4b.  Darrin Walls/Ellis Lankster  5.  Ras-I Dowling  6.  Johnny Patrick  7a/7b/7c.  Brandon Dixon/Jeremy Reeves/LeQuan Lewis   8.  Antonio Allen – experimental CB (S)
       * Dexter McDougle (IR),
Much like the 2012 campaign, it seems the 2014 Jets have been snake-bitten with injuries.  Darrelle Revis tore his ACL in '12, and promising rookie Dexter McDougle tore his this offseason.  Idzik has been oft-criticized for failing to bring in a quality free agent corner to start opposite the rookie Milliner, instead opting for a 1-year, $3M stopgap in Dimitri Patterson and otherwise building via the draft.
Whether or not this was the correct approach to the position, the topic has been discussed ad nauseum.  Factors such as Antonio Cromartie's precipitous decline in 2013 aren't relevant to the discussion here, other than the fact that he is not on the 2014 roster.  The 2012 unit, even if an injured Revis is factored out, was stronger until proven otherwise.
EDGE:  2012
Safety
2012 Safeties:  1.  LaRon Landry  2.  Yeremiah Bell  3.  Eric Smith  4.  Antonio Allen  5.  Josh Bush
2014 Safeties:  1a1b/1c.  Calvin Pryor/Dawan Landry/Antonio Allen (CB?)  2a/2b.  Jaiquawn Jarrett/Josh Bush  3.  Rontez Miles
LaRon Landry, a thumper, was signed to a 4-year, $24M deal with the Colts, and the Jets were clearly missing an impact safety from the roster.  They may have found one in Calvin Pryor out of Louisville.  He perhaps fits the mold of the new NFL better, where ball-hawking safeties are valued higher than big hitters.  Early returns are good, but that's just it…..its early.
Assuming Pryor is an immediate starter, and with Antonio Allen being used experimentally at corner, the other safety spot could be up in the air.  Allen, with a pick-6 of Tom Brady under his belt in 2013, is certainly the better option at SS than Dawan Landry.  It's hard to imagine the Jets would weaken one position simply to stop the bleeding at CB.  In any case, Allen was a Tannenbaum find, so ultimately the question is are the Jets better off with Pryor and co. than Landry and co.?  Eventually I believe the answer will be yes, but for now it is an unknown.
EDGE:  Inconclusive
Special Teams
2012 ST's:  K Nick Folk, P Robert Malone, KR Joe McKnight, PR Jeremy Kerley, LS Tanner Purdum
2014 ST's:  K Nick Folk, P Ryan Quigley, KR Clyde Gates/Jalen Saunders, PR Jeremy Kerley, LS Tanner Purdum
There hasn't been much change to this unit.  KR has largely become irrelevant in today's NFL so the Gates/Saunders battle is only intriguing in that a Saunders victory could mean Clyde Gates being cut.
EDGE:  Even
Summary
So there you have it.  The Jets have improved at QB, RB, WR and the Front 7.  They appear to have improved the talent level at TE and S by virtue of their top draft picks, though it is far too early to tell.  They've maintained a steady level of talent at C, NT, ILB and on Special Teams.  T, G, and CB are the spots where they have gotten weaker, though the deficiencies they've suffered may be overstated.
In just two offseasons, the Jets are looking a lot better than they did at the conclusion of 2012 in terms of talent.  They improved from 6-10 to 8-8 in 2013 to display a tangible improvement.  It remains to be seen if Rex Ryan can bring it all together, which will above all else require a step up in play from Geno Smith.  The improved talent around him on offense certainly limits his excuses should he fail to so.  Failure would also likely result in a new Head Coach/QB combo being brought in.  But given what Idzik has accomplished thus far, his job should be viewed as being quite safe.
Videos
New York Jets OTA Presser Takeaways, Aaron Rodgers' Impact and Summer Delusion