Featured Editorials Home Slider
Folk Brings Stability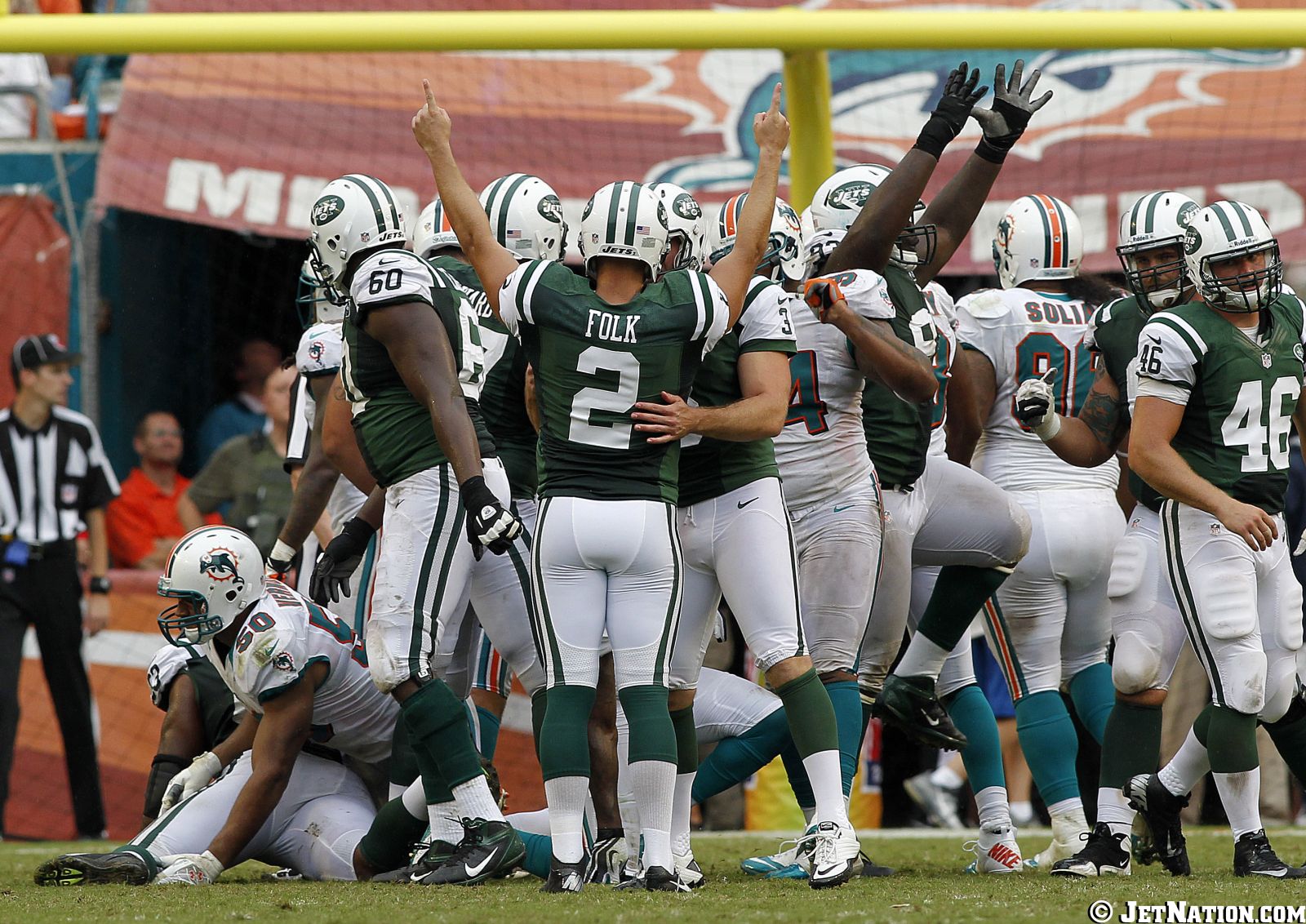 One of my earliest memories as a Jets fan was watching long-time place-kicker Pat Leahy waving goodbye to  fans from a car that circled the field as he requested one more "J-E-T-S" chant from the crowd.  As the story goes, Leahy had to wait a little longer than he expected as Fireman Ed was indisposed at that very moment.  After an extended wait, Leahy got that last chant, and it was a fitting sendoff for a player who filled the thankless role of place-kicker from 1974-1991.  I remember, thinking to myself "I guess it's time for the Jets to get another kicker to step in for the next fifteen years".  Little did I know, that slightly awkward wait for Fireman Ed would pale in comparison the wait Jets fans would have before filling his shoes with a kicker who would be more than just a flash in the pan.
After Leahy kicked for those sixteen seasons, the Jets struggled to find a kicker they could count on for more than a couple of season, and the ones who did hang around for more than a few years were often unreliable or just struggled to kick in the meadowlands with its swirling winds.
Cary Blanchard, a strong legged kicker with a linebacker's mentality was up first.  Blanchard had a decent first season with the Jets but was replaced after struggling in year two, hitting on only 65% of his attempts.  The Jets replaced Blanchard with an aging Nick Lowery who had spent the previous 14 seasons kicking for the Kansas City Chiefs.
Despite kicking well in his first two seasons with the Jets before faltering in his third and final season, Lowery is probably best remembered for not for his kicking, but for an embarrassing event that took place in a game against the New England Patriots. Then Patriots head coach Bill Parcells openly mocked Lowery in a post-game press conference after learning that Lowery had slapped a Patriots ball boy for not keeping the football warm enough on a cold New England day.
Then came John Hall, a strong legged kicker out of the University of Wisconsin who would be the longest tenured Jets kicker since Leahy.  Hall spent five seasons with the Jets but his leg was more powerful than it was reliable.  Wildly inconsistent,  Hall had some good moments as a Jet but was signed away by the Washington Redskins after that fifth year.
After Hall was Doug Brien and we all know how that turned out.  Brien missed two late FG's against the Steelers in the 2003 playoffs which cost the Jets more than just that one game.  Brien's miscues  led the front-office to burn their first draft pick the following season on Ohio State kicker Mike Nugent.  Nugent spent three very ordinary seasons with the Jets and proved to be  a waste of an early pick for the franchise.
Following two stellar seasons from Nugent's replacement, Jay Feely, the Jets signed Dallas Cowboys cast off Nick Folk.  Despite having made the pro bowl just two seasons earlier, Folk was let go by Dallas when he struggled in his third season when he made only 64% of his attempts.  That was four seasons ago, and now Nick Folk prepares to tie John Hall for the longest tenured kicker since Leahy, but he's also been a much better performer.  "Folk Hero" is the nickname coined by Rex Ryan since Folk began drilling late, game winners for the Jets.   After a game-winning kick in week one, Folk would add another in week five on the road in Atlanta on Monday night, and added one more against the New England Patriots in week seven.  For his efforts, Folk was rewarded with a 4 year $12 million contract.  In today's world of "here today, gone tomorrow" for NFL kickers, nobody knows how many of those four years Folk will see, but it's fair to say that he has brought a level of stability to the position that Jets fans hadn't seen since Pat Leahy was showered with that final J-E-T-S chant so many seasons ago.
Videos
NY Jets Phase 3 OTAs, Expectations and a Minor Calf Tweak with Greg Renoff