Home Slider Injury Report Jet News
Preseason Standout Ikemefuna "IK" Enemkpali Out For Jets and Other Inactives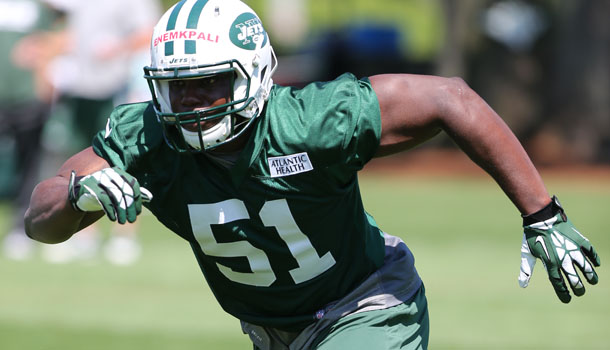 Not dressing for tonight's game: Saunders, Milliner, McDougle (IR), Enemkpali, Cumberland, Barnes (PUP)

— New York Jets (@nyjets) August 22, 2014
IK Enemkpali will be out for the Jets vs Giants preseason game with an undisclosed injury. IK has been a clutch player for the Jets so far in the preseason creating two game ending plays, with his blocked punt/safety being the most memorable.
Other inactives for the game include: McDougle (IR), Evans (IR), Barnes (PUP), Milliner, Saunders, Cumberland, Enemkpali, Patterson
McDougle and Evans both underwent season-ending surgery recently and were placed on IR (injured reserve list) effectively ending both of their seasons. Barnes is still recovering from last year's injury and is on the PUP (physically unable to perform) list.
Milliner is still recovering from the high ankle sprain he received in practice, and won't play until the regular season. Cumberland is nursing tightness in his Achilles tendon, and most likely won't see any action until the regular season as well.
Saunders was seen doing some light warm ups before the game, but will still sit as a precaution because of his "one car accident" due to a "medical event" ending up with Saunders spending a couple of days in the hospital. The details of what caused his "medical event" are still unclear.
Dimitri Patterson was not included on the original inactives list, but in a last second move the Jets decided Patterson will not see any action this week. It was likely a precautionary move to make sure Patterson stays healthy for week 1, especially with Milliner's status up in the air.
Videos
NY Jets Phase 3 OTAs, Expectations and a Minor Calf Tweak with Greg Renoff