Featured Editorials Home Slider Player interviews
Former Jet Chad Cascadden Interview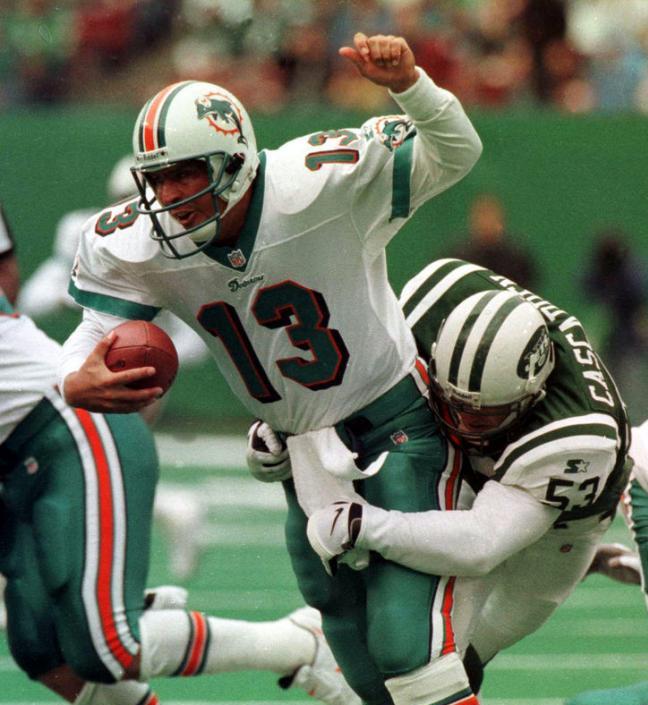 For those of us who have been following the Jets since the mid to late 80's like myself, it's fair to say that the high and low points for the franchise may very well have happened in a span of three short years.  The 1996 Jets managed to eek out just one victory, a week nine win on the road against the Arizona Cardinals.  It was a game that would see running back Adrian Murrell set a then-team record of 199 yards rushing.
Fast-forward to the 1998 season with Head Coach Bill Parcells in his second season at the  helm for the Jets.  Parcells had led the Jets to nine wins after that 1996 campaign, and followed that up with a twelve win season in '98.  The season culminated with a heartbreaking 23-10 loss to John Elway and the Denver Broncos in mile-high stadium in a game that was bizarre in more ways that one.  Six turnovers, and an onside kick, that wasn't even meant to be.  There were plenty of ups  and downs during those few seasons, and JetNation.com was lucky enough to sit down with OLB/DE Chad Cascadden for his take on the highs and lows of those teams, and some insight on his personal  journey.
Chad Cascadden was signed by the Jets as an undrafted free-agent out of the University of Wisconsin, where he was a walk-on under legendary coach Barry Alvarez.  Head Coach Rich Kotite gave Cascadden his first shot in the league and Hall of Fame head coach Bill Parcells and defensive co-ordinator Bill Bilichick liked what they say in Cascadden and helped him find his niche on one of the best Jets of the past three decades.
A big thank you to Chad for taking the time to sit down with JetNation.
JetNation:  Chad, first of all I'd like to thank you on behalf of JetNation for taking the time to talk to us.
Chad Cascadden: It's a pleasure, and it was a pretty interesting ride coming from Wisconsin to New York and I've been here for nineteen years, married with kids, and now a full-fledged New Yorker.
JN: You were an honors student who majored in Kinesiology (the study of moving objects) at Wisconsin, was this in any way related to the fact that you were a football player and essentially did the same thing on the field?
CC: I was going more for a medical degree but I liked their kinesiology program that dovetailed into my sports career so that worked out well for me.  The plan was ultimately to go to medical school.  Coach (Barry) Alvarez got me in to a blood study with Dr. Bruce Harnes so I got to assist him in surgery, setting up and breaking down some surgical procedures so it was an interesting thing for a football player.
JN:  Having played for Coach Alvarez, is there anything you can recall in terms of  him having a long-term influence on you or your career?
CC:  (Laughing) I'm sorry to laugh, but we can sit here and talk for hours about the things he did for me. But when he took over the program we were not very good, but when he came in he cleaned house and had multiple scholarship athletes that quit because they didn't want to do it.  He demanded hard work, he didn't ask.  The workload was incredible and intense.  Under coach Alvarez, you knew when you were playing us, you were in for a battle.  There were games where we just out-hit, and out-hustled people and just beat 'em up.
JN: Your former teammate, Darrell Bevell has had some success as an offensive co-ordinator in Seattle.  Have you given any thought to getting in to coaching?
CC: I did think about it initially, but I gotta' tell ya', it wasn't for me because of the hours.  These guys are putting in 15-20 hours a day and they don't see their families.  There's not much stability either.  But that's the nature of the beast and if your spouse in on board with it that's great.
JN:  So you came into the league as an undrafted free-agent for the Jets and those first two years were polar opposite from the next two years. What was it like to experience that culture shift from struggling under coach Kotite, and then the complete turnaround under Coach Parcells.
CC: A lot of people are down on Rich Kotite and the job that he did.  If  he went back and could have changed some things then I'm sure he would have done that but  he's the one who gave me my shot.  He saw the talent in a kid out of Wisconsin who wasn't drafted, who tried in practice, worked hard, made plays when I was supposed to and in our last pre-season game I actually ended up getting hurt.  He placed me on the practice squad just long enough for me to heal up.  As an undrafted rookie out of Wisconsin he took a chance on me.  Once I was healed up, he cut a five-year veteran to get me in there.  If you look at the NFL all-rookie team, you had Wayne Chrebet at WR, Hugh Douglas on defense, and myself on special teams.  Three guys on one team is a real testament.  To answer your question about the culture shift, Rich expected leadership to come from the veterans, and I think we had too many veterans who didn't lead like they were supposed to.  When Kotite was with the Eagles he had Randall Cunningham, Reggie White, and Jerome Brown, he had all this leadership.  We did have leaders, but we had some other veterans who didn't want to put in the extra work and the extra time in the film room.  Ultimately, that was probably the beginning of the end.
When Parcells came in, he was a lot like Alvarez.  First thing he said was, "guys, if you have thin skin, this probably isn't the place for you.  We're gonna' coach the hell out of you, and we're gonna' out-work, out-hustle, and out-scheme."  One of the first things he did was he traded Hugh Douglas.  He basically said "guys, I need players who run our system, if you're not interested, we'll find another place for you" and I really appreciated that about him.  Parcells didn't care if you were drafted in the first round, or a walk on, he was going to play the guys who make plays.
JN: How did he interact with you?
CC: He told me one time, "Chad, you're not a starter", but by the end of the season I was starting so I guess that was his way of pushing my buttons.
JN: Of course, a lot of people say that he used that type of talk as a way of motivating guys, much like he did with Terry Glenn in New England when he referred to him as "she" when he was banged up in practice.
CC: Exactly, and if you remember, who was the first guy Parcells went out and traded for when he went to Dallas?  Terry Glenn.
JN: He definitely liked to have his guys around.  That's why we saw Dave Meggett and Pepper Johnson, Parcells liked having "his" guys in the locker room.
CC: Speaking of Pepper Johnson, do you remember the linebacker crew we had?  Listen to this, we had Mo Lewis, Marvin Jones, Pepper Johnson, Brian Cox, Dwayne Gordon, Roman Pfifer, James Farrior, and me.
JN: Speaking of Mo Lewis, you got your first significant playing time when he went down with a torn Pec, what kind of relationship did you have with Mo Lewis?  What kind of teammate was he?  Did he or anyone else act as a mentor?
CC: Mo Lewis wasn't a vocal leader but he led by example. He was a rare combination of size and speed who played the game as hard as he could and he was a guy you would look to when it was a "what do we do here" kind of  thing, it was just "well, watch Mo Lewis, he'll get it done".  As far as me and him, we'd watch film and critique each other and he led more by example.
JN: So what players or coaches did try to mentor you under both regimes?
CC: I spent a lot of time with Peter Giunta who I believe is with the Giants now.  I did that for a better part of two  years with him.  So much so that when we had pass-rushing issues in '96, I hounded him saying "I can do this if you give me the chance".  After a few weeks of this, I got called over to the defensive line/offensive line pass-rush drills by coach Hamilton (Sugar Bear) and he said "alright kid, you said you can pass-rush, let's see what you can do" and they put me against Jumbo Elliott on my first drill (laughing).  That's  a quick way to find out if you could play.
JN: So how did that go?
CC: Well, it went well enough that the following week against Jacksonville, I was the starting end on the nickel and dime packages, and the first time they called nickel, I went out there and on my first play I sacked Mark Brunell.  It was a good way to start and my role on defense grew, then I ended up taking over for Mo when he got the injury.  I was also a pass-rusher on nickel and dime.  I also continued to play all of the special teams.
JN: So when Parcells and Belichik come in, how do things go?
CC: Well, my position coach was Al Groh and we'd watch a lot of film looking at what my role would be.  On occasion I would talk to Belichick about what it is he needs me to do based on who we're playing that week.  I was fortunate enough to give them flexibility.   I was a guy who could move around the field based on down and distance and personnel.  It was nice because I could be a confusing player.  Sometimes they'd bring me in to rush the passer, other times they'd have me cover the back out of the backfield, I was able to cause confusion for the other team's offensive line.  There were times they'd change their protections when I would line up, and we'd use that to decide what kind of blitzes to run.  It was because sometimes Belichick would make defenses work, based on me and that was very flattering.  It was my niche and my way of staying in the league.  That's how I was able to stay on the roster because Parcells wanted guys who could play multiple positions.  I played multiple linebacker spots and in a pinch I played goal-line safety.
JN: When Coach Parcells left, how surprised were you when Coach Belichick stepped down after one day as head coach?
CC: My initial reaction was mass confusion.  Why would Parcells step down so quickly and why would Belichick resign?  My point of view is that Belichick stepped down because he didn't want Parcells over him, and this is my best guess.  I'm not claiming to know this for sure, but I think that when Parcells stepped down it was the first anyone had heard about it.  I don't think Belichick had even heard of it.  No communication, no heads up, and Belichick  may have felt painted in to a corner and didn't appreciate it.
JN: Then after that, your former position coach, Al Groh takes over for one season and then walks away.
CC: Well, I honestly think that when Belichick stepped down, there was no clear successor and Parcells wanted to keep the staff in tact, so elevating Al Groh was the most logical choice.  My best guess is that Virginia approached him with such a great package, that Parcells even told him "I'd love you to stay, but even I as a friend would tell you to take  this deal".  The offer they made him must have been a game-changer.  Things went okay too, I think he coached there for eight or nine years.
JN: So, the 1998 AFC championship game against Denver.  You guys are scoreless against the Broncos, late in the second quarter, and every defensive player's worst nightmare is staring you in the face.  You're facing John Elway and his two-minute offense.  He hands off to Terrell Davis for a couple of yards, hits McCaffrey for a seven yard gain, and then scrambles for a first down.  Now Denver is approaching mid-field and fans get that sick feeling that Denver is about to score.  On the first play of the next set of downs, you chase down Elway for a sack and an eight yard loss.  Elway fails to complete a pass on 2nd and 3rd and long.  You guys get the ball back and kick a FG to go in to the locker room up 3-0 at the half.  How would you describe the feeling in that locker room?
CC: Well, I must say I've been fortunate enough to be in some cool atmospheres.  When we played Mich. St. in Tokyo to earn a Rose Bowl berth, that was a great, great locker room.  Incredibly electric and exciting.  Wisconsin's first Rose Bowl win, it was great.  But in the pros, against the Broncos, we went in to the locker room feeling confident.  We thought we were gonna' beat these guys, the Jets are going back to the Super Bowl, the fans are gonna' be awesome.  The locker room was just super, super positive.  I mean, we thought we were gonna' go back out there and win that game.  It was one of the most electric moments in the locker room for me.
JN: Who could blame you guys?  When all was said and done you'd held Elway to 38% completion percentage.  For you guys to go in to Denver and face John Elway and Terrell Davis, to lose by 13 when you turn it over six times is hard to fathom.  Then that bizarre kickoff after Denver scored when the ball just blew back and essentially became an unintentional onside kick?
CC: That's the first and only time I've experienced a kickoff when a ball goes up in the air, stops, and comes straight down and becomes a scrum.  It made no sense.  It was like somebody just shot it with a shotgun.  It was so bizarre.
JN: Did that have a big effect on the team?
CC: Would I say a big effect? No, but some affect, absolutely.  Denver scores on a big pass to McCaffrey then they kick off and get the ball back?  You could feel the crowd coming back to life in Denver's favor.  Coach Alvarez used to talk a lot about momentum and the importance of holding on as tight as you can and to just fight when it's going away from you.  So suddenly we're three and out, we're not scoring, it's like you said, you turn the ball over six times, you can't win.  You just can't.
JN: So what did Parcells say to the team after a loss like that?
CC: I don't really remember exactly what he said, but just a somber, morgue-like tone and feel.  We'd just let something amazing slip away.  For me, it was just extreme disappointment.  This was for us, for the fans, for Mr. Hess.  We worked so hard and it felt like "we were supposed to win this" but it didn't happen.
JN: It had to be hard to take such a tough loss.
CC: And you know what, there are no moral victories.  We lost, that's it.  Denver was the better team that day and they did a great job of fighting back and putting points on the board.  Give them credit, they did a great job.  It still stings a little bit though.  We would have played Atlanta in the Super Bowl who we beat earlier in the year.  But it was an honor to play in that game and you have to give credit to the Broncos.
JN: What are your thoughts on the current regime?  Is Rex the right guy for the Jets?
CC: Absolutely.  I was happy that they extended him, I think he's a great leader, players love playing for him, he's a great schematic defensive coach and Marty Mornhinweg is a HUGE addition.  Geno Smith has shown improvement, good leadership and his decision-making has improved.  We have good RB's, good TE's, the line is solid, there are still some questions at receiver but we know we've got some people to throw it to.  On defense we have a great front-7 and cornerback is clearly, clearly a place they need to address immediately.  Hopefully with cut downs the Jets can make a move.  You can't go in with only the current guys.  They have to add one or two, if not three more guys.  I think they're on the right track, but this is a big boy league and you have to be able to beat the Patriots.  We'll see, they look good on paper.
JN: What do you think of the Dmitri Patterson situation and how would you handle it?
CC: My best guess, is that when he spoke to Idzik before the game, Idzik said something that Patterson took exception to or felt disrespected and left.  He didn't make a call, take a text, or call anyone?  In my opinion it's incredibly unprofessional behavior.  Somebody we're counting on to be at that game, somebody we're paying and you leave and don't tell anybody?  Of course, if this is a family issue it's different, but there's got to be a way for him to let somebody know.  The bottom line is, it's immature and unprofessional at the very least to not reach out to your coach or GM and explain to them clearly why you're not there and why you're not showing up.
JN: Chad, thanks so much for taking the time to talk to JetNation
CC: My pleasure Glenn, any time.
Videos
Aaron Rodgers Injury Fallout & Jets/Bills Recap