Saalim Hakim Profile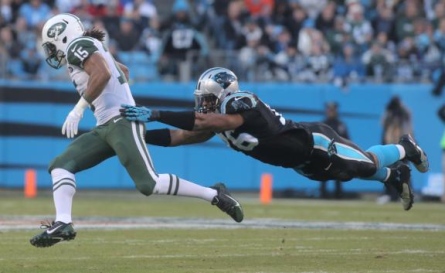 Having cut their roster down to the league mandated 75 players, one name that may fans were surprised to see on the list was WR/KR Jacoby Ford.  Ford was signed as a free-agent after a productive career as a kick-return with the Oakland Raiders.  With Ford being let go, Head Coach Rex Ryan announced that the kick-returning duties would fall on WR/KR Saalim Hakim. On Sunday, Rex told the media:
Our kick returner is Saalim Hakim back there. (He) is obviously an explosive athlete.  He is one of the fastest guys in this league, and we feel pretty good about him.
Hakim saw game action for the Jets last season as a returner last season after being signed in October after spending part of the 2012 season on the New Orleans Saints practice squad.  Having run a reported 4.23 40 at his pro-day, Hakim is an interesting prospect.
Some fans may remember Hakim's older brother, Az-Zahir Hakim who was part of the St. Louis Rams "greatest show on turf" whose blazing speed led to over 700 yard receiving on  a team that was loaded at the WR position.
Under the tutelage of first year special teams coach Thomas McGaughey, Hakim will look to use his elite speed to help the Jets win the field position battle and shorten the field for second-year QB Geno Smith and the offense.
Jets fans are discussing Saalim Hakim in our forums.
Videos
NY Jets Phase 3 OTAs, Expectations and a Minor Calf Tweak with Greg Renoff