Featured Editorials Home Slider Jets Report Card
NY Jets Report Card: Preseason Week 4 Winners & Losers

Jets @ Eagles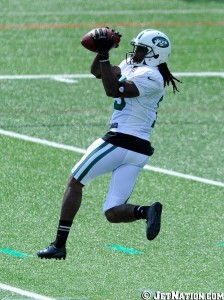 Preseason Game 4 Winners & Losers
Winners
Rontez Miles: with the Jets wounded in their secondary and Antonio Allen potentially converting to cornerback, young safety Rontez Miles was presented with the perfect opportunity to make the team. He seized the moment, racking up 10 tackles on the night and potentially solidifying his position as one of the first safeties off the bench for the Jets this season.
Clyde Gates: the words "winner" and "Clyde Gates" are rarely used together, at least when it comes to his NFL career. But a combination of injuries to other wide receivers, poor play from still more, and a surprisingly good showing in the preseason may have catapulted Gates from a guaranteed cut to a player on the bubble, with a good chance to make the team. He was targeted 4 times and recorded only 1 reception, but that catch went for 42 yards and a touchdown.
Losers
Daryl Richardson: if there was any question as to whether or not Richardson could unseat Bilal Powell as the Jets 3rd running back, we can now consider the case closed. Richardson carried the ball 11 times for just 29 yards, a paltry 2.6 yards per carry average. Powell, meanwhile, has impressed throughout the preseason. The Jets do love what Richardson brings to the table, but he may be on the outside looking in.
Tahj Boyd: one good preseason game was unlikely to change the consensus that rookie QB Tahj Boyd will be practice squad bound sooner rather than later, anyway. Still, he could have done more to put some doubt in our minds. While he did connect with Clyde Gates for a touchdown, he needed to show more to survive the coming roster cuts.
Videos
Aaron Rodgers Injury Fallout & Jets/Bills Recap