Featured Editorials Home Slider
Jets Need Rex To Be At His Best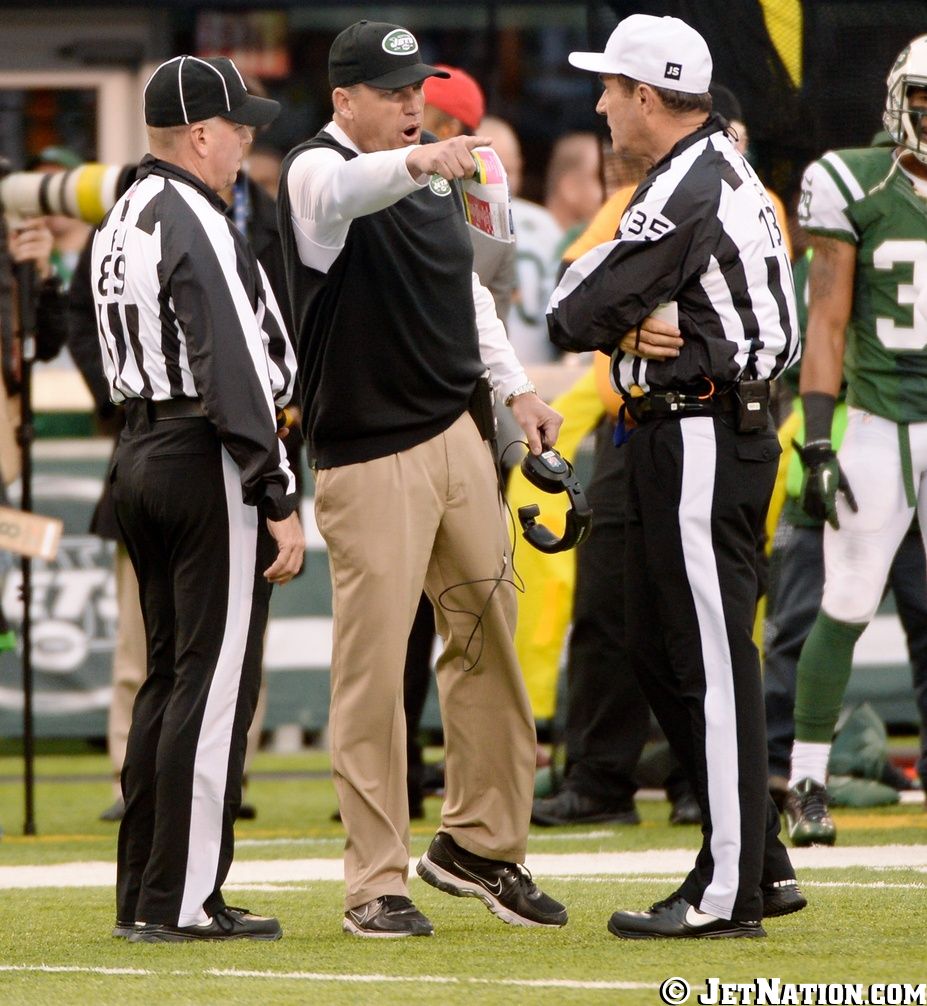 Last season, Jets Head Coach Rex Ryan led his team to an improbable 8-8 finish.  Improbable for a myriad of reasons.  He had a rookie quarterback who wasn't ready.  He had a rookie cornerback who wasn't ready.  He converted Quinton Coples, who was supposed to be one of  his best pass-rushers from DE to OLB on short notice. That, and an ankle injury during the pre-season meant that Coples also wasn't ready.  His best receiver, Santonio Holmes was coming back from a major injury and when the games started, and he too wasn't ready.  The pundits called the Jets the worst team in the NFL and said that a three win season wasn't out of the question.  Ryan used those predictions to light a fire under  his team, and somehow managed to scheme the Jets' to a .500 finish.  That was good enough to convince owner Woody Johnson to bring  Ryan back for another season. However, as challenging as last season was for Ryan, this season may prove to be even more difficult.
General Manager John Idzik improved the offense by adding wide receiver Eric Decker, quarterback Michael Vick, and running back Chris Johnson.  He also drafted a pass-catching tight end in Jace Amaro.  However, despite those upgrades, it's the defensive side of the ball that has the fans worried for a change.  Injuries and a bizarre incident with CB Dimitri Patterson that led to his release leaves the Jets with a patchwork secondary and only one week of practice to break in a couple of last-minute additions (CB's Phillip Adams and Leon McFadden).
Ryan has built a reputation in the NFL as a defensive genius.  Since taking over as co-ordinator for the Baltimore Ravens in 2005, last year was the first time a Rex Ryan defense finished out of the top-10 when the Jets came in 11th overall.  Even with that on his resume, and despite his public support for his players, Ryan knows that the Jets' beleaguered secondary is going to have their work cut out for them.  From weeks 2-7 the Jets will face Aaron Rodgers, Jay Cutler, Matthew Stafford, Philip Rivers, Peyton Manning, and then on four days rest, Tom Brady in New England.  Ryan doesn't know when second year CB Dee Milliner will be back, and he doesn't know how converted safety Antonio Allen is going to hold up in  his place.  This could also be the first extensive action at CB for Darrin Walls depending on what Ryan does when Milliner finally does return from his high ankle sprain.  All of this, with the Jets' schedule, is going to be a monumental challenge.
So with all of the uncertainty already surrounding the Jets, and with time running out before 1p.m. on Sunday, one of the few things we do know, is that the Jets need Ryan to be at the top of his game to face the week 2-7 gauntlet, and unlike last year, the youngsters better be ready.
Videos
Was Boomer Right to Blast Becton? Former Jets QB Sounds off Against Jets Tackle.