Featured Editorials Home Slider Jets Report Card
New York Jets Report Card: Week 3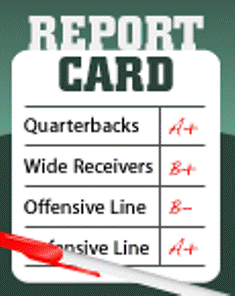 New York Jets Report Card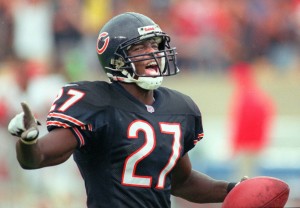 Week 3: Chicago Bears @ New York Jets
QB: D+
Geno Smith: 26/43, 1 TD, 2 INT, 3 rushes for 20 yards
Geno looked amazing at all of the small things, moving the ball effortlessly between the 20's. The only problem is that he's been terrible when it really counts. The list of mistakes tonight is lengthy: an interception in the end zone, a pick 6, yet another sack that caused a massive loss when he should have tossed the ball away and a number of additional throws that could have been picked. He's starting to remind me of Tony Romo. The completion % and yardage are there, but there are far too many mistakes. A slight nod in favor of Geno, though: Romo has historically had much more talent around him.
Backs: B
Chris Johnson: 10 carries for 34 yards
Chris Ivory: 10 carries for 44 yards, 4 receptions for 52 yards
Bilal Powell: 2 carries for 13 yards, 2 receptions for 6 yards
Chris Ivory was an absolute monster on the night, and contributed heavily in the passing game.
Wide Receivers/Tight Ends: C-
Eric Decker: 1 reception for 19 yards
David Nelson: 3 receptions for 15 yards
Jeremy Kerley: 7 receptions for 81 yards, 1 TD
Greg Salas: 2 receptions for 56 yards
Jeff Cumberland: 3 receptions for 18 yards
Jace Amaro: 3 receptions for 54 yards
Zach Sudfeld: 1 reception for 15 yards
Salas and Kerley both made plays, but David Nelson nearly turned the ball over on two separate occasions and while Jace Amaro did contribute late in the game, he also dropped an easy 3rd down pass that would have been a nice gainer for a 1st down.
Offensive Line: C
With Decker leaving the game, the Bears defense was able to get after Geno Smith with a little more success. The Jets never had much of a chance to commit to the run but when they did, they looked effective. Willie Colon committed another penalty. Not that it should surprise you.
Defensive Line: A
The Jets defensive line lived up to its billing, disrupting both the running game and the passing game. Richardson had a sack and
Wilkerson had 1.5 sacks. Take away the 7 points on Geno Smith's pick 6 and this defense held the Bears to just 20 points and that's respectable.
Linebackers: A
Bears RB Matt Forte rushes for just 33 yards on 13 attempts. DeMario Davis recoevered a fumble that probably should have been a
Jets touchdown if the refs managed to hold their whistle for another second.
Secondary: C+
The secondary actually held up pretty well. Granted, Jeffery did go for 105 yards on the day, but a wounded Marshall was held
to just 6 yards on 1 reception.
Special Teams: D+
Nick Folk hit 4 field goals, but rookie Jalen Saunders early fumble on a punt return proved costly as the Bears offense would subsequently drive for a touchdown.
Coaching: D
It's clear this team never quits, and credit that to the coaching staff. But the same problems that existed last year have carried over into this season. There
are far, far too many mistakes. Mistakes by nearly every level of the defense and offense. It's true week in and week out. It's gone on way too long and Jets fans don't want promises, they want answers.
Videos
New York Jets OTA Presser Takeaways, Aaron Rodgers' Impact and Summer Delusion