Featured Editorials Home Slider
Could Ineffective Idzik Save Rex Ryan?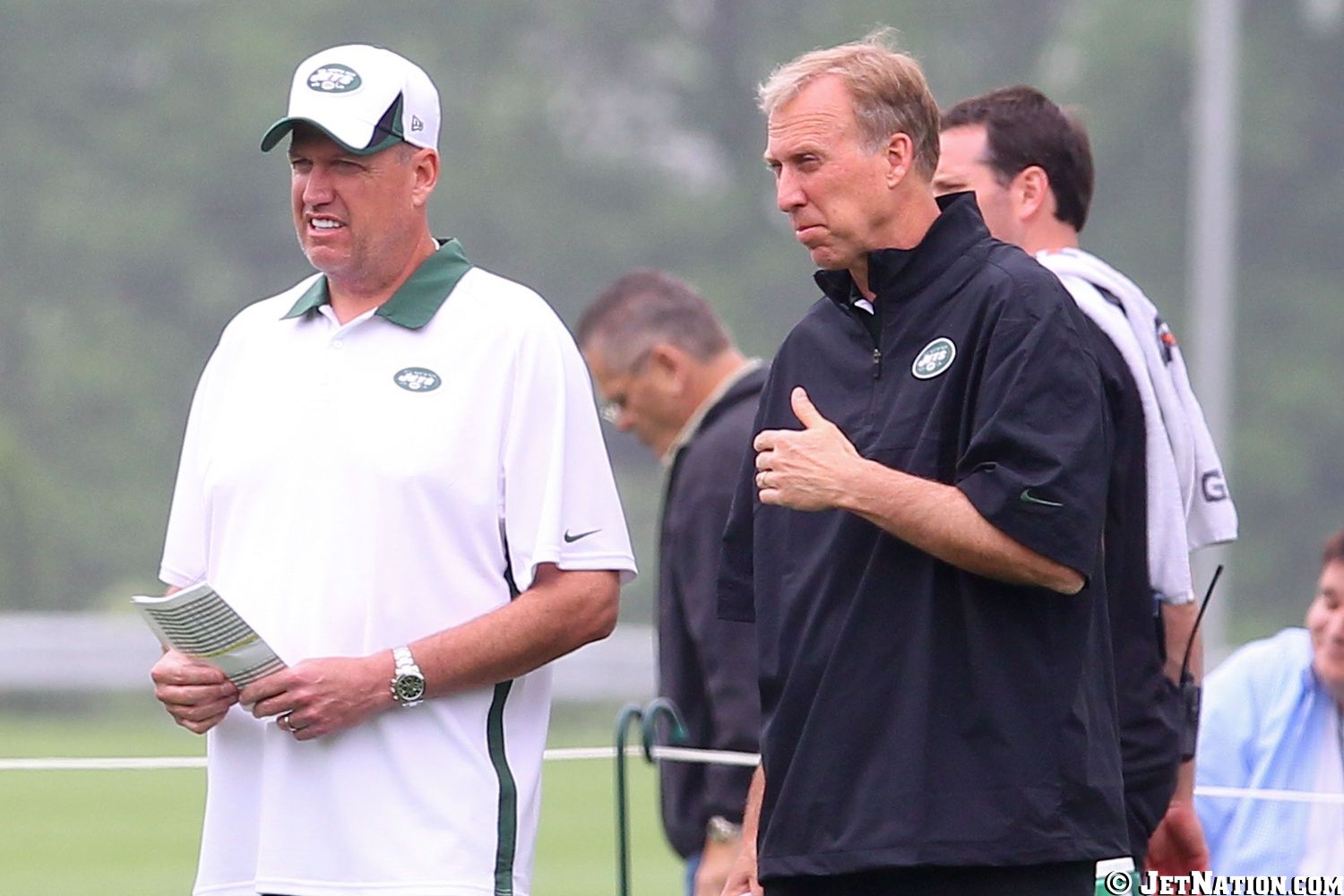 As some Jets fans discuss the possibility of head coach Rex Ryan being set up for failure by his boss, John Idzik, it may be Idzik's own failures that help preserve Ryan's position within the organization.  Following last seasons 8-8 finish despite media predictions of a possible three or four win season, it became clear that owner Woody Johnson is a Rex supporter and so he brought his head coach back for another season with a contract extension.   Following Ryan's extension,  Idzik had a rough off-season due to his inactive approach in free-agency,  coupled with his questionable draft picks leading some to question his commitment to winning with Ryan at the helm.  While some fans were up in arms over Idzik's plan, others went with the more conservative "wait and see" approach.
When John Idzik told Jets fans that the lifeblood of the organization was going to come via the draft, it was a relief for those who had grown tired of watching the organization trade away multiple picks every season while the depth chart was less and less formidable. Armed with twelve picks in a deep draft, Idzik had the opportunity to make a big splash. There were several players available who could have filled the Jets' needs early on, and with a multitude of compensatory picks, rounds 5-7 would offer the opportunity to draft any way the Jets saw fit. Best player available, biggest need, or just a project who could be brought along, but the early returns are alarming.
After releasing fourth round pick  Jalen Saunders today, the Jets are left with only eight of their original twelve picks.  While some would expect the 6th/7th round picks to be shown the door based solely on where they were selected and so many rookies to choose from, nobody expects early or mid round picks to be let go so soon by a team with so many needs.  Aside from Saunders, MLB Jeremiah George, a fifth round selection, was poached from the Jets practice squad by the Jacksonville Jaguars.  Saunders and George are joined by CB Brandon Dixon (Bucs) and Tajh Boyd (FXFL) as players who were drafted only a few months ago and are already gone.  Dixon and Boyd don't sting quite as much as Saunders and George given their draft slot, but in the modern-day NFL, front-offices place a high value on their mid-round picks.
Idzik chose to play it safe in rounds one and two, taking arguably the top safety in the draft in Calvin Pryor, and another top rated player at his position in round two with the selection of TE Jace Amaro.  From that point on, it got a little bit dicey.  CB Dexter McDougle, a talented player, was selected in round three and was considered a reach by most analysts because of his lack of playing time due to injuries in college.  McDougle then suffered a season ending injury during training camp and Jets fans will have to wait another year to find out if he was worth the selection.  The McDougle selection was followed by another pick that was considered a reach when the Jets took Saunders with his first of three fourth rounders and again, left many questioning the logic.  At 5′ 9", Saunders was viewed as a punt returner who could have been selected much later.  WR Shaq Evans followed and wound up on IR with McDougle.  OG Dakota Dozier was the next pick, and one for which Idzik was praised.  While still a work in progress as a converted small school offensive tackle, Dozier is likely at least a year away from contributing.  George and Dixon would follow the Dozier selections and are now drawing paychecks elsewhere, while WR Quincy Enunwa sits on the practice squad and awaits the outcome of a domestic violence charges brought against him by a female companion.  DE Ik Inemkpali and OLB Trevor Riley were selected around the Boyd pick.  Inemkpali impressed in the pre-season but hasn't seen the field due to injury, and Reilly has gotten some reps to give OLB Calvin Pace the occassional breather.  So, if you're keeping score at home…that's twelve picks, eight remain with the organization, two of those eight are in injured reserve.  That leaves six who are eligible to play, one of those six is awaiting the outcome of a police investigation, one has yet to see the field due to injury, one is playing sparingly while another watches from the sidelines.  Pryor and Amaro are the only regulars and while Amaro appears to be on the upswing, Pryor hasn't shown much in the very early going.
All of this, while ESPN is reporting that some members of the organization are unhappy with Idzik's approach to free-agency and the void he left at WR and CB just adds to the noise.  So while Woody Johnson has never pretended to be a "football man", one has to wonder how much he can ignore when it appears that the fans, media, players, and some members of the front-office are reportedly turning on Idzik.  If Rex Ryan has more support from the players and executives than Idzik, could that make the second-year GM the odd man out?   As the poor decisions mount, and the blunders become more apparent, the "wait and see" crowd has waited, and it's quite likely they've seen enough.  Will Woody Johnson be far behind?
Videos
New York Jets OTA Presser Takeaways, Aaron Rodgers' Impact and Summer Delusion