Featured Editorials Home Slider
Marty Mornhinweg's Fear of Commitment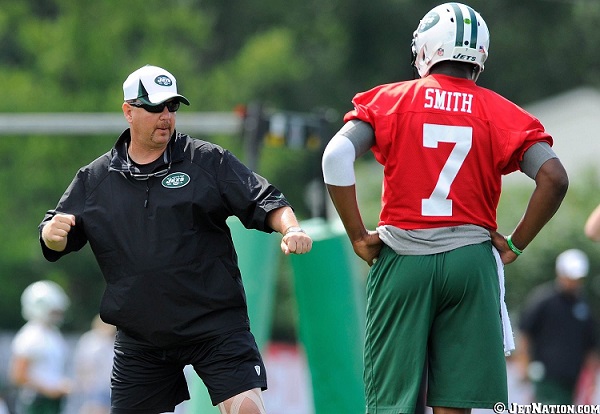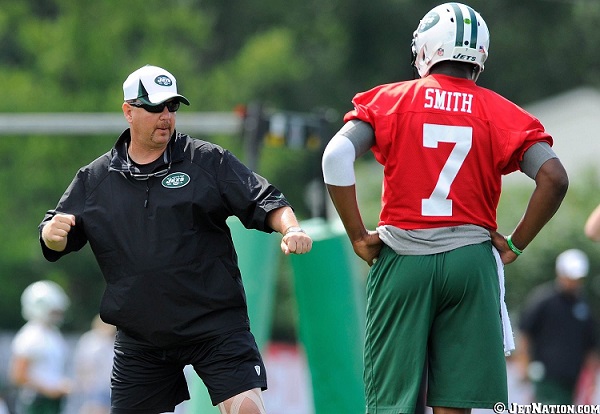 Hamstrung by arguably the worst quarterback play in the NFL this season, and armed with one of the most productive running backs in the league, Jets offensive coordinator Marty Mornhinweg is faced with a decision that most football fans would likely view as a no brainer.  Should he be more committed to the run, or the pass?  Thus far, it looks as if Mornhinweg himself can't decide.
While Chris Ivory tops in the NFL yards per carry among backs with 55 or more rushes at 5.4, his quarterback, Geno Smith, has regressed considerably after a strong opening performance at home against Oakland, and a great first half in week two in Green Bay against the Packers.  Since then, Smith has completed only fifty percent of his passes (70-139) and has just two touchdowns and four interceptions.  With a banged up secondary, and taking on one elite quarterback after another, one would think the Jets' game plan would call for a heavy dose of Ivory while throwing often enough to keep defenses honest and limit Smith's ineffectiveness, but that has simply not been the case.
Following one-score losses to the Packers and Bears it looked as if Mornhinweg was going to hand the offense over to Ivory in week four when the Jets pounded the ball on their opening drive at home against the Detroit Lions. Ivory racked up 51 yards on nine carries on the Jets' first possession but the offense stalled deep in Lions' territory and the Jets settled for a FG.  Despite coming away with just three points, it appeared that a plan was in place.  A run-heavy attack against a stout Detroit front to keep the ball away from their high profile play makers.  Inexplicably, Ivory carried the ball only eight more times for the rest of the day, finishing with 17 carries for 84 yards while Geno Smith went on to complete just 51% of his passes going 17-33 with one touchdown, one interception, and a lost fumble as the Jets suffered their third consecutive loss by 8-points or less falling 24-17.
Mornhinweg's offense made a statement early on, and then took their foot off the gas and tried to rely on Smith to get the win.  With the Peyton Manning and the Denver Broncos coming to town, will this be the week that the Mornhinweg and the Jets finally commit to the run, or will the coordinator continue to rely heavily on his struggling second year quarterback?
Videos
Aaron Rodgers Injury Fallout & Jets/Bills Recap