Featured Editorials Home Slider
Amaro's Emergence and Winters' Injury May Bring Clarity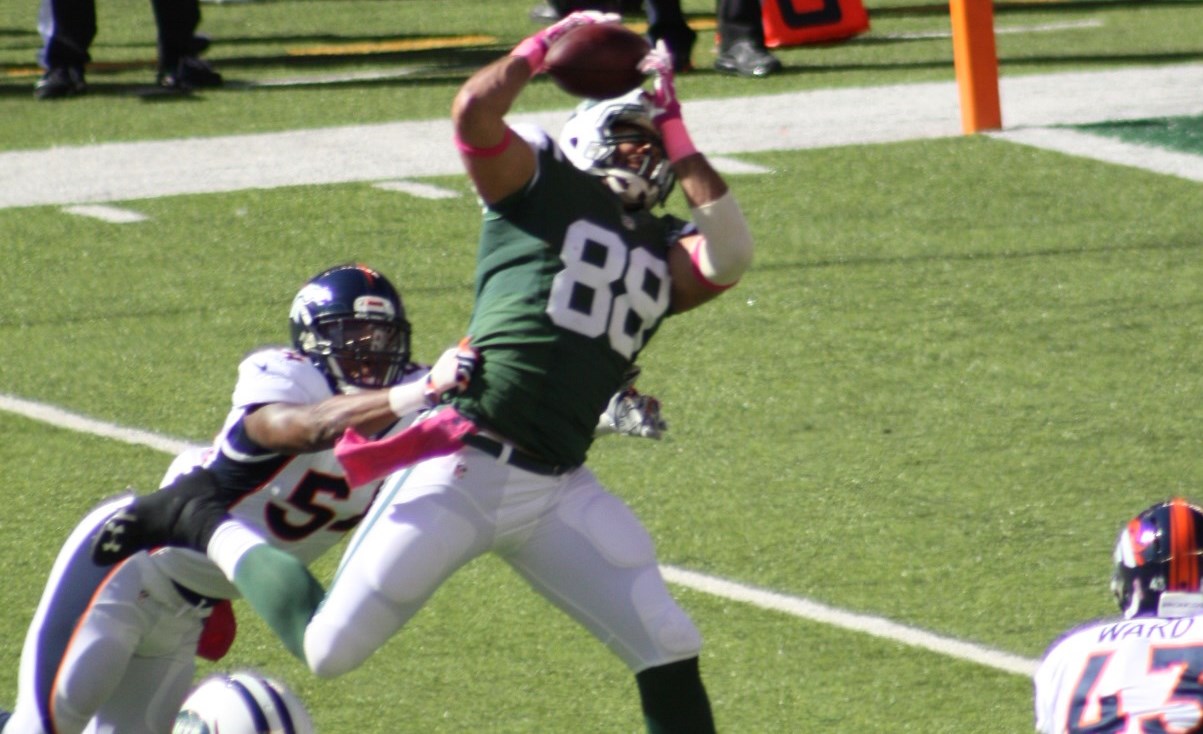 For several years now Jets fans have been spending their Sundays watching some of the most inept quarterback play in the NFL.  From Mark Sanchez consistently ranking among the league leaders in interceptions, to Geno Smith who seems destined to follow in Sanchez's footsteps.  As a rookie, Smith threw 21 interceptions and is currently on pace to end up in the same ballpark this season, averaging just over one interception per game.  Smith is also tied for the NFL lead in fumbles with five, but has been fortunate enough to lose only two of those.
Despite the numbers however, many fans have pointed to the fact, and rightfully so, that like Sanchez, Geno Smith has had a lack of viable targets and spotty pass protection.  Two developments from this past Sunday's game could help address some of those issues.  A breakout performance from a key rookie, and a season ending injury to LG Brian Winters.
One of the few bright spots in this past Sunday's loss to Peyton Manning and the Denver Broncos was the emergence of rookie tight end Jace Amaro.  The Texas Tech product established career highs catches (10), and yards (68)and also scored his first NFL touchdown.  Offensive coordinator Marty Mornhinweg made good on his pre-season promise of using Amaro in multiple positions throughout the formation and it worked.  Amaro lined up at WR in bunch formations, in the slot, and split out wide.  His best performance to date was good enough for opposing defensive coordinators to take notice.
If Amaro can become a legitimate factor for  the offense while lining up at TE/WR, Eric Decker can stay healthy, and Jeremy Kerley starts getting his number called again, then the "no weapons" argument doesn't have as much credibility.  This isn't meant to imply that Amaro's production should make the Jets an offensive juggernaut, but we'll no longer be worrying that Geno Smith's top targets are Stephen  Hill, David Nelson, Greg Salas, and a wildly inconsistent Jeff Cumberland.  The trio would represent an upgrade for Smith, and thus, one would expect improved production from the signal caller.
While Sunday was a great day for Amaro, the same can't be said for starting LG Brian Winters.  Winters suffered a torn ACL that landed him on season-ending injured reserve.  While Winters has been plugged in to start at LG since early last season, the results haven't been impressive.  While he has flashed some run blocking ability, his pass protection has been suspect at best.  Currently, PFF has credited Winters with allowing twelve quarterback  hurries which is tops in the league, along with 3 QB hits and one sack.  It was Winters' missed block against Green Bay that led to the game changing hit on Geno Smith that resulted in a Packers interception just before halftime.
With Winters sidelined for the remainder of the season, fellow second-year lineman Oday Aboushi will be asked to step in and take his spot.  Aboushi did an admirable job in pass protection last week and didn't allow any pressures on 20 pass plays according to PFF.  Conversely, Winters did allow a QB hit and a hurry on 29 pass plays against the same group of defenders.  If Aboushi, a converted college tackle like Winters, can offer at upgrade at the position, the contributions of Amaro could give Jets fans a glimpse in to the kind of player Geno Smith is when he has a little more time and much improved targets.  After years of futility, fans are ready for some clarity.  Is it the QB, or is it the weapons?  With a short week before taking on the Patriots in New England this Thursday night, Jets fans won't have to wait long to find out.
Videos
NY Jets OTA Recap; Robert Saleh Cancels Minicamp