Featured Editorials Home Slider Jets Report Card
New York Jets Report Card: Week 7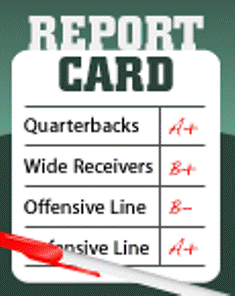 New York Jets Report
Week 7: New York Jets @ New England Patriots
Quarterback: C+
Geno Smith: 20/34, 226 yards, 1 TD, 7 carries for 37 yards
It was an up and down game for 2nd year QB Geno Smith. He's not putting enough touch on the ball and his struggles in the red zone are extremely frustrating. With that said, while the stat line might not show it, this was a very encouraging game for those who still believe in Geno. The running game certainly helped, but Geno did his part to help move the chains almost effortlessly at times within the 20's. He needs to continue using his legs as he did in this game, because the dual threat that he presents to opposing defenses is what might keep him in this league.
Running Backs: A+
Chris Ivory: 21 carries for 107 yards, 1 TD, 4 receptions for 18 yards
Chris Johnson: 13 carries for 61 yards, 2 receptions for 19 yards
Bilal Powell: 1 carry for 7 yards, 1 reception for 12 yards
Chris Ivory looks like one of the slowest running backs in the league at times, but he's got to be one of the most tenacious and he's actually developed some moves. Put simply, he's been one of the few exciting things to watch on the Jets this season and this was his best performance yet.
Wide Receivers/Tight Ends: C-
Eric Decker: 4 receptions for 65 yards
Jace Amaro: 3 receptions for 22 yards
Jeremy Kerley: 2 receptions for 29 yards
David Nelson: 1 reception for 11 yards
Jeff Cumberland: 3 receptions for 50 yards, 1 TD
Decker and Amaro both posted nice games, but Amaro once again dropped a key pass. Cumberland finally made an impact—a big one. The rest of the unit was extremely unimpressive. Surprisingly, Jeremy Kerley still isn't being targeted.
Offensive Line: C+
The Jets offensive line dominated in the running game, but Geno was frequently under siege. To be fair, he's got to do a much better job of adjusting the protection before the snap.
Defensive Line: C-
The Jets dropped back in coverage often so the front was outnumbered, but the defensive line failed to provide the disruption they were looking to against a banged up offensive line.
Linebackers: D+
Jets linebackers were plagued by missed tackles and their well-known inability to help in coverage. David Harris looks to have lost a step.
Secondary: D
Sure, they might have been on the bad side of a penalty call or two. But the inexperience and lack of talent in the Jets secondary was evident on Thursday night.
Special Teams: C+
Punter Ryan Quigley is having a great season, but he's good for at least 1 terrible punt per game. Nick Folk nearly continued his streak of clutch kicks until he was asked for a little bit too much and a potentially game-winning 58 yard field goal was blocked. One Jets scoring drive was set up by a spectacular return, but another barely reached the 10 yard line and Walter Powell needs to learn how to call for a fair catch.
Coaching: C
The Jets lost yet again and to many fans, that's worthy of an instant F. I get that. I do. Of course, Rex's team blew 2 2nd half timeouts which they needed desperately at the end of the game. But, while the offense struggled in the red zone, they definitely had an effective plan between the 20's, and giving New England a scare in their own building is never easy.
Videos
Aaron Rodgers Injury Fallout & Jets/Bills Recap