Featured Editorials Home Slider
Idzik Moves Should Receive Some Praise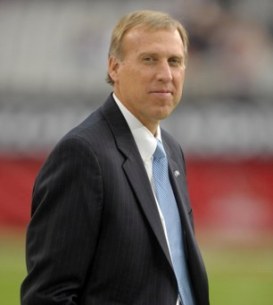 By Glenn Naughton
Yesterday the Jets announced the re-signing of wide receiver Jeremy Kerley to a four-year contract extension worth $16 million dollars with just over $5 million guaranteed.  This of course comes less than a week after General Manager John Idzik pulled off a stunning move by trading for controversial Seattle Seahawks wide receiver Percy Harvin.  Reaction to both moves has varied from a fan base that has been highly critical of Idzik's methods up to this point.  In what already appears to be a lost season, Idzik's lack of effort to upgrade key positions during the off-season despite ample salary cap space has been discussed ad nauseam.  Looking at the big picture however, Idzik should get some praise for this past week despite his many missteps up to this point.
The addition of Harvin gives the Jets their first established playmaker in over a decade when the Jets drafted WR Santana Moss.  While Harvin isn't a polished route-runner or what some may consider to be a traditional wide receiver due to his versatility, Harvin still brings a skill set that will force defenses not only to game plan for him, but his presence should open up the vertical passing game, and hopefully make life easier on quarterback Geno Smith and the offense as a whole.
Almost immediately the trade, stories of his conduct in the locker room began to leak to the media and predictably, they ate it up.  We heard about Harvin getting involved in multiple physical altercations with his fellow receivers, and allegedly refusing to re-enter a game against the Dallas Cowboys late in the fourth quarter over disappointment in the way he was being utilized.  Harvin confirmed the former, but denied the latter.  This of course raised some flags for Jets fans who still aren't quite over the Santonio Holmes saga.  As disturbing as these reports are, Idzik should be given credit for recognizing a golden opportunity and nabbing Harvin for what may end up being just a sixth round pick.
Despite his prior conduct, the only reason anyone should expect a repeat performance from Harvin is if he enjoys brawling with teammates more than he enjoys receiving huge paychecks.  At this point, even Harvin has to see that he simply can't afford another mistake.  All of his guaranteed money will be paid by the end of this season and his salaries of roughly ten million dollars per season over the next few years only makes its way in to his bank account if he's on the Jets' roster.  If Harvin were to become a problem child and the Jets were forced to cut ties, no team would be willing to bring him on board for anywhere close to that salary.  With that being the case, it's not unrealistic to expect Harvin to lose in excess of $20 million if Idzik decides he's too big of a headache. Even if the Jets were to re-negotiate Harvin's current deal to bring down his cap number, they would still be paying him far in excess of what he could hope to get elsewhere as a twice-traded and once released superstar.
With the acquisition of Harvin and the re-signing of Kerley, Idzik has given the Jets some legitimately viable options on offense for the next several seasons.  Just a few days ago, the only weapons Jets fans could fully expect to be on the roster next season were Eric Decker and Jace Amaro.  It seemed as though every other option was an unknown, and there was still no legitimate deep threat.  Now, whoever ends up taking snaps from under center next year, knows that they will have Harvin, Decker, Kerley, and Amaro which is an excellent starting point.  That group is unlikely to make much noise this season with the Jets staring at a 1-6 record, but there's no doubt that Idzik has put the Jets in position to field a much improved offense for the next several years.  Too little too late, or better late than never?  You decide.
Videos
Aaron Rodgers Injury Fallout & Jets/Bills Recap